Southern Lights
Pin Oak, Pigeon Forge, TN
1 Bedroom / 1 Bath
Cabin / Sleeps 2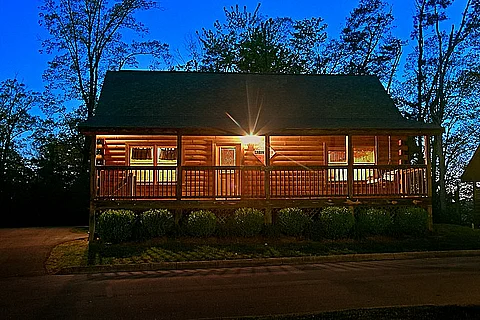 Exterior Photo
Amenity Rating:



3 Star Amenities,
(details)
1 Level Cabin
1 King Bed
BBQ Grill
Deck
Fireplace
Hot Tub
Jacuzzi
Resort Pool
Pool Table
Non Smoking
Southern Lights, a beautiful cabin located just off the Parkway in Pigeon Forge, is the perfect cabin for the couple that wants to be right next to the action. Part of the Pin Oak Cabin Resort, guests of this cozy cabin have access to the spacious outdoor resort pool.

Featuring a stacked stone fireplace, log bed, and pool table- Southern Lights offers everything you need for the beginning of a fabulous vacation. Soak in the hot tub on the deck or relax on the front porch rockers after an exciting day in the city. Top it all off cuddled up in front of the warm fireplace while watching a romantic movie.

The fully equipped kitchen offers an easy way to prepare meals while the barbeque grill is great for that perfect steak. Southern Lights is an excellent option for a honeymoon or anniversary with its convenient location and romantic amenities.