Want an experience that's out of this world? Outdoor Gravity Park in Pigeon Forge, TN promises to give you exactly that!
For vacationers who love trying new things, rolling downhill in an OGO is the perfect way to have a unique adventure in the Smoky Mountains!
What is an OGO?
It's plastic sphere 11 FT in diameter with a smaller sphere inside for the rider. The official term is an "outdoor gravity orb" and is patented by the original inventor of the zorb. This new orb is lightweight and made with flexible plastic for comfortable downhill rides.
Outdoor Gravity Park in Pigeon Forge is located at the same property as a former zorbing park in Pigeon Forge, TN. This new business has three options for fantastic family fun!
Wet Ride – Roll downhill in an OGO filled with water. No tumbling – just sliding and having an incredible time!
Harness Ride – Strap yourself into a harness and roll down the hill. This OGO will keep you dry, plus you'll experience 360 degrees rolling down the course! Take the IGO for a single harness ride or strap yourself in with a friend in the WEGO.
The Fishpipe – A new creation from New Zealand. This rotating fixed barrel filled with water offers a smooth slide experience.
Up to 3 people can fit an OGO filled with 20 gallons of water. This allows you to slip and slide safely as the ball rolls down hill. This creates a water ride you can enjoy with friends and family that you'll never forget!
As of now, there are 3 routes at the Outdoor Gravity park – 1 straightaway and 2 zigzag routes for hilarity and twisting turns. These courses are approximately 1,000 FT long and offer a one-of-a-kind experience in Pigeon Forge, TN!
Insider Tips For Outdoor Gravity Park
Great Way to Cool Off in the Summer – Riding in an OGO is a waterslide experience that you've never seen before – it's a great way to stay cool in the summer and have a fun too.
Bring a change of clothes Or a Swimsuit – Riding downhill in an OGO with water is bound to get you soaked.
Look For Coupons – Keep an eye out for coupons and specials to help you save on your next trip to Outdoor Gravity Park in Pigeon Forge, TN!
Buy Multiple Rides – After you have one ride in an OGO, you'll definitely want to take it for another spin. Better yet, buying several trips in an OGO is cheaper.
Bring Friends – Friends make everything better and the same is true for rolling downhill in an OGO. Having several people in the OGO is a blast and one orb can hold up to 3 riders at a time.
Share Your Experience - Outdoor Adventure Park offers an option to bring a GoPro on your ride so you can watch your trip in the OGO and share it with friends and family back home!
How Much Does it Cost to zorb in Pigeon Forge?
The first roll for a person is $19.95 and additional rolls cost 15.95. You can also buy 3 rolls for $44.95. This discounted rate will give a one rider 3 downhill rides or can be used to give 3 riders 1 downhill ride. As you purchase more rides, the rate becomes even more affordable, plus, you'll be able to experience even more fun in an OGO.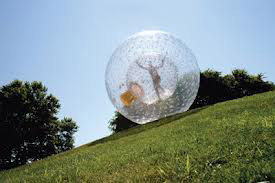 The Outdoor Gravity Park is open from 10 AM to 6 PM Sunday through Thursday. On Fridays and Saturdays, vacationers can enjoy rides until 7 PM.
Where is Outdoor Gravity Park in the Smoky Mountains?
You'll find Outdoor Gravity Park on Sugar Hollow Rd. near the Pigeon Forge parkway at Traffic Light #1. This section of the parkway is close to the Titanic Museum, Wonderworks, and several popular theater shows. Even better, Cabins USA in Pigeon Forge offers several nearby Pin Oak resort cabin rentals close to this outdoor adventure park!
Contact:
Outdoor Gravity Park
203 Sugar Hollow Rd.
Pigeon Forge, TN 37863
865-366-2687
http://www.theogo.com
B
- Outdoor Gravity Park Pigeon Forge
Written by Mark Frazier