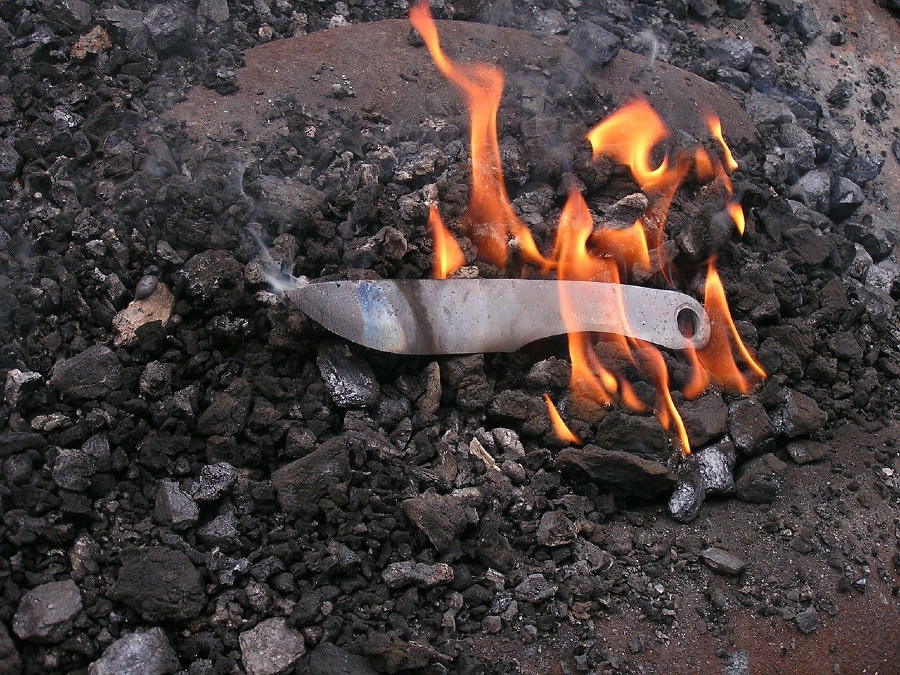 The fire is raging while the sound of metal on metal sounds throughout the room. When you visit Iron Mountain Metal Craft in Pigeon Forge, you get to experience a live showing of the art and skills demonstrated in blacksmithing and blade-smithing.
About Iron Mountain Metal Craft
Led by Robert Bowman, the purpose of Iron Mountain Metal Craft is to share their knowledge and experience with the visitors who come through Pigeon Forge. With education being their primary goal, this led to the development of knowledge workshops where you and everyone else in your group can learn how to make your own knife in Pigeon Forge.
Available Lessons
If the idea of making a knife in Pigeon Forge appeals to you, then you'll want to check out the following knife making lessons available to the public that's fun for the whole family. You better hurry though. Spots fill up quickly.
Nail Knife Lesson
If you have young children, then consider signing them up for the nail knife lesson. Designed for those who are 12 years old and younger, the lesson includes a nail, sheath, and the necessary instruction. For only $15, this is one experience you can't pass up!
Pony Shoe Lesson
Available for everyone 13 and up, this is your chance to forge a knife out of a pony shoe and take it home. The lesson includes equipment, personalized instruction, and of course, the pony shoe. This lesson costs $30 and is a favorite among visitors.
Horseshoe Knife Lesson
If a pony shoe seems like too small of a knife, then you'll want to upgrade to the full horseshoe knife. Similar to the previous lesson, this one offers a full-size horseshoe instead of the smaller pony shoe. However, this lesson costs $50 due to the larger horseshoe size.
Railroad Spike Knife Lesson
This lesson is the most popular one in the iron mountain forge. For $85, you'll forge a knife out of a railroad spike under personal instruction with all equipment and safety items provided.
All lessons last for 45 minutes to an hour maximum. Also, all required equipment and safety items are provided. The team requests you arrive 15 minutes early to submit payment and get your gear on before the lesson begins.
In addition to the standard knifemaking lessons that are regularly available, there is another option that's only available in January and February.
Dream Knife Package
By signing up for the dream knife package, you gain the chance to design and make your own hand-forged knife using raw materials. This class lasts from 8-16 hours and is done under one on one teaching from bladesmith, Robby Bowman.
This class covers and includes: design assistance, handle and blade materials, and how to choose them, hands-on blade and metalsmithing, and assembly/finishing. Through learning and implementing these skills, you will make your own dream knife to take home with you.
The Dream Knife Package starts at $750 and goes up depending on the type of knife and material upgrades you choose. If this sounds like your kind of class, just call the showroom to begin scheduling your class.
Final Thoughts on Iron Mountain Metal Craft in Pigeon Forge
When you want to change things up, taking on a knifemaking lesson in the iron mountain forge that lets you take the finished product home might be the order of the day. Sign up for your chosen knifemaking experience, don the safety equipment, and hammer your way to fun memories and a unique souvenir.
Contact:
Iron Mountain Metal Craft
172 Old MIll Ave.
PIgeon Forge, TN 37863
865-365-4344