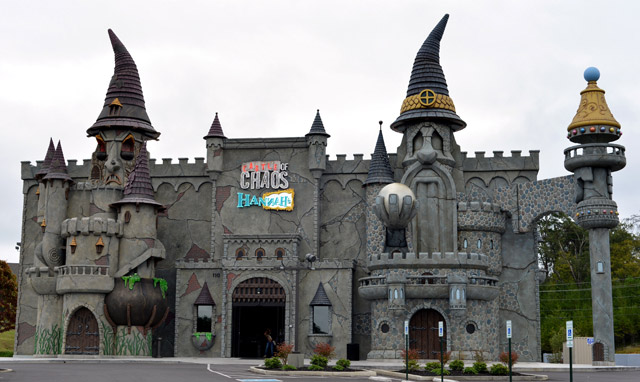 Castle of Chaos Presents the first 5D attraction in Pigeon Forge, TN
The Castle on the Hill in Pigeon Forge, known as "The Castle of Chaos" is home to a shoot-em-up, 5D adventure show in the Smoky Mountains!
Armed with a laser blaster and 3D goggles, you'll make your way through an exhilarating adventure you won't soon forget. Though you're seated in a theater, this attraction's special effects and moving theater seats make you feel like you're in the heart of all the action with up to 400 movements per second.
During the game, you can compete with other riders to set the high score! At the end of the show you'll see a tally of everyone's score, so can settle once and for all who's the best shot with a laser blaster.
Visit Castle of Chaos and Receive Discounts on other Smoky Mountain attractions
Visit the Hollywood Wax Museum and buy the "All Access Pass" to receive a value price on the Wax Museum, Castle of Chaos Pigeon Forge, Outbreak - Dread the Undead, and Hannah's Mirror Maze. Enjoy an affordable afternoon with your family at some of the most unique attractions in the Smokies!
Stay close to Smoky Mountain Attractions!
Enjoy close proximity to Castle of Chaos Pigeon Forge and other action-packed adventures when you stay at one of Cabin USA's Pigeon Forge cabin rentals. A cabin stay affords you all the convenience of staying in a hotel on the Pigeon Forge Parkway as well as the space and comforts of a Smoky Mountain home away from home.
Contact:

110 Showplace Blvd
Pigeon Forge, TN 37863
865-428-5228
https://www.hollywoodwaxentertainment.com/pigeon-forge-tn-attractions/castle-of-chaos
B
- Castle of Chaos Pigeon Forge
Written by Brittany Tipton