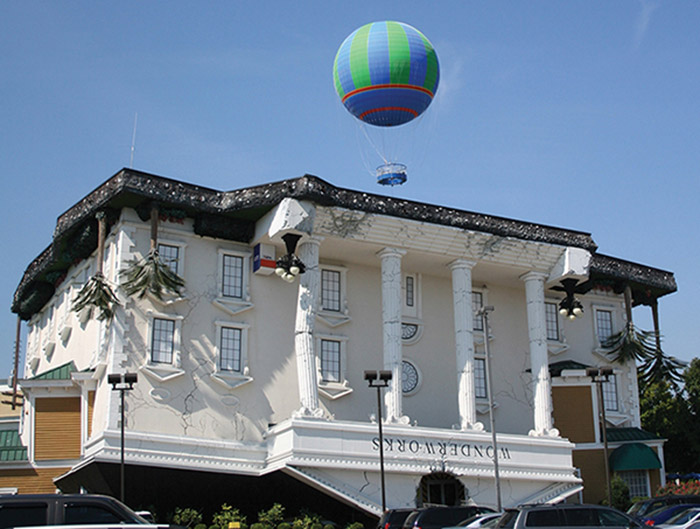 Wonderworks Pigeon Forge provides family with hundreds of interactive exhibits that will give you and your family an entertaining, educational, and exciting experience of unlike the other Pigeon Forge attractions nearby. Wonderworks turns your world upside down with its topsy-turvy building. Step into a world where everything's inverted, and, once you've gone through the inversion tunnel, you can enjoy the crazy, zanny world of Wonderworks Pigeon Forge, TN.
Whether you chose to explore space, experience natural disasters, or check out some mind blowing optical illusions, Wonderworks Pigeon Forge offers mind-boggling family fun!
Feel the Earth Quake and Winds Rage at Wonderworks Pigeon Forge
Ever wondered what hurricane force winds would feel like? If you could keep your balance during an earthquake? What touching lightning would be like? You'll get to experience all this and more at Wonderworks Pigeon Forge's Natural disaster section, which includes:
Tesla Coil - 100,000 volts wait at your fingertips!
Hurricane Shack- Feel winds of up to 70 mph!
Earthquake Cafe- Simulates a level 5.3 earthquake.
Tests of Physical Daring at Wonderworks Pigeon Forge, TN
Wonderworks Pigeon Forge presents daring and entertaining physical challenges that the whole family will enjoy. From body-sized bubbles to battle simulation, there's something for everyone to like in this section of the museum. Experience these exciting exhibits:
Bed of Nails- Discover if the nails will hold your wieght or pierce your skin.
Wonder Wall- Create giant 3-D images of yourself.
Bubble Lab- Make bubbles big enough to fit in.
MindBall- Test your composure and focus in this unique game.
Pulley Power- See how pulleys help or hinder your range of motion.
Xtreme 360- Speed away on this virtual bike ride.
Virtual Sports- Show of your soccer, football, and baseball skills.
Virtual Battlefield- Let your fighting instincts on this simulator.
Stretch Your Imagination to Regions of Light and Sound
Wonderworks Pigeon Forge invites you to a world of imagination where you can dance on a piano, dance with your shadow, play with a giant Lite-Brite, stomp out an an alien invasion, race against the speed of light and more! Let your imagination run wild at Wonderworks Pigeon Forge TN.
Space Adventures
Always wanted to be an astronaut? Wonderworks Pigeon Forge offers a chance to experience space without ever leaving the ground with its "Space Discovery" exhibits. During your day in space, you can:
Undergo authentic Astronaut Training Challenge
Step inside a Mercury Capsule
Pigeon Forge, TN's Exceptional Rope Challenge Course
Climb 4 stories of ropes and encounter 50 challenges at one of the most adrenaline pumping Pigeon Forge attractions. You'll climb to new heights as you conquer your fear of heights and have a lot of fun in the process! The price of this attraction is included in admission to Wonderworks Pigeon Forge.
Other Attractions
While at Wonderworks Pigeon Forge, enjoy several other Pigeon Forge attractions. Play a few rounds of laser-tag on the second floor of the building for just a small cost to your ticket. Enjoy a riveting magic show at Terry Evanswood's "Wonders of Magic", housed in the the Wonderworks Pigeon Forge building. Wonderworks also offers a balloon tours of at Wonders of Flight.
Stay Close to Wonderworks Pigeon Forge and other Pigeon Forge attractions!
Want to stay near Wonderworks and other great Pigeon Forge Attractions? Our Pigeon Forge rental cabins are close by! A cabin stay affords vacationers comfortable in cabin amenites and a location convenient to all the Pigeon Forge attractions
Contact:
Wonderworks
100 Music Rd
Pigeon Forge, TN 37863
865-868-1800
http://www.wonderworksonline.com/pigeon-forge
B
- Wonderworks Pigeon Forge Attractions
Written by Brittany Tipton