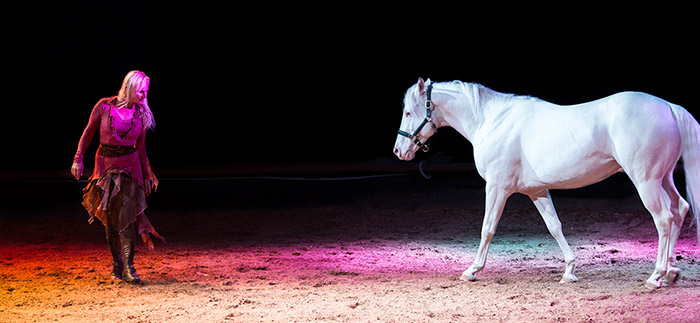 Sable' Theater Pigeon Forge presents "Imagination on Sand"
Enter a land of imagination and wonder at Sable Theater Pigeon Forge! "Imagination on Sand" transports viewers into a land where fantasy meets reality in a spectacular horse show! Set in a theater with seating for 900 circling the center ring - this show is part circus, part theatre, and all entertainment!
A Mesmerizing Horse Show in Pigeon Forge
On a platform 20 feet above Sable' Theater's center ring, world-renowned artist Iryna Lialko draws a picture in sand while it is projected onto an enormous high-definition screen. Magically, the picture comes to life right in front of the audience's eyes in the ring below. So begins this innovative horse show in Pigeon Forge.
Watch, captivated, as Sable Theater's artist transports the audience through stories of love, humor, and adventure. A little girl plays with her doll and then transforms into a magnificent, death-defying horse vaulter. A comedian humorously struggles to saddle and mount a quite uncooperative horse. A homesick soldier returns from battle to reunite with his lover. Gypsies sing and dance joyously in a their camp as a rider on two horses rides through a ring of fire. A hidden horse and rider rise up through the fog as a lone village woman searches for them with her torch. These are only some of the spellbinding scenes from the newest horse show in Pigeon Forge!
Sable Theater's "Imagination on Sand" hosts astounding talent
Produced and directed by the distinguished horse trainer Igor Kassaev, who has worked for such established performances as Ringling Brothers and Cirque de Soleil, the caliber of this Sable' Theater production stands out among other Pigeon Forge shows. Kassev, who has won numerous awards for his superior horse shows, including the coveted Clown d'Or (Golden Clown).
Sable Theater's "Imagination on Sand" contains a talented international cast that includes a two-time World Gymnastics Champion (Nadya Vasina), medal-winning horse-vaulters, a 9th-generation horse performer, Russian folk dancers, acrobats, and comedians. Several of these talented performers have previously worked in such acts as Ringling Brothers Circus and toured Europe and North and South America. This show also includes 20 amazing, handsome horses throughout the show. Music by acclaimed produce Mark L. Carman, who has worked with artists such as Trace Adkins and Allen Jackson, sets the ambiance for this Sable's "Imagination on Sand."
Sable Theater Pigeon Forge presents guest with a one-of-a-kind show that includes enchanting equestrians, delightful dancers, harrowing horse vaulters, and more! This is a horse show in Pigeon Forge you won't soon forget!
Sable Theater Showtimes and Locations
Sable Theater is located right of Pigeon Forge Parkway at stop light #2. For Sable "Imagination on Sand" showtimes and ticket prices, call 866-972-6888.
If you love horse shows, be sure to visit the Dixie Stampede, the oldest horse show in Pigeon Forge. While visiting the Tennessee Smoky Mountains, you may want to gather the family and head out to the riding stables for some fun filled equestrian adventure of your own. Check out our local area Pigeon Forge riding stables for a memorable ride through the natural beauty of the Smokies on horseback.
Contact:

125 Music Mountain Drive
Pigeon Forge, TN 37863
866-272-6888
Written by Brittany Tipton