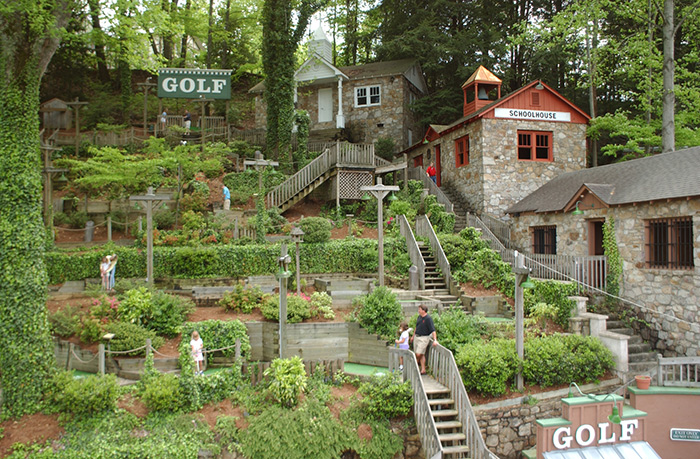 Gatlin's Fun Center, previously known as Fort Fun, provides vacationers to the Smokies with 2 challenging outdoor putt-putt courses as well as an exciting indoor blacklight mini-golf in Gatlinburg, TN. Whichever course you decide to test your skills on at this Gatlinburg mini-golf course, you and your family will have 18 holes to battle it out and determine who holds the best stroke among the lot of you!
This family friendly Gatlinburg mini-golf course provides a chance for Mom, Dad, and the kids to experience some quality time together while enjoy some quality putt-putt golf in Gatlinburg. Offering both indoor and outdoor courses, Fort Fun Mini Golf allows your family to enjoy Gatlinburg mini-golf, rain or shine.
Gatlin's Outdoor Putt-Putt Golf
With two 18 hole Gatlinburg Mini-Golf courses that allow vacationing families to enjoy the mountain air and provide not only fun, but educational information on the Great Smoky Mountain area throughout the course. Try your luck out on:
The Old Town Square - This challenging course will truly test your Gatlinburg mini-golf skills! Featuring restored cabins and historical buildings on the course, the twist and turns on this Fort Fun Mini-Golf course will prove quite challenging, particularly those trick shots that go through the cabins. Ever wondered how Gatlinburg got it's name? Learn this and more through informative posts scattered throughout this Gatlinburg mini-golf course.
The Old Mountain Trail - This mini-golf course meanders through the native landscape, challenging you with its twists and turns. Learn the history of the Cherokee, as well as why the Great Smoky Mountain National Park was created, from the informative markers lining the course. Exit this Gatlinburg mini-golf course through Elkmont's Little River Railroad Company train station, you'll think you've stepped back in time to a logging town of yesterday.
Gatlin's Blacklight Mini-Golf in Gatlinburg, TN
If the weather is inclement, families can enjoy 9-holes of fun on the indoor, under-water themed blacklight mini-golf in Gatlinburg that's available no matter what the weather's like! So come inside if it's raining, snowing, or is just too hot. Sharks, mermaids, sunken ships, and treasure chests glow out of the darkness as you navigate the challenging holes. The course is divided across five rooms and offers unique challenges and trick shots.
Get discounts on Gatlinburg Mini-Golf
Families who love to golf will enjoy the "Unlimited Golf Pass" which provides you and your family with as much golf as they want during the duration of your stay in the Smokies (an excellent deal). Additionally, the Fort Fun Do-it-All Pass allows you to enjoy 9 activities at Gatlin's for a discounted price than regular tickets.
Lodgings near Gatlin's Mini-Golf
When looking at where to stay on your Smoky Mountains vacation, consider a stay at one of Cabins USA's Gatlinburg cabin rentals. With comfortable amenities that will make you feel like you're right at home as well as convenient locations near all the action, a cabin stay provides the best of both worlds on you Smoky Mountain vacation.
Contact:
Fort Fun Mini-Golf
716 Parkway
Gatlinburg, TN 37738
865-436-2326
http://www.fortfungatlinburg.com
B
- Fort Fun Gatlinburg Mini Golf
Written by Brittany Tipton