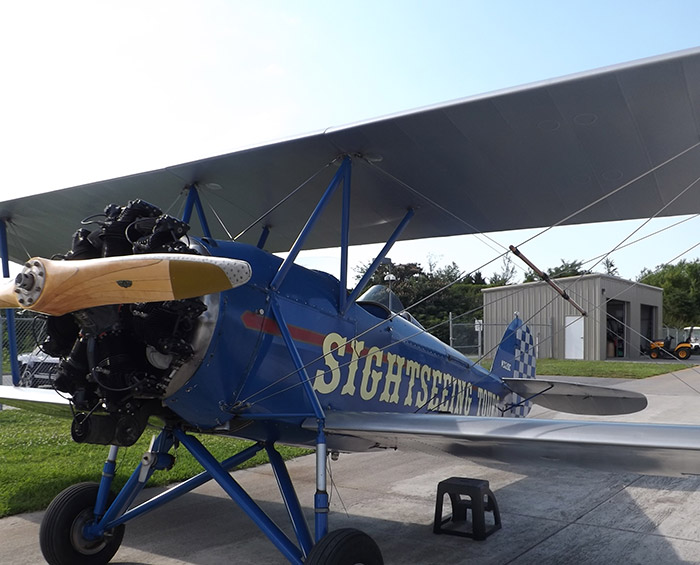 Travel back in time nearly 90 years to when aerial travel was still only a novel idea. During the 1920's, barnstormers toured the country, using farmer's fields as runways to take people on what was often their first flight. Relive the awe and wonder felt by these first-time flyers of yore on these most unforgettable Pigeon Forge plane rides.
Sky High Tours Sevierville's Pilot and Owner
Mark Hightower's title on his business card reads "Adventurer/Dreamer." This title aptly describes a man who has captained ships, dropped scuba divers off in the Caribbean, and taken photographs in the jungles of Guatemala. After reading, Illusiions by Richard Bach, Mark set out on his latest adventure - flying. Establishing Sky High Air Tours Sevierville, TN in 2012, Mark offers his unique Smoky Mountain plane rides during the summer seasons (typical mid May- mid October). Mark is not only a pilot, but a mechanic who lovingly restored and, now, maintains, this truly spectacular piece of history. Mark will gladly answer any questions you may have about the plane and use his superb piloting skills to take you on a smooth flight.
Smoky Mountain Plane Rides on an Authentic Waco Model 10
The plane at Sky High Air Tours Sevierville, TN is no replica - it is an authentic 1927 Waco Model 10 (one of only 18 left out the 1,600 produced). The plane runs on a WWII era radial engine that put out 220 hp at nearly the same weight. Thankfully, so many of these engines were produced for the war that its parts are still available today, so you can climb aboard assured that this plane is in perfect working condition. Because this particular model of biplane seats two in it's front cockpit, these Smoky Mountain plane rides provide the perfect opportunity for you and someone you love to experience a unforgettable experience together.
Unique Pigeon Forge Plane Rides at Sky High Tours Sevierville
Sky High Tours Sevierville operates out of the Gatlinburg-Pigeon Forge airport, just off the Parkway heading into Pigeon Forge. Make sure to bring you camera to your flight. Prior to boarding the plane, visitors to the Sky High Air Tours Sevierville, TN put on flying caps, goggles, and white silk scarves for a photo shoot taken by Mark. Additionally, if you wish to capture your exciting flight, video and photography are allowed aboard the plane. However, straps or a very firm grip are advised as the wind blast is quite strong.
After taken a few pre-flight photos, climb into the front cockpit where Mark will help you get buckled in and explain how to use your headset during the flight. Following an overview of safety measures, the engine starts; the propeller turns; and you, your fellow passenger, and Mark make your way down the run away. As you near you site of take off, the pilot changes gears causing the propellers to whirl even faster and the wind to start rushing by you (Ladies, a hair tie and bobby pins are highly advisable to keep your hair from becoming a weapon).
Finally, you transition smoothly into the air. Take in breathtaking views of the Smoky Mountains, Pigeon Forge, Dollywood, and more. As you fly over the hills of East Tennessee, Mark will point out points of interest, and you can ask questions over the headset. After a 10-30 minute ride (ride times vary in pricing), you begin your descent back to Sky High Tours Sevierville at Gatlinburg-Pigeon Forge Airport for what will (quite surprisingly) be the smoothest landing you've ever experienced.
Don't just take our word for it - the Smoky Mountain plane rides offered by Mark at Sky High Air Tours Sevierville TN are simply something you must experience for yourself!
Stay close to Sky High Air Tours Sevierville, TN!
Book a stay in one of Cabin USA's Sevierville cabin rentals and enjoy spacious accommodations, luxurious amenities, and a convenient location to all the action of the Smokies!
Contact:
Sky High Air Tours
134 Air Museum Way
Sevierville, TN 37862
865-742-2359
http://www.skyhighairtours.com/
Written by Brittany Tipton