There's just something about a beautiful landscape that truly helps you unwind and let go of all your cares and worries – just what you need for a truly relaxing vacation.
If you're one of the millions of visitors that the Great Smoky Mountains National Park attracts every year, chances are you're a traveller who wants to experience the scenic views of Tennessee's mountains.
After all, what could be better than enjoying the gorgeous views from a mountain-top in the Smokies?
Booking your own Pigeon Forge cabin with scenic mountain views of course!
While the national park is a home to many natural wonders, you can't enjoy this incredible scenery while you sit back in a rocking chair or unwind in your cabin's hot tub.
For your stay in the Smokies, you can benefit from all the comforts of home, luxury amenities like pools and game rooms, and breathtaking views when you reserve a Pigeon Forge cabin in the mountains!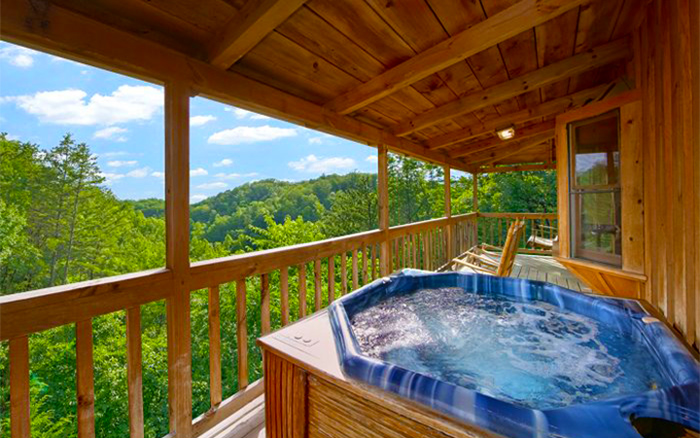 Before you plan your next trip to the Smokies, explore some of our cabins in Pigeon Forge with views of the Smoky Mountains to see these rentals are a good fit for your vacation.
To help you find the right place for your stay, we've made a list of some of the top resorts to find cabins with unforgettable mountain views you won't want to miss! If you'd like to rent a cabin with views of Pigeon Forge, check out this post on our cabins with city views.
Cabins Close To Dollywood
Pigeon Forge cabins near Dollywood Theme Park are not only famous for keeping guests close to the top-rated attraction in the Smokies, they also boast beautiful scenery and views that let you see for miles and miles.
These resort rentals are located in the mountains above Dollywood in the Upper Middle Creek road area. These cabins nestled on mountain ridged afford truly stunning vistas of the tallest peaks in the national park.
Summit View
Our cabins in Summit View Resort are not far off from the Upper Middle creek area, so these cabins also boast spectacular scenery to enjoy on your trip! This resort area has a great reputation for offering some of the finest cabin rentals in Pigeon Forge, TN.
Cedar Creek
At Cedar Creek Crossing Resort, you can find mountain view cabins with hot tubs, game rooms, and more for affordable nightly rates. This luxury cabins have mountain views that are good for the soul, but they're also easy on your vacation budget!
Starr Crest
You can really see for miles and miles at these stunning cabin rentals! Starr Crest cabin Resort boasts many beautiful cabin rentals with jaw-dropping views of the mountains. Better yet, you can enjoy your Pigeon Forge getaway complete with comfortable amenities game rooms and a resort swimming pool.
Eagle Crest
Eagle Crest is yet another popular resort area that's close to both Dollywood and Pigeon Forge. If this prime location weren't enough, our rentals in Eagle Crest offer guests magnificent mountain views that impress vacationers in every season.
Wears Valley
This Smoky Mountain community is an excellent place to find secluded cabins with views – a perfect combination for your vacation. Better yet, Wears Valley cabins nestled on mountainsides are only minutes from all the action in Pigeon Forge!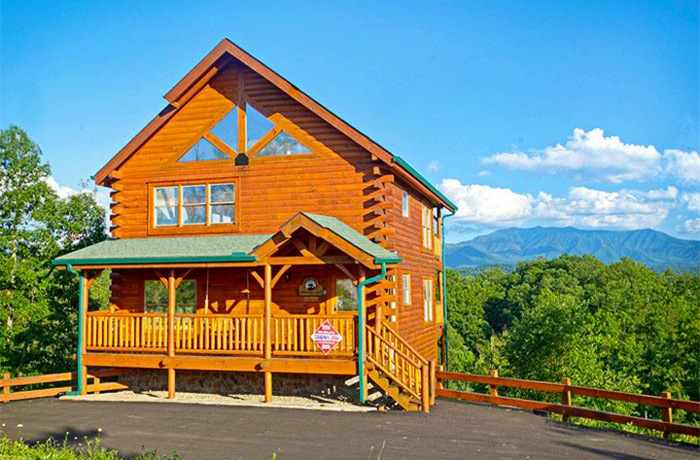 Final Thoughts on Cabins With Views of Mountains
With the fall season just around the corner, these Pigeon Forge cabins with mountain views are going to be more popular than ever. Once the leaves start to change, these scenic vistas will become even more impressive as the mountains show their bright patchwork of colors. Booking your cabin early is the best way to ensure you're able to witness the beauty of fall in the Smoky Mountains!
Better yet, we're offering a special 15% discount to help you save on your vacation costs. Simply call our office at (865) 429-4121 or start reserving your cabin online today to see how much you can save!
Written by Mark Frazier