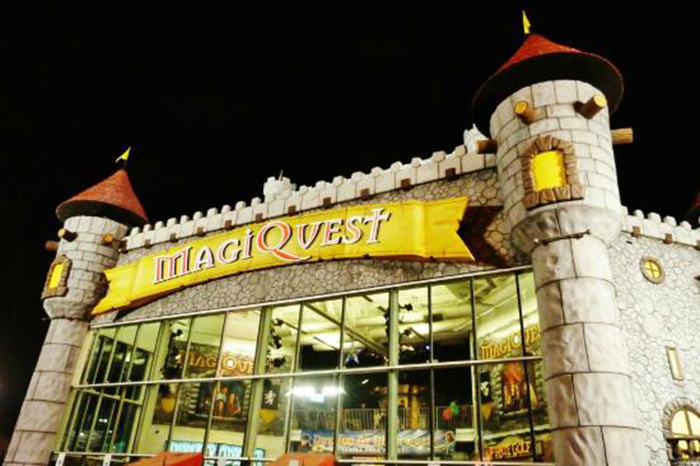 After stepping through the doors of MagiQuest, Pigeon Forge, visitors leave the world of the mundane and enter a world of fantasy where goblins and wizards, fairies and dragons wait around each corner. With each quest you complete at one of the most magical Pigeon Forge family attractions, you'll become an even more skilled adventurer with the expertise to face the next challenge.
The building housing MagiQuest, Pigeon Forge offers several other Pigeon Forge family attractions for everyone in the family to enjoy. Featuring a blacklight, Pirate-themed indoor mini-golf course, a challenging mirror maze, and laser maze challenge straight from a spy movie, there are many things to do in Pigeon Forge, TN at this one location, making it the perfect spot to spend a rainy day or beat the summer heat on your vacation in the Smokies.
Come to MaqiQuest, Pigeon Forge today and discover why this magical, interactive adventure might be one of the most memorable and entertaining Pigeon Forge family attractions you'll visit on your Pigeon Forge cabin resort vacation!
The MagiQuest, Pigeon Forge Experience
Once you arrive at MagiQuest you'll start by selecting your wand. Choose carefully as it is your sole tool against dragons and goblins or in aiding fairies and other wizards on your quests. You can elect to borrow a wand from MagiQuest, Pigeon Forge or purchase your own, which not only serves as a splendid souvenir, but also stores where you left off on your quest. If you chose to return after visiting other Pigeon Forge family attractions, Magi Quest, Pigeon Forge's computer system will allow you to pick up where your quest left off.
Once you've received your wand, you're off on your quest in different realms for constant adventure. The goal of your MagiQuest, Pigeon Forge adventure is to explore the various realms on your adventure to find the ingredients for spells, earn magical runes, and, eventually, once becoming a master magi, and defeat the dragon. Parts scavenger hunt, parts fantasy-adventure game, everyone in your group will enjoy running back and forth to finish the various challenges that lead to the dragon's lair. If you find yourself stuck on a challenge, MagiQuest, Pigeon Forge staff members are posted at each quest station to help you with your journey.
Over your hour of play time at one of the most imaginative Pigeon Forge family attractions, grandparents, parents, and kids will find themselves transformed into powerful magis with the wisdom, skills, and courage to complete any quest they face. It is advised to arrive early at Magi Quest, Pigeon Forge as it can often get quite crowded.
Other Things to Do in Pigeon Forge at MagiQuest, Pigeon Forge, TN
In addition to the magical adventure that awaits at Magi Quest Pigeon Forge, the building that features the most interactive and fantastical attraction in the Smokies also houses 3 other Pigeon Forge family attractions.
Pirate Golf- Try your hand at 18 holes of indoor, black light golf that's sure to shiver-your-timbers. The 18 holes of pirate-themed golf is a hidden treasure among things to do in Pigeon Forge, TN. At the end of your voyage, Blackbeard himself serenades golfers at the 18th hole.


Odyssey- Come experience the mystifying Odyssey Mirror Maze featuring the infinity room, which seems to stretch on into eternity; the holograph hallway, which turns the whole room into a holograph; and the dance room, which reacts to your every move. This 5,000 square feet may be one of the most challenging mirror mazes offered at all the Pigeon Forge family attractions.


The Vault- MagiQuest, Pigeon Forge's final attraction transports you directly into a daring spy movie heist where you must dodge the security system's lasers in order to complete the challenge.
No matter what imaginative adventure you choose at MagiQuest, Pigeon your tour into the magical, creative realms offered here might top your list of memorable Pigeon Forge family attractions.
Contact:
MagiQuest
2491 Parkway
Pigeon Forge, TN 37863
865-686-5586
http://www.magiquestpf.com
B
- MagiQuest Pigeon Forge Family Attractions
Written by Brittany Tipton