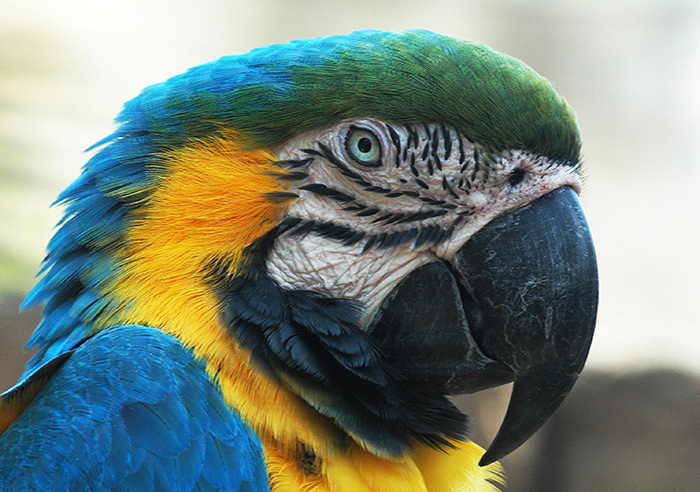 The bright feathers flit pass you as strange and unfamilar bird calls fill the air. No, you're not in the depths of the Amazon or the heart of the African rainforest - you're at Parrot Mountain Pigeon Forge, TN, one of the most unique attractions in Pigeon Forge for families looking for a change from Parkway attractions.
Both interactive and breathtakingly beautiful, guests will find a tropical oasis in the midst of the Smoky Mountains where they can stroll through the gardens taking in botanical treasures in this peaceful garden setting that stands out from other Pigeon Forge attractions for kids and families. Come enjoy a bit of the heaven on earth at this piece of the tropics in the Smokies! Guests staying in nearby Cabins at the Crossing cabin rentals will enjoy close proximity to this and other fun things to do in Pigeon Forge, TN, making for a memorable family vacation in the Smoky Mountains that will be treasured for years to come.
The Vision of Parrot Mountain Pigeon Forge, TN
The owner of Parrot Mountain, Pigeon Forge, TN received a vision of what was to become one of the most unique and inspiring attractions in Pigeon Forge in 1995. After moving his family from Mississippi to the rolling green hills of East Tennessee, where after 7 years of careful planning, he opened Parrot Mountain in 2002. After 12 years in the Smokies, this breathtaking garden has established itself not only as a spot of pristine beauty, but also as a safe-haven for tropical birds from around the world.
The Parrot Mountain, Pigeon Forge TN Experience
After driving up a winding road, visitors arrive at what appears to be a scene out of a Thomas Kinkade painting. Lamposts dot the paths that meander through manicured ferns to cottages with beautifully arched doors and craftsman details. The one-of-a-kind attractions stands out from other fun things to do in Pigeon Forge, TN with its unique fusion of English garden accents and hundreds of tropical birds.
Every part of Parrot Mountain offers a distinctive, interactive area to enjoy both the beauty of native and exotic flora and fascinating flying fauna from Africa, Australia, and South America. Parrot Mountain, Pigeon Forge features 160 different species of birds, including:
Macaws
Cockatoos
Amazon Parrots
African Grey Parrots
Eclectus Parrots
Toucans
Magpies
Kookaburras
Caique Parrots
Conure Parrots,
Lorikeets
Parrotlets
Additionally, each area of this Pigeon Forge attraction offers a different plant life and a different chance to experience this beautiful creatures. Parrot Garden features this educational and attractive sections of its garden:
The Secret Garden -

Guests enter into what is truly a bit of Eden. Hundreds of birds fly freely overhead as tall tropical plants rise towards the ceiling, creating a tropical oasis at one of the most fun things to do in Pigeon Forge, TN.



The Bird Garden -

Here guests can enjoy one of the most interactive aspects of one of the most hands-on Pigeon Forge attractions for kids. Here, little ones can feed the birds and adults can even have the birds jump on their arms. Watch the birds dance, talk, and sing in the entertaining, interactive part of Parrot Garden.



Walk in Aviary -

Another interactive section of Parrot Garden, Pigeon Forge, TN allows you to enjoy the excitement of lorikeets swooping down to to drink nectar from a cup in your hand.



Nursery -

Here your little ones will enjoy looking at recent hatchlings as well as handling baby birds that are mature enough for interaction.



Prayer Garden -

This section of the one of the most distinctive attractions in Pigeon Forge offers guests a chance to reflect on scenes from Jesus Christ's life. Throughout the garden, you'll find plaques that feature Bible verses, allowing you to meditate on the deeper significance of the beauty of nature that surrounds you.
Parrot Mountain, Pigeon Forge, TN Deli and Gift Shop
It can be a hassle trying to schedule lunch in between attractions in Pigeon Forge. However, Parrot Mountain allows guests to enjoy delicious and affordable meals such as Angus burgers, chicken tenders, Black Forest deli sandwiches and more right in the gardens. Additionally, the gift shop offers bird related t-shirts and toys as well as religious items to choose from as a souvenir from one of the most fun things to do in Pigeon Forge, TN.
A visit to Parrot Mountain, Pigeon Forge, TN will surely be one of the most memorable Pigeon Forge attractions for kids on you Smoky Mountain vacation. Take a trip to a tropical paradise in the Smokies with your family and discover the wonders of the natural world.
Contact:
Parrot Mountain Pigeon Forge, TN
1471 Macarter Hollow
Pigeon Forge, TN 37862
865-774-1749
B
- Parrot Mountain and Gardens Pigeon Forge TN
Written by Brittany Tipton