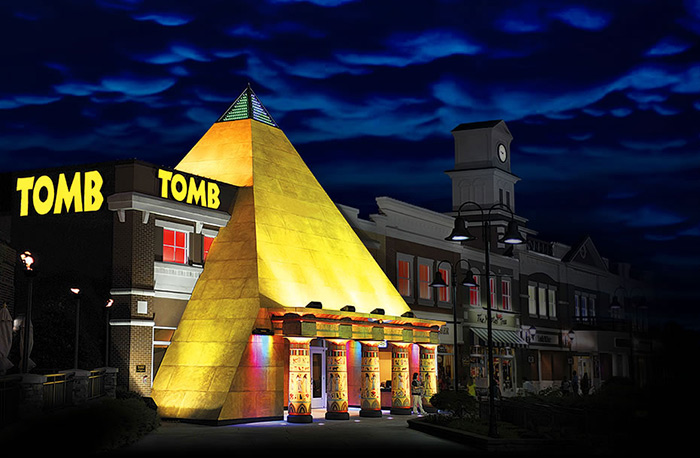 Ever notice this mysterious pyramid just off of the Pigeon Forge Parkway? This striking attraction may seem out of place, but The Tomb might just be the perfect adventure for your vacation!
The Tomb in Pigeon Forge, TN allows you to get in touch with your inner Indiana Jones at this Egyptian-themed interactive maze. Will you and your group free yourself from the Pharaoh's tomb before it's too late?
Whether you're staying in a nearby Pigeon Forge cabins or passing through town to visit the Great Smoky Mountain National Park, out of the dozens of Pigeon Forge attractions making a stop at this family-friendly, interactive Pigeon Forge pyramid maze offers a chance for some fun on a rainy day or when you and your family need to beat the intense summer heat.
The Tomb Pigeon Forge, TN's - A Family Adventure!
Resting in Walden's Landing next to Calhoun's Restaurant, The Tomb Pigeon Forge offers a location that allows the family to enjoy a fun afternoon or evening together. Pair on of the most interactive Pigeon Forge attractions with a delicious meal from Calhoun's, Smoky Mountain Brewery, or Five Guys burgers prior to setting off on your adventure.
After the whole family has had their fill of some delicious food, purchase your tickets and wait for your expedition to begin. Each expedition usually parts every 15 minutes with groups of 10 to 15 individuals. In peak season, calling ahead for reservations is strongly advised for large groups to cut down on your wait time. Guests should note that they'll be paired with other guests to make group size quotas, so be prepared to embark on this exciting journey with strangers (and possibly end it with a few new friends).
You guide will lead you deep inside Pharaoh's tomb where your adventure begins! This Pigeon Forge pyramid offers spectacular lights, special effects, and decor that will set the stage for your journey as a top-notch explorer-adventurer who must solve the puzzles to escape the wrath of the angry Pharaoh. The interactive puzzles at The Tomb Pigeon Forge allow you and your family and friends to use a wide range of skills including music, logic, strength, and, of course, teamwork. Family fond of brain teasers will enjoy using their combined skills to escape in time.
Generally, your expedition lasts only 45 minutes and experiences vary with the quality of the guide and the amount of participation your group puts into the puzzles. Families with young children should note that children under 7 may find the puzzles to difficult to understand and solve. Additional, the Pharaohs sometimes menacing voice, the darkness/lighting effects, as well as people screaming and making loud noises may frighten young children.
A Great Family Time at this Unique Pigeon Forge Pyramid Attraction
If you and your family are looking for Pigeon Forge attractions to set aside for a rainy day or when you just need to be inside for a little while, make sure to add The Tomb Pigeon Forge, TN to your list of fun things to do in Pigeon Forge!
Contact:
2530 Parkway
Pigeon Forge, TN 37863
865-453-6450
B
- The Tomb Pigeon Forge TN Attraction
Written by Brittany Tipton