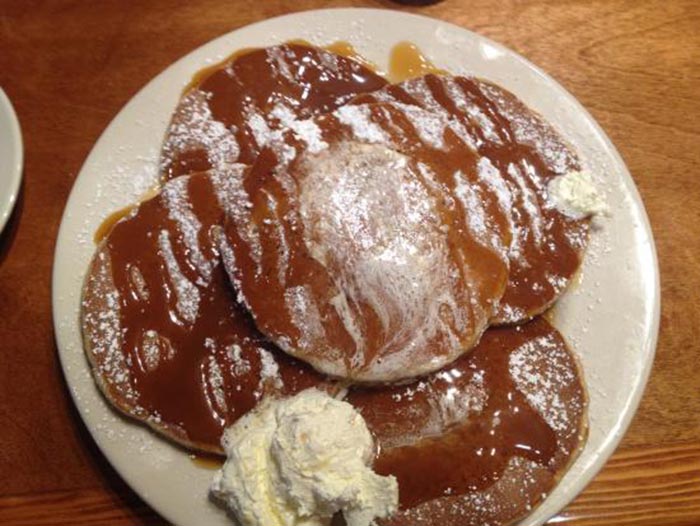 As the unofficial pancake capitol of the world, there are several breakfast restaurants in Pigeon Forge to choose from. But who has the best breakfast in Pigeon Forge? While the answer is definitely up for debate, there are several vacationers and locals a like who would point you in the direction of Sawyer's Farmhouse Restaurant.
A recent addition to the many breakfast restaurants in the area, Sawyer's Farmhouse stand above the rest by making most of its delicious breakfast fare from scratch, making you feel like you're back at your Grandma's house on a Sunday morning.
When you're considering where to eat breakfast after heading out from your Smoky Mountain cabin retreat, take a swing by the bright red building just off the Parkway for some delicious, home cooked fixin's.
(Arguably the) Best Breakfast in Pigeon Forge at Sawyer's Farmhouse
While Sawyer's Farmhouse Restaurant is open from 7am to 2pm, allowing you to grab lunch at this Pigeon Forge Restaurant, the true specialty here is the most important meal of the day - breakfast.
From hearty meal that will fuel your hike through the Great Smoky Mountain National Park to a sweet treat to start your morning of shopping, Sawyer's Farmhouse offers guests a delicious way to start their day and fill their bellies for a fun day explore the Smoky Mountains.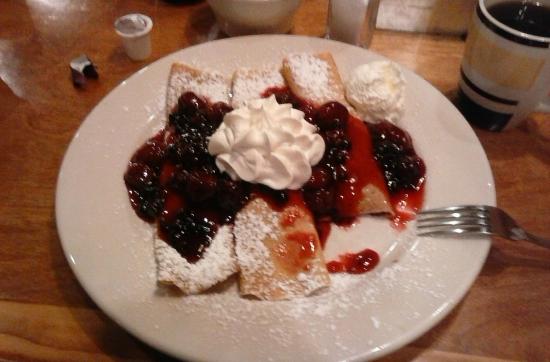 You can enjoy your made from scratch (we hear that even the syrup is made in house) food while enjoying family style dining with fast, friendly service. Here's a sampling of the delicious breakfast plates you can enjoy at Sawyer's Farmhouse Restaurant:
Pancakes -

No breakfast in the Smokies would be complete without a serving of pancakes! Here you can find a wide variations on the classic buttermilk pancake. From a brilliantly flavored blueberry pancake stack to scrumptious strawberry-banana, chocolate chip for kids of all ages with a sweet tooth to small silver dollar pancakes, there's something for everyone's flavor palate.



French Toast -

Another breakfast favorite, you'll love their classic french toast sprinkled with powder sugar and served with warm cinnamon syrup as well as the Banana Fosters French Toast with carmalized sugar sauce, powder sugar, and maple syrup.



Belgian Waffles -

Another sweet treat to enjoy starting your day with, Sawyer's Farmhouse Restaurant offers up several style of waffles to enjoy from pecan to fruit. You can even enjoy savory waffle choices such as the Memphis favorite, chicken and waffles, or Sawyer's unique bacon waffles.



Crepes-

A house specialty, you can enjoy deliciously thin and light crepes stuffed with your choice of fruit. From cherry to mountain berry, you can enjoy this sweet start to your day.



Savory Breakfast Plates-

From scrabbled eggs to bacon, sausage to biscuits and gravy, these hearty meals will fill you up for a hike in the Smokies or a day at Dollywood. Try the Mountain Man if you're looking for something super filling for your day in the mountains.



Omelettes

- Whether you like yours stuffed with bacon or green peppers, you'll enjoy this delicious way to start your day at Sawyer's Farmhouse Restaurant.
Lunch at Sawyer's Farmhouse Restaurant
You can enjoy breakfast food all day at Sawyer's Farmhouse Restaurant, but, if you come in with a hankering for lunch, you won't be disappointed. Try Sawyer's delicious lunch offerings including:
Bison Burger -

Made from ground bison this burger will fill your stomach after a long hike in the Smoky Mountains.



Soup, Salad, and Sandwich -

Get the best of all three when you choose from one of Sawyer's Farmhouse Restaurants delicious soup selections, side salads, and sandwich for a filling lunch.
All soups are made in house daily and you can enjoy food made from fresh ingredients at Sawyer's Farmhouse Restaurant.
Final Thoughts on Sawyer's Farmhouse Restaurant
If you're looking for a great way to start your day, head over to the red building and enjoy the best breakfast in Pigeon Forge at Sawyer's Farmhouse Restaurant. Head out from your Smoky Mountain cabin retreat and enjoy delicious way to start your day of fun and adventure in Pigeon Forge.
Contact:
Sawyer's Farmhouse Restaurant
2831 Parkway
Pigeon Forge, TN 37863
865-366-1090
B
- Sawyer's Farmhouse Restaurant
Written by Brittany Tipton