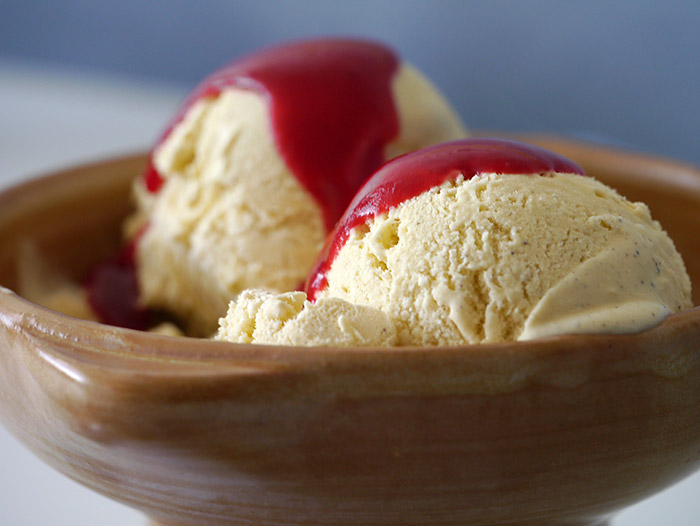 Everyone loves ice cream. From ice cream cones stacked high to delicious milkshakes, ice cream is one way to enjoy a cool treat that satisfies your sweet tooth. At Mad Dog's Creamery in Pigeon Forge, TN, you can enjoy delicious sweet treats on your Smoky Mountain vacation.
Located just off the Pigeon Forge Parkway, Mad Dog's Creamery rests in the heart of the action of Downtown, making this the perfect pit-stop for a sunny day in the Smokies. Whether you've been enjoying Pigeon Forge mini-golf at Fantasy Golf down the street or enjoying some quality Pigeon Forge shopping, one things for certain - a stop at this ice cream shop makes for the perfect way to cool down on a hot summer's day.
Mad Dog's Creamery is part of the locally-owned Johnson Family Restaurants. The Johnson Family owns several restaurants in the area including Bennett's Barbecue, Mama's Farmhouse, and Big Daddy's Pizzeria. These local restaurants pride themselves on providing visitors to the Smokies with the service and great food that go hand and hand with Southern hospitality.
So if you're craving a chocolate malt, head down to this sweet shop today!
Delicious Ice Cream at Mad Dog's Creamery Pigeon Forge, TN
Once you step inside, you'll be greeted by pictures of adorable pets on the wall (perhaps on of the biggest draws of this Pigeon Forge ice cream shop) and the cozy charm you'd expect from a locally owned business.
Walk up to the counter where you can browse of 26 tantalizing flavors of ice cream. While the flavors change out depending on the season and what's popular. Here's a sampling of the tasty flavors you can enjoy at Mad Dog's Creamery:
Banana Pudding (A crowd favorite)
Tiramisu
Butter Pecan
Chocolate Peanut Butter
Cotton Candy
Chocolate Fudge
Chocolate Mint
Chocolate Chip Cookie Dough
Pumpkin Spice (Popular in the fall)
And more!
Whatever flavor you choose, your sweet tooth will surely be pleased!
Insider Tip: Guests should be aware that the ice cream sold here is not homemade, but is still quite delicious.
A Variety of Ice Cream Treats
While you can always get a simple scoop of ice cream in a cup or a cone, there are many ways to enjoy ice cream at Mad Dog Creamery. Here are some of the delicious treats you can indulge in at this ice cream parlor:
Milkshakes
Malts
Classic Banana Splits
Ice Cream Sundaes
Expresso Milkshakes
And More!
Mad Dog's Creamery also offers a variety of waffle cones (with and without chocolate and sprinkles) to make your treat even sweeter.
Insider Tip: Visitors should be ready to pay Pigeon Forge prices for ice cream (around $5 dollars a person).
More Than Just an Ice Cream Shop in Pigeon Forge
Mad Dog's Creamery offers guests more than just ice cream treats. Vacationers in need of bit of a pick me up can enjoy an expresso. If you enjoy nostalgic fair food, guests can indulge in that county fair classic - the funnel cake. Craving a more substantial a quick snack between Pigeon Forge attractions, Mad Dog's Creamery offers guests hot dogs topped with homemade Cinnicinati chilli.
Final Thoughts on Mad Dog Creamery Pigeon Forge, TN
If your looking for a quick stop to indulge in your sweet tooth with a local flair, this is the spot for you. After grabbing some ice cream, head back to your cabin with pool access to cool off from the heat for the perfect summer's day in the Smokies.
Contact:
Mad Dog's Creamery Pigeon Forge
3048 Parkway
Pigeon Forge, TN 37863
865-774-5558
B
- Mad Dog's Creamery Pigeon Forge, TN
Written by Brittany Tipton