Get our on the water for a Smoky Mountain experience that you won't soon forget. There are miles of streams, rivers, and lakes in the Smokies that are just wating to be explored. With a tour from Smoky Mountain Kayaking, you'll get the peaceful experience of gliding on a lake with the Smokies as your backdrop. Take your Pigeon Forge cabin rental vacation up a notch with the unique experience of exploring the waterways of the Tennessee mountains!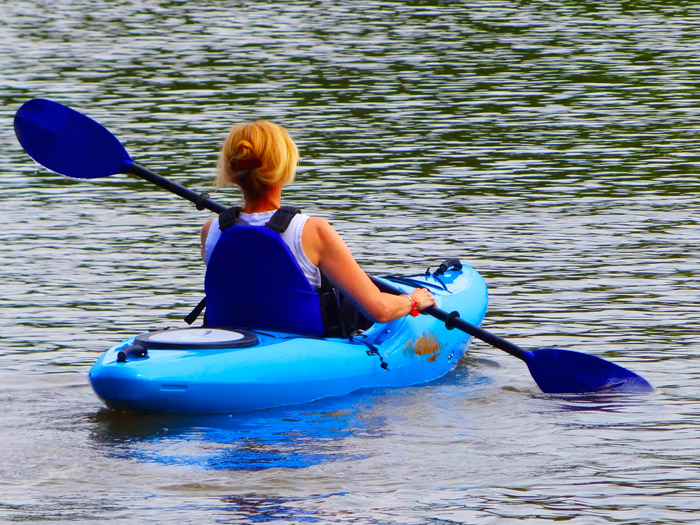 Tours with Smoky Mountain Kayaking
Unless you happen to have brought your own kayak with you on your Smoky Mountain cabin vacation, this outfitter has everything to get you started with a terrific day out on the water.
Along with an experienced guide, Smoky Mountain Kayaking will supply you with a:
Kayak
Paddle
Life Jacket
Backup Communication Gear
And More!
Never had the pleasure of paddling on a lake or river in a kayak? No problem! With expert instruction and professionalism, you won't have to worry about having any previous experience. Flat-water paddling in the Smokies is more relaxing than white-water trips and offers a great way to get some exercise on your vacation.
Better yet, Smoky Mountain Kayaking can create customized trips to fit paddlers of every age and experience. In addition to regular paddling trips, this tour company also offers guided fishing trips.
Chillhowee Lake – Paddle the pristine waters that flow from the Great Smoky Mountains National Park. As part of this trip, vacationers can explore Abrams Creek in the national park and float over town submerged by the dam.
Tellico Lake – Explore a historic area that was once home to many Cherokee villages, see the Fort Loudon historic site and more!
Tennessee River – Paddle on the Tennessee River for an urban tour of nearby Knoxville, TN.
Other possible options include a sunset paddle, a moonlight boat trip at night time, and even special wedding trips where you can tie the knot in a peaceful spot on the water. Some tours in the Tellico incorporate local Cherokee history like the birthplace of Sequoyah, the village of Chota, and other local sights of interest.
Many of these tours are customizable; simply ask what is possible for your kayak trip.
In addition to tours, Smoky Mountain Kayaking offers classes and instruction if you'd like to learn more advanced kayaking skills. These courses focus on everything from stroke mechanics, kayak rescues, and kayak sailing.
Final Thoughts on Smoky Mountain Kayaking
For your Smoky Mountain vacation, you can experience something of the beaten path. These tours are only a short drive from Pigeon Forge and Gatlinburg, plus they provide a completely different look at the Smoky Mountains. Try a kayaking tour in the Smokies with this local outfitter as part of your cabin getaway in Tennessee!
Contact:
Smoky Mountain Kayaking
865-705-8678
smokymtnkayaking@aol.com
Written by Mark Frazier