It's no secret that Pigeon Forge, TN is home to some great go kart tracks. With such a huge variety of courses and karts to choose from, it can be hard to know where to start! Some go kart tracks in the area are a great choice for children while some courses are too extreme for some skittish drivers.
If you're looking to push the limits of go-karts, look no further than Xtreme Racing Center in Pigeon Forge, TN!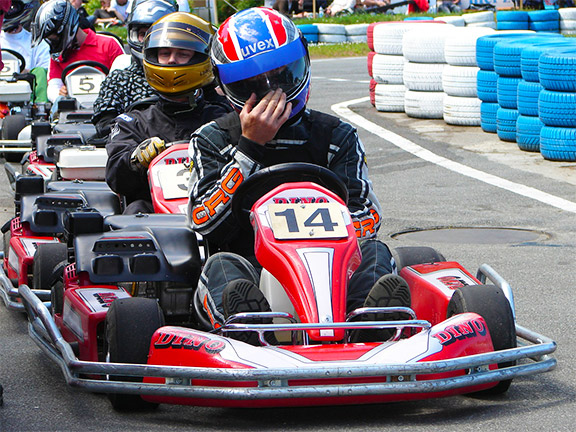 The Xtreme Racing Center Experience
Xtreme Racing has the newest tracks and fastest go karts in Pigeon Forge. While you wait for the race to start, there is a large arcade available to keep any butterflies in your stomach under control. Vacationers looking for high-octane thrills will love this track's high performance karts.
The Sodi GT5 – A high performance go kart from Europe that reaches speeds of 30 mph and has excellent handling.


The Sodi RT8 – The fastest go karts in Pigeon Forge that can reach speeds of up to 40 mph.
They offer 2 brand new tracks for racing:
The Extreme Track – This track is home to the GT5's and the RT8's and is the longest track in Pigeon Forge.


The Elevated Track - This shorter track features some slower single and double-rider carts. This more traditional track is a family friendly choice. Drivers must be 48 inches tall. Double karts must have a driver of at least 16 years of age and passengers can be as young as 3 years old.
Safety and communication are valued by this go kart racing track. Prior to every race, every driver is informed of track rules and guidelines to ensure maximum safety. The courteous and professional staff makes sure everyone knows exactly what to do before they get strapped inside these mean machines.
For competitive racers, the Xtreme Racing Center has a timing system in place so you can see how your time compares to your friends and family.
Insider Tip: Since these karts reach speed of up to 40 mph, this track doesn't allow "grid starts" with all go karts leaving the starting line at once. Bumping other karts is also forbidden since the velocities increase the risk of injury.
40 MPH Go Kart Tickets
A single run of the 30 mph GT5's on the Extreme Track costs $20.
To experience the thrilling RT8, riders are required to purchase a combo ticket at $30 that includes a run of both high performance go karts. First, drivers will take the GT5 kart on the Extreme Track. After this warm up run, drivers can then reach speeds of 40 mph on the track with the Sodi RT8. Drivers must be at least 11 years old.
Xtream Racing Center requires this as a safety precaution to ensure that racers are ready for handling these high speed karts. Guests who purchase the combo ticket will race the long track backwards and forwards – a whole different experience!
On the Elevated Track, a single kart costs $11 and a Double kart costs $13.
Xtreme Racing Center Discounts
Though the ticket price may seem a little steep, the experience is well worth it. Plus, there are ways to save at this Pigeon Forge go kart track!
Visit Early in the Day – Guests who arrive around 10 am may be eligible for an early bird special.
Check For Brochure Coupons – At visitor centers and restaurants, there will likely be brochures with $2 discounts for Xtreme Racing Center.
Military Discount – Members of our armed forces receive a 10% discount on this Pigeon Forge attraction when they present a valid military ID.
Xtreme Racing Center Hours and Location in Pigeon Forge
During weekdays of the peak season in Pigeon Forge, Extreme Racing Center of is open from 10 am to 10 pm.
The weekends have extended hours ranging from 9 am to 12 am. This is one of the late night options for go kart racing in Pigeon Forge. During winter and early spring, hours may fluctuate.
You'll find Xtreme Racing Center in Pigeon Forge between traffic lights #5 and #6 on the main parkway. You'll find the fastest karts in Pigeon Forge near Fly Away Indoor Sky Diving and Adventure Golf.
Be sure to include this and other extreme adventures on your Pigeon Forge cabin rental vacation in the Great Smoky Mountains of Tennessee!
Contact:

3144 Parkway
Pigeon Forge, Tennessee 37863
877-920-6294
B
- Xtreme Racing Pigeon Forge, TN
Written by Mark Frazier