While driving through Pigeon Forge, you may notice a newly built prison building right off the parkway!
This is "Alcatraz East," am extensive 25,000 square-ft. museum with 5 galleries and interactive exhibits for all ages located near The Island in Pigeon Forge.
This unique museum has the history and details of crimes and punishment through the years. The building itself is modeled in the style of a 19th-century prison and the concept for this museum was inspired by a visit to the famous Alcatraz Prison near San Francisco.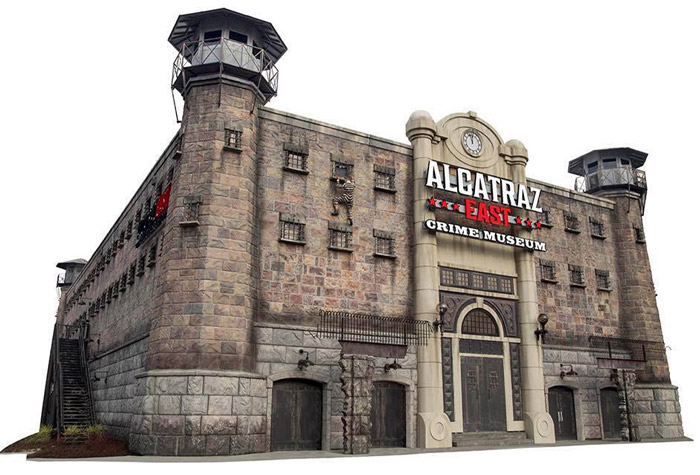 About Alcatraz East Prison Museum
With over 100 interactive exhibits, a typical visit to Alcatraz East can be about 2 to 3 hours to enjoy your trip.
Interactive features include:
A CSI Lab
A Simulated Shooting Range
Safe Cracking
Digital Fingerprinting
DUI Interactive Safety Training
The museum maintains a collection of artifacts from some of the most infamous crimes in American history and unique curiosities to tell the history of criminals and the justice system.
Here are some of the interesting artifacts on display:
John Dillinger's Death Mask
Al Capone's Rosary
The Bronco from the OJ Chase
Ted Bundy's 1968 Volkswagen Beetle
An FBI Polygraph Machine
Al Pacino's Submachine Gun From Scarface
Crime Museum Galleries
A Notorious History American Crime
From medieval knights to greedy pirates to desperados in the Old West. This gallery covers the modern era, where new breeds of criminal have emerged such as the "White Collar" criminal and hackers.
Punishment: The Consequence of Crime
Explore the consequences of crime as you make your way through the booking room, a mug shot, a lie detector test, and the cold iron bars of a jail cell.
Crime Fighting
A look at the history of famous crime fighters like the FBI's J. Edgar Hoover, Eliot Ness, local police officers, and other crime-fighting personnel who work to make our world safer.
The Scene of the Crime
Learn about the use of forensic science technology to solve crimes with modern knowledge of ballistics, blood analysis, fingerprinting, and dental and facial reconstruction.
Counterfeit Crimes
From designer purses to watches, it's easy to make a quick buck when you can imitate expensive brands. Take a look at the trillion dollar counterfeit industry and its impact on society and pop culture.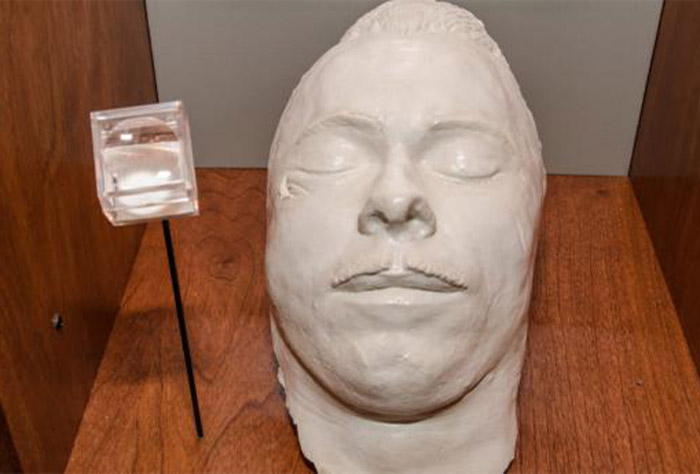 Ticket Prices
General Admission
Adults (13-60) $24.95
Children (6-12) $14.95
On top of general admission, you can enjoy these add-ons to make your museum experience even more memorable!
Audio Tour - $5
A complete audio tour of the museum narrated by anchorman Bill Kurtis, famous for his narration of "Cold Case Files."
Top Detective Guidebook Challenge - $5
It's your job to find a missing artifact from the museum's private collection. Find clues and answer questions on this interactive journey to crack the code and solve the mystery!
The Heist - $5
Make your way through an advanced laser security system to steal a priceless work of art!
VIP Admission
Adults (13-60) $34.95
Children (6-12) $24.95
Includes admission to Alcatraz East, an audio tour, Top Detective Challenge, and the "Heist."
Hours And Location
Alcatraz East is open 365 days a year and typical operating ours are from 10 am – 9 pm. The last tickets of the day are sold an hour before the closing time.
Normal Hours
10 am - 9pm
Holiday Hours
Dec. 19 – January 1 open until 11 pm
Christmas Eve – 10 am – 6 pm
Christmas Day - 1pm - 9 pm
The Alcatraz East Prison Museum is located in between traffic light #3 and #4 on the Pigeon Forge Parkway beside Stages West and the James Manor Hotel. Alcatraz East is part of The Island family of attractions; so parking is free at marked lots.
Contact:
Alcatraz East Crime Museum
2757 Parkway
Pigeon Forge, TN 37863
865-453-3278
info@alcatrazeast.com
https://www.alcatrazeast.com
B
- Alcatraz East Crime Museum
Written by Mark Frazier