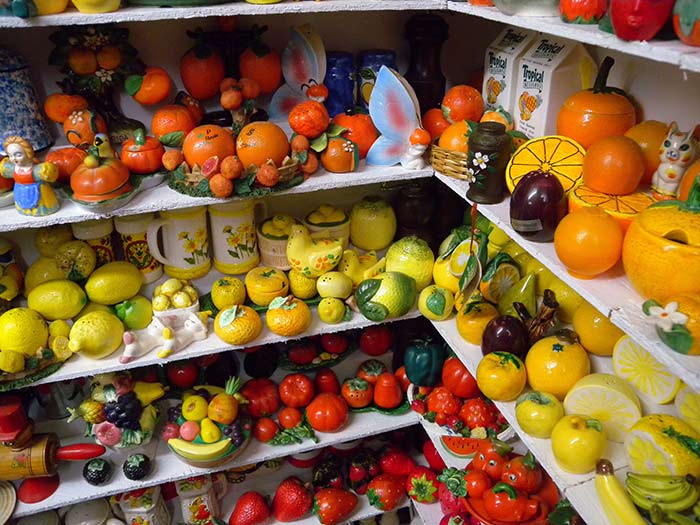 Flashback to a seemingly ordinary garage sale in the mid-1980's in California, Andrea Ludden hunts for a pepper mill to replace her family's broken one. 30 years and several states later, the Salt and Pepper Shaker Museum in Gatlinburg, TN houses Andrea's 20,000 sets of salt and pepper shakers from around the world as well as 1,500 pepper mills. Standing out from other Gatlinburg museums, Andrea Ludden's passion for her collection shines through the seemingly endless rows of salt and pepper shakers at Salt & Pepper Shaker Museum.
The History of Salt & Pepper Shaker Museum
Andrea Ludden, a Belgian archeologist who spent several years researching how people traveled and communicated in South America, found herself fascinated with salt and pepper shakers after a fairly routine garage sale hunt for a pepper mill. When one pepper mill failed to work, Andrea bought another, sitting the old on the windowsill. Soon, neighbors assumed she was starting a collection and began bringing her new shakers. Eventually after collecting 14,000 sets of shakers, Andrea's husband, Rolf, put his foot down and told Andrea that something had to be done about all of the shakers.
The Luddens then moved to Cosby, TN with the expressed goal of opening the first Salt & Pepper Shaker Museum. They have since moved locations as well as opened another salt pepper museum across the Atlantic in Guadelest, Spain that houses yet another 20,000 sets of shakers!
An Expansive Collection at Salt & Pepper Shaker Museum
Salt & Pepper Shaker Museum's massive collection holds 17th century salt cellars (what people used to house salt before the addition of magnesium carbonate which stopped clumping and allowed for the shaker's advent in the 1920's), beautiful gold and silver plated shakers from the 1800's, as well as kitschy novelty shakers from the 1940s onward. One of the primary purposes of the Salt & Pepper Shaker Museum is to display the variety and creativity of the artisans who created this oftentimes ornate objects that to the casual observer my seem quite mundane, and there is no shortage of examples to fascinate with their clever designs.
Arranged in rows like the finds of an archeological dig, the thousands of shakers in the Salt & Pepper Shaker Museum are grouped together by theme. A wall of lily-pad green frogs gaze at guests with caricatured eyes. Santas, gingerbread men, Christmas trees, and ornaments populate the Christmas section in a veritable North Pole of shaker sets. The museum even hosts a ceramic shaker vegetable garden filled with ears of corn, deep purple eggplants, and brilliant red tomatoes! From bovine to poultry, the Salt & Pepper Shaker Museum holds a true Noah's Ark of animal examples. There are even appearances from some of the most beloved cultural icons in the mix. The Beatles' shaker set gives new meaning to Sergeant Pepper, while several sets feature America's favorite redhead Lucile Ball. There is even a butterfly Dolly Parton shaker set!
What sets the Salt & Pepper Shaker Museum apart from other Gatlinburg museums is that this is a true labor of love by Andrea Ludden. This museum stands as a testament to one woman's passion for finding the beauty and history of one of the most commonplace items in everyday life. Everyone from collectors to appreciators of interesting artifacts will find Salt & Pepper Shaker Museum a fascinating experience.
Visitors should note that 3 dollar cost of admittance to the Salt & Pepper Museum goes toward any purchase made in the gift shop, and children 12 and under get in free. Take a break from the usual Gatlinburg museums and come explore history through an often forgotten household item.
Want to add more Gatlinburg Museums to your itinerary?
Visit Cabins USA's Museum Attractions page to find other museums in the area to complete your informative outing in the Smokies. Cabins USA strives to provide quality information on the area's attractions to make the stay at one of our Pigeon Forge cabin rentals as extraordinary as possible.
Contact:
The Salt and Pepper Museum
561 Brookside Village Way
Gatlinburg, TN 37738
865-430-5515
http://www.thesaltandpeppershakermuseum.com
B
- Salt & Pepper Shaker Museum
Written by Brittany Tipton