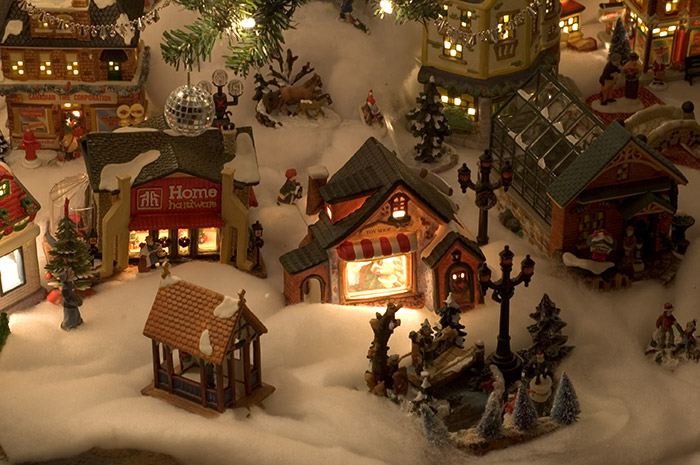 The twinkle of ornaments on Christmas against the lights on the Christmas tree. The smell of freshly cut pines and homemade cookies out the oven. The halls decked with red and green and all things sparkly. At The Christmas Place Pigeon Forge, you'll feel the the holiday cheer almost any day of the year (except, of course, Christmas Day).
What started as a small store next to the Old Mill Pigeon Forge has since grown into a 43,000 square feet complex modeled after a Bavarian village. This Pigeon Forge Christmas Store ranks as one of the top ten Christmas and collectible stores in the Unites States and offers a wide variety of merchandise to spread the holiday cheer.
One of the Largest Christmas Selections in the South at Christmas Place Pigeon Forge
Whether you're shopping for whimsical, traditional, or contemporary Christmas decor, The Christmas Place Pigeon Forge Christmas Store offers something to deck your halls with holiday cheer. With a tremendous collection of Christmas trees, ornaments, wreaths, lights, and more, there is no shortage of decoration ideas at this Christmas shop in Pigeon Forge. The Christmas Place Pigeon Forge features:
Christmas Ornaments Galore- The Christmas Place Pigeon Forge features one of the most extensive collections of any Pigeon Forge Christmas store and almost any Christmas store in the South. Whether you're looking for snowmen, snowflakes, or classic balls to hang on the bows of the tree.
A Grove of Christmas Trees- Whether your looking for pre-lit, a corner tree, or an extra large tree for a large space, The Christmas Place Pigeon Forge provides Balsam, Dogulas Firs, and Aspens ready for you to decorate.
A Vast Christmas Village- Collectors of Christmas Village statues and houses won't be able to resist a trip to The Christmas Place Pigeon Forge. Whether you're collecting the Dickens Village, the Grinch Village, the New England Village, or even the spooky Halloween village, Christmas Place Pigeon Forge has another piece to add to your collection.
Personalized Christmas Items and Decor- Looking for a special gift for someone in your family or a friend? Why not take advantage of The Christmas Place Pigeon Forge's personalization services that this Pigeon Forge Christmas store offers. From stockings to picture frames these gifts and decor will make the holiday even brighter.
Delicious Sweets and Candies- Can't wait until December the 25th to enjoy those special holiday treats? The Christmas Place Pigeon Forge offers an onsite bakery that provides delicious candies, fudge, cakes, and more to give you a taste of Christmas morning any time of the year.
This is just a sample of the wide selection of gifts, decorations, and Christmas collectibles that The Christmas Place Pigeon Forge Christmas Store. No matter what you're looking for this Christmas store in Pigeon Forge probably has whatever you're looking for to bring Christmas cheer to your family this December!
Stay close to The Christmas Place Pigeon Forge Christmas Store!
Want to stay close to all the Christmas cheer at The Christmas Place Pigeon Forge? A stay in our Pigeon Forge log cabin rentals offers guests a location convenient location close to all the attractions, restaurants, and shows on the Pigeon Forge Parkway as well as comfortable amenities for a relaxing cabin vacation. Book you mountain home away from home today and start planning an unforgettable vacation to the Smokies!
Contact:
The Christmas Place Pigeon Forge
2470 Parkway
Pigeon Forge, TN 37863
800-445-3396
http://www.christmasplace.com
B
- The Christmas Place Pigeon Forge Christmas Store
Written by Brittany Tipton