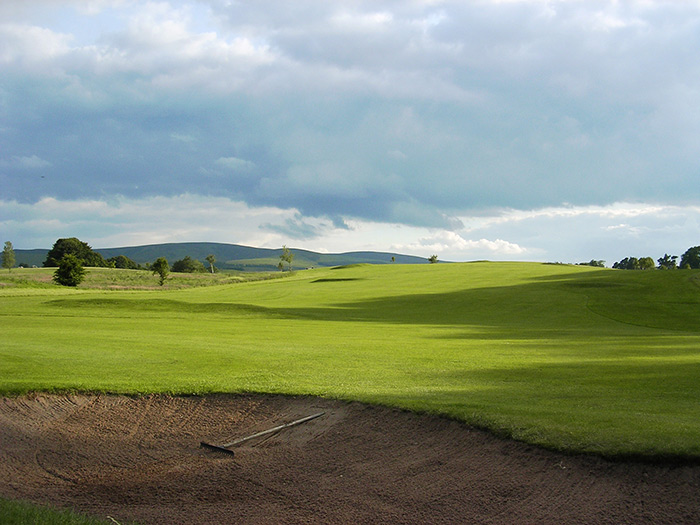 With greens like carpet and stunning mountain views, it's no wonder why Gatlinburg Golf Course remains one of the most popular golf courses near Pigeon Forge, TN. These 18 holes rest in the foothills of the green mountains of East Tennessee, so every stroke on this Smoky Mountain golf course brings new views of the surrounding mountains. Pack up your clubs, throw on your favorite pair of golf shoes, and head one of the best Gatlinburg golf courses around! A trip to this most noteworthy of Gatlinburg golf courses is sure to top your list of things to do in Gatlinburg, TN.
Gatlinburg Golf Course's Award-Winning Smoky Mountain Golf Course
Gatlinburg Golf Course has received the honorable distinction as one of the most picturesque courses in America with its breathtaking views of the Great Smoky Mountains. Designed by noted golf course architect William Langford, this beautiful 18-hole golf course underwent a half-million dollar renovation to several holes in 2007 by Bob Cupp & Associates of Atlanta. Rebuilt greens and reworked fairways offer beginners to well-seasoned golfers a unique challenge on every hole along with gorgeous views around each bend.
All together this spectacular 18-hole Smoky Mountain golf course stretches out over 6,281 yards of challenging and exciting fun. Shoot for an eagle or even an albatross on these holes which will test your skills (and perhaps your patience). Some of the legendary holes at the Gatlinburg Golf Course are:
Hole #12 - Affectionately known as "Sky Hi" by golfers at Gatlinburg Golf Course this hole drops 200 feet from tee to the green, making for a challenging descent.
Hole #3 - This 529-yard par 5 at Gatlinburg Golf Course is aptly named "Long Lane."
Hole #17 - This 231-yard par 3 hole at Gatlinburg Golf Course is anything but forgiving and will present even seasoned golfers with a challenge.
Gatlinburg Golf Course's Fees and Services
Gatlinburg Golf Course is open year-round and offers golfers a fully equipped pro shop and food services. Gatlinburg Golf Course green fees vary. June through October and holidays have the highest green fees, varying slightly with the time of day of your tee-off. Additionally, this Smoky Mountain Golf course offers discounts ] for seniors, juniors, and active-duty military. The Gatlinburg Municipal Course gives guests the option to play 9-holes on an adjusted fee. For additional information on tee times and prices, please call the pro shop during business hours to book your Gatlinburg golf course excursion. Keep in mind that during prime season (June through October), tee times should be reserved up to 14 days in advance through the pro shop or online.
The Gatlinburg Golf Course's Clubhouse offers several services to its guests. Visit the well-stocked Pro Shop with golf gadgets, golfing apparel, and more! While waiting for your tee time, relax with your golfing buddies and enjoy some delicious food before you hit the greens. From hamburgers to hearty chicken sandwiches, Gatlinburg Golf Course boasts food offerings that will please every palette. The clubhouse is open every day from 7am - 7pm. You'll be hard pressed to find things to in Gatlinburg, TN that are on par with this Smoky Mountain Golf Course!
Stay Close to Gatlinburg Golf Course and other Golf Courses Near Pigeon Forge, TN!
The Gatlinburg Golf Course rests located in the heart of Pigeon Forge, across from our Bear Cove Falls Pigeon Forge cabins next doors to Dollywood Amusement Park. A stay in one of out cabins offers vacationers all the comforts of home in a convenient location. Come see why a cabin stay is the best way to enjoy all the things to do in Gatlinburg, TN and the best place to stay by the golf courses near Pigeon Forge, TN!
Contact:
Gatlinburg Golf Course
520 Dollywood Ln
Pigeon Forge, TN 37863
800-231-4128
http://golf.gatlinburg.com
B
- Gatlinburg Golf Course
Written by Brittany Tipton