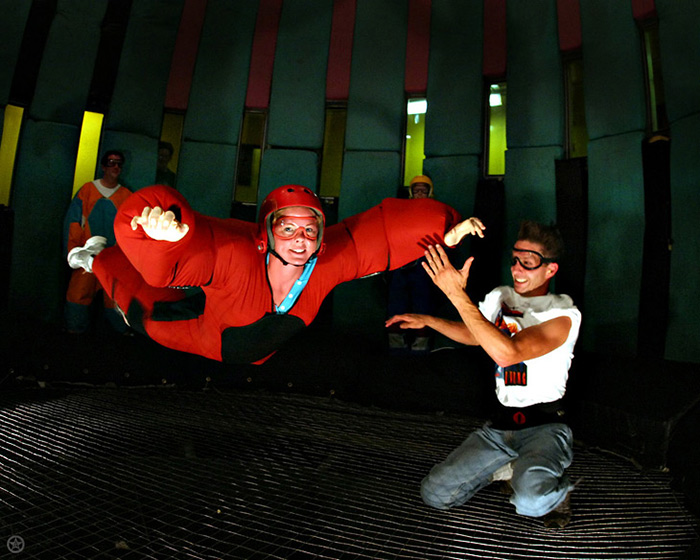 Have you ever dreamed of soaring through air like a superhero? You can experience the closest thing to human flight with indoor skydiving in Pigeon Forge. Flyaway Indoor Skydiving allows vacationers to take off into the air and feel weightless at one of the most unique, unforgettable Pigeon Forge attractions. Those looking for things to do in Pigeon Forge on their Smoky Mountain vacation will want to add this to their vacation itinerary.
Some Background on Flyaway Indoor Skydiving, Pigeon Forge, TN
Flyaway Indoor Skydiving is the one of the two oldest indoor skydiving facilities in the world. In 1982, Flyaway Indoor Skydiving opened its doors along with another wind tunnel in Las Vegas, NV. Since then, Flyaway has been providing the unique service of indoor skydiving in Pigeon Forge to vacationers in the Smokies seeking an exciting, thrilling, one-of-a-kind experience.
The physics of the Flyaway Indoor Skydiving's tunnel are simple - a giant propeller spins, creating winds up to 120 mph in speed that simulates the conditions of a free fall. Experiencing indoor skydiving in Pigeon Forge feels like rush you would get while speeding through the air after diving out of a place, without all the possible frighting outcomes of a sky diving flight. Come to Flyaway Indoor Skydiving tunnel to experience the freeing experience of flight and one of the most unforgettable Pigeon Forge attractions.
The Experience of Flyaway Indoor Skydiving
What does it feel like to fly at Flyaway Indoor Skydiving, Pigeon Forge, TN? Imagine standing on a beach as hurricane force winds blast around you. If you've ever been in a speeding car, rolled down the window, and stuck your hand out to feel the rush of the air? The Flyaway Indoor Skydiving experience offers a similar experience except at a much greater intensity.
A Flyaway Indoor Skydiving, Pigeon Forge TN's typical flight experience lasts a little under an hour and fully prepares you for what to expect during your flight. As a flyer, you are required to attend a 20 minute training class where body technique and safety procedures will be covered. Any questions you may have about the flight should be addressed to the instructor would be best addressed to your instructor at this time. Following training you will put on all the necessary equipment for flight and prepare for your exhilarating Flyaway Indoor Skydiving adventure!
After preparation, you, your group, and your instructor will enter into the wind tunnel and take your individual turns weightlessly soaring through the air. Your instructor will maintain the safety of each individual during the flight. After you flight ends, you'll be glad you chose to experience indoor skydiving in Pigeon Forge. This will be one of the Pigeon Forge attractions you'll remember for years!
Stay Near Pigeon Forge Attractions at Pigeon Forge Cabins
Looking to stay near all the exciting Pigeon Forge Attractions? Cabins USA's Pigeon Forge, TN cabins offer convenient locations to all the shows, dining, and attractions of the Smokies as well as comfortable in cabin amenities that will make you feel right at home.
As a flyer, participants attend a 20-minute training class where body control techniques and safety procedures are discussed. - See more at: http://www.flyawayindoorskydiving.com/?page_id=6#sthash.8kk6I6et.dpuf
As a flyer, participants attend a 20-minute training class where body control techniques and safety procedures are discussed. - See more at: http://www.flyawayindoorskydiving.com/?page_id=6#sthash.8kk6I6et.dpuf
Contact:
Flyaway Indoor Skydiving
3106 Parkway
Pigeon Forge, TN 37863
865-453-7777
http://www.flyawayindoorskydiving.com
B
- Flyaway Indoor Skydiving
Written by Brittany Tipton