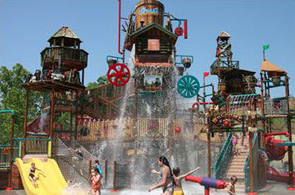 Discover fun and adventure in the Smoky Mountains largest water park - Dollywood Splash Country Waterpark Pigeon Forge, TN! Nestled in the heart of the Southeast's biggest playground this family friendly water park offers thrilling water rides, relaxing lazy rivers, and Tennessee's first ever water coaster. So beat the summer heat at Dollywood Splash Country!
An Award-Winning Water Park in the Smoky Mountains!
With 23 ways to cool off, including water slides, thrill rides, interactive children's playground areas, wave pools, and lazy rivers, there's family fun for everyone at Dollywood Splash Country. Pigeon Forge is field with things to do, but no attraction is as cool as this one. Resting on 35 acres of lands in the foothills of the Smoky Mountains, this Dollywood waterpark's inspiration comes from Dolly's childhood summers spent playing in mountain streams and waterfalls. Dollywood Splash Country transports you back to carefree summers and allows you to form new summer memories with its fun, exciting ways to cool of from the Southern heat.
Thrilling Rides at Dollywood Splash Country
Dollywood Splash Country offers families vacationing in the Smokies an exhilarating way to cool off. With daring drops, thrilling turns, and, of course, tons of refreshing splashes of water, this family friendly water park gives you a way to beat the heat that will have you laughing from excitement and excitedly screaming from the rush of its water rides. Dollywood Splash Country rides include:
River Rush - Speed through dark tunnels, race around turns, and feel the rush of 4 drops on Dollywood Splash Country's water coaster - the only one in Tennessee.
Fire Tower Falls - At a height of 70 feet, Dollywood Splash Country's tallest water slide offers adrenaline seekers the rush they're craving.
Big Bear Plunge - Simulate the experience of white water rafting you'll feel like you're on a expedition in the mountains on this thrill ride at Dollywood's waterpark.
Raging River Rapids - The whole family can climb on their raft and enjoy the thrill and chill of this Dollywood Splash Country water ride.
Slick Rock Racer - Who will win the race on this competitive Dollywood Splash Country water ride? Race down on of 4 slides to decide who comes out on top!
Other Ways to Cool Off at Dollywood Splash Country
Dollywood Splash Country not only offers days worth the family fun in water rides, but there are plenty of areas for you to tone up your tan, relax in the water, or share a family picnic. Dollywood Splash Country offers families two play areas for the kids to enjoy splashing around.
Bear Mountain Fire Tower - Prepare for soaking by the 1,000 gallons of water unleashed by the giant bucket at this interactive play area that features 7 slides and water cannons.
Little Creek Falls - With slides and an activity center, the tykes are sure to enjoy splashing in this play area.
In addition to play areas for the kids, Dollywood Splash Country Pigeon Forge also holds more relaxing ways to beat the heat. Enjoy this Dollywood waterpark offerings:
Mountain Waves - Feel like your at the beach in this wave pool in this water park in the Smoky Mountains
Downbound Float Trip - Float down this 1,500 foot lazy river surrounded by trees and feel like your in a mountain stream at Dollywood Splash Country.
The Cascades - Enjoy a cascading waterfall, two grotto slides, water jets, and geyser at this 8,000 square foot interactive pool.
When you're not getting wet at all the water rides and attractions, there's plenty of space to relax and work on your tan around the park. Rent out one of the retreats or canopies for extra space and shade on those extra warm summer days.
Stay close to Dollywood Splash Country Pigeon Forge
Our reservations staff are more than happy to answer any questions you may have regarding Dollywood Splash Country Water Park or Dollywood Theme Park. You may want to ask about the Park Hopper pass, which allows you to enjoy both Pigeon Forge parks during your stay in the Tennessee Great Smoky Mountains area. Whatever question you may have, Cabins USA strives to provide guests with whatever information they need to make their vacation enjoyable. Be sure to check out our cabin rentals in Pigeon Forge, Tennessee while planning your trip to Dollywood!
Contact:
Tickets
2700 Dollywood Parks Blvd
Pigeon Forge, TN 37862
800-365-5996
B
- Dollywood Splash Country Waterpark
Written by Brittany Tipton