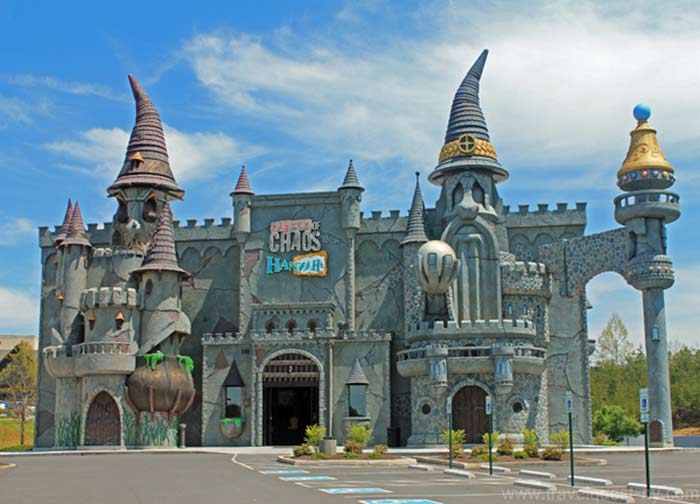 Hannah Maze of Mirrors Pigeon Forge presents families with challenging fun adventure that transports them into a magical trapped laid by the evil Witch Hetty to trap Princess Hannah Forever! With over 288 potential turns, this maze is a lot harder than it first seems. Will you be able to find the way out and rescue the Princess in time or will her fate be sealed forever? See if you have the skills to become "The Chosen One."
A Interactive Fairytale at Hannah's Maze of Mirrors Pigeon Forge!
Visitors looking from Pigeon Forge attractions for families will love this interactive fairytale that is sure to entertain small children and those with a childlike imagination. Before entering the Hannah's Maze of Mirrors listen to the story of the once vain Princess Hannah of the Castle Savannah who has been trapped by the ugly, evil Witch Hetty. Jealous of Hannah's beauty she placed the Princess in a maze of mirrors, as a punishment for her vanity. Until "The Chosen One" appears to free her from her trap, beautiful Princess Hannah will be cursed forever. Help Queen Emmy and King Oscar save their beloved daughter before its too late!
In this maze created by world renowned Adrian Fisher, vacationers will be spellbound with the special effects and challenges of this mirror maze. With colored lighting effects, an infinity drawbridge, rotating floor, a vortex, and other elements, this maze will be challenging for even the adults in the group. Hannah's Maze of Mirrors Pigeon Forge provides a challenge adventure that you and your family will feel a part of. Root for Hannah and discover who the the true "Chosen One" is in your group as you race against the clock to free the Princess from Witch Hetty's spell.
Will you be able to navigated through the maze in time? Visit Hannah's Maze of Mirror Pigeon Forge to find out!
Visit other Pigeon Forge Attractions for Families on a Budget
The Hollywood Wax Museum offers a value ticket package that includes admission to the entire wax museum, the frightening Castle of Chaos 5D ride, and Hannah's Maze of Mirrors Pigeon Forge. This bargain provides families with enough activities to fill and entire afternoon in the Smokies!
Stay Close to Pigeon Forge Attractions for Families!
When planning your family vacation, choosing the right lodging is essential. Staying in one of Cabin USA's Pigeon Forge cabin rentals near Dollywood offer plenty of space for the kids to play and Mom and Dad to relax while staying close to all the Pigeon Forge Attractions for families that the kids can't wait to see! Experience the best option for a vacation in the Smokies with a cabin rental from Cabins USA!
Contact:
Hannah's Mirror Maze
110 Showplace Blvd
Pigeon Forge, TN 37863
865-428-5228
http://hollywoodwaxentertainment.com/attractions/hannahs-maze-mirrors-pigeon-forge-tennessee
B
- Hannah's Maze of Mirrors
Written by Brittany Tipton