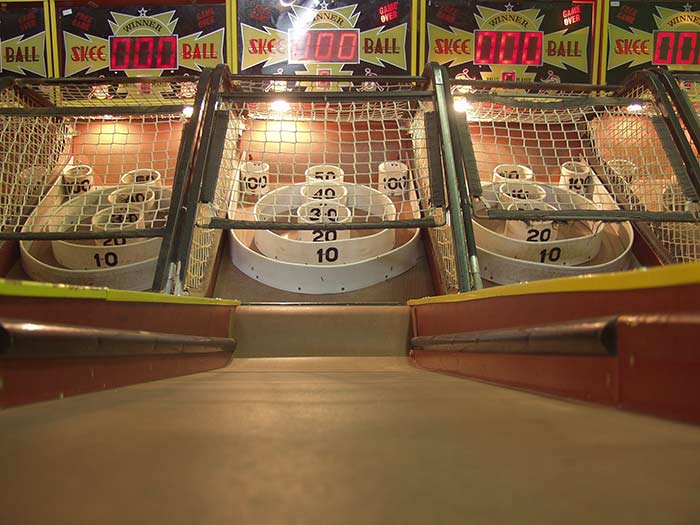 Located on the action-packed Pigeon Forge Parkway, Lazerport Fun Center provides family with a one stop location for an afternoon of family fun. Whether you want to experience the adrenaline rush of a go-kart ride or the fierce competition of laser tag, there is something for everyone in the family at this fun center. Make memories with loved one that will last a lifetime at this arcade in Pigeon Forge!
Go-Karts
Lazorport Fun Center offers vacationers to the Smokies a go-kart experience to remember. One of the newest and tallest go-karts in the area, Lazerport Fun Center's go-kart track stand 50 feet high (3 stories to be exact). This fast-paced go-kart ride sends riders spiraling up to the top, twisting and turning through curves until you reacg the top where you plunge down a 40 feet hill into a tunnel to the bottom. Reaching top speeds of around 35 mph on this daring track will give thrill seekers an adrenaline rush that no other track in Pigeon Forge can provide!
Lazerport's Arcade in Pigeon Forge
With 10,000 sq ft of arcade space, the kids (or the kid at heart) can test there skills at the various arcade games in this large arcade. From ski ball to shooter games, racing games to challenging arcade classics, there's an arcade game at Lazorport Fun Center that every member of the family can appreciate. After racking up tickets, make your way the the prize counter to trade them in for prizes! From Tootsie Rolls to stuffed animals, you'll leave with bounty from your arcade in Pigeon Forge adventure!
Unique Blacklight Mini-Golf in Pigeon Forge, TN
Step into the only indoor miniature golf in Pigeon Forge, TN with blacklighting. Blast off into 18-holes of galactic-themed golf! Spacemen, aliens, and UFO's follow you along this challenging indoor course set in a galaxy far, far away. While the entire family is sure to enjoy the quality time spent together, competition is fierce. Navigate the turns, bumps, and drops of each hole in the dim glow of the blacklights. At the last hole, see which family member holds bragging rights!
Laser Tag
The competition continues in one of Lazerport's 2 exciting laser tag arenas! Even fiercer than the competition at the only blacklight mini-golf in Pigeon Forge, TN, Lazerport Fun Center's laser tag arenas offer a total battle! Each 15 minute game will test your skills as you fight against friends and family to come out on top. Whether the family plays one or two games or opts for an unlimited package, everyone in the family will enjoy fighting to the end in one of the two arenas.
Fun for Families, Church Groups, and other Large Groups
Families or church groups staying in the Smokies can take advantage of Lazerport Fun Center's group packages that include lock-ins with unlimited laser tag, go-karts, and mini-golf for a fraction of the price for 2 hours. This attraction is the perfect place to bring friends and families for a great time! Additionally groups can take advantage of the Park Hopper which allows you to enjoy up to 5 activities at Speed Zone, LazorPort Fun Center, and Xtreme Racing at a discounted price! Your armband also gives you additional discounts at Five Oaks Riding Stables, Adventure Park Zip Lines, and Tree Tops Ropes Course!
Stay Close to Lazerport Fun Center!
If you are planning on hosting a family reunion or a church retreat, consider looking at Cabins USA's Pigeon Forge family reunion cabin rentals for your lodgings. We offer cabins with all the comforts of home close to all the attractions of Pigeon Forge, providing the perfect lodging for groups seeking to get away to the Smokies. Whether you chose to book your itinerary with another fun park adventure in Pigeon Forge or a trip up to the Great Smoky National Park, a stay in one of our cabins places you at the heart of the action!
Contact:
Lazer Port Fun Center
2782 Parkway
Pigeon Forge, TN 37863
http://www.lazerportfuncenter.com
B
- Lazerport Fun Center Pigeon Forge
Written by Brittany Tipton