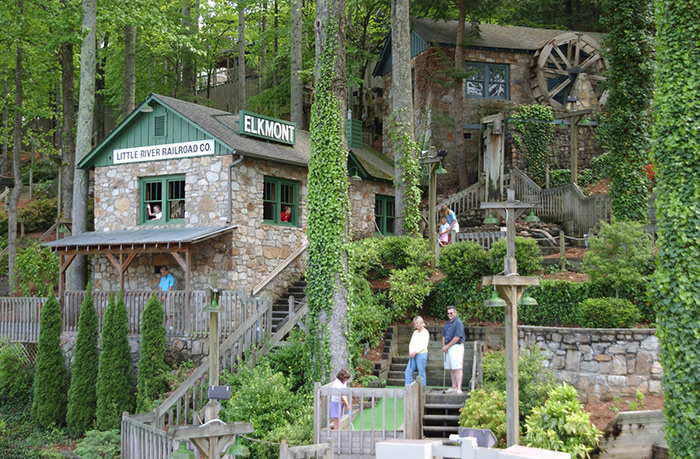 Step into Fort Fun Gatlinburg and into a world full of family entertainment. This Gatlinburg Fun Center provides vacationers to the Smoky Mountains with several activities for a fun-filled day with the family. Whether you choose Gatlinburg gem mining, a motion ride, or putt-putt golf, there's tons of fun for every member of the family at Fort Fun Gatlinburg!
Fort Fun's Premier Putt Putt Golf in Gatlinburg, TN
Fort Fun Gatlinburg offers 2 challenging outdoor putt-putt courses as well as an exciting indoor golf course. No matter which course you choose, the family will have 18 holes worth of friendly competition to battle it out and testing their putting skills. Enjoy the mountain air on one of the 2 outdoor courses that offer not only fun, but educational information on the Great Smoky Mountain area. Try your luck out on:
The Old Town Square - This challenging course features restored cabins and historical buildings on the course. There's even a trick shots that go through the cabins. Throughout the course you'll learn fun trivia about Gatlinburg, such as how it got its name.
The Old Mountain Trail - This course meanders through the native landscape. Learn about the the native inhabitants of the area, the Cherokee, as well as why the Great Smoky Mountain National Park was created, from the informative markers throughout the course. When you exit the course through Elkmont's Little River Railroad Company train station, you'll feel as though you've stepped back in time to a logging town of yore.
If the weather is inclement, families can enjoy 18-holes of fun on the indoor, under-water themed blacklight golf course that's available no matter what the weather's like! Families who love to golf will enjoy the "Unlimited Golf Pass" which gives you and your family as much golf as they want during the duration of your stay in the Smokies.
Fort Fun Gatlinburg's Laser Tag
The competition in the futuristic, large arena with sentry pods and home bases that fire on your opponents is anything but friendly. With 4 ways to play, the possibilities for fun are endless! Will you play every man for himself, break into teams, or hide from dangerous vampires? No matter what style of game you choose, the competition is sure to be fierce as you navigate the the fog-filled arena with tons of hiding places and dangerous mines that shoot everyone in sight!
Fort Fun Gatlinburg's Motion Theater and 3D theater
Enjoy this Gatlinburg fun center's state-of-the-art motion theater. Experience twists, turns, and drops as you travel through space, a volcano, the Arctic, and more. The 3D theater offers a unique glimpse of some of your favorite stories, such as Alice in Wonderland, as well as 3D dinosaurs and spacemen. The kids are sure to enjoy both these theater experiences.
This Arcade in Gatlinburg's Other Family Fun Options
Enjoy some of your favorite video games in the expansive arcade. Rack up the tickets and trade them in for prizes from stuff animals to tech toys. Try your luck at the Mission Impossible style laser maze or enjoy the bumper cars. Fort Fun also offers Gatlinburg gem where you can find 15 kinds of rubies, fossils, arrowheads, and more!
Stay close to Fort Fun Family center!
Stay close to all the action with Cabins USA family-sized cabins. With all the comforts of home and a convenient location, a cabin stay in the Smokies is sure to be the most memorable family vacation yet. Enjoy more family fun parks like Rockin' Raceway on your trip and come back to a comfortable, spacious cabin in the Smokies
Contact:
Fun Fort Family
716 Parkway Suite 210
Gatlinburg, TN 37738
865-436-2326
http://www.fortfungatlinburg.com
B
- Fort Fun Family Entertainment
Written by Brittany Tipton