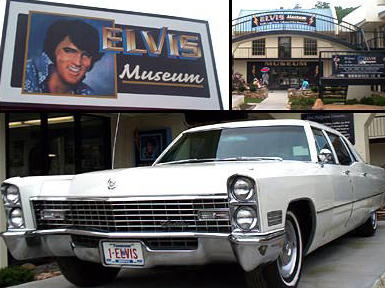 Please Note: This attraction is closed. The Elvis Museum in Pigeon Forge is no longer open.
The Elvis Museum Pigeon Forge is dedicated to the world's largest private collection of Elvis Memorabilia! In addition to items from the King of Rock, the Elvis Museum houses several pieces of Hollywood memorabilia from other stars in its new location in Walden's Landing Pigeon Forge!
Come discover how a kind gesture from Elvis Presley turned Mr. Moon into an avid Elvis fan and collector of authentic Elvis Presley memorabilia since 1971, six years before Elvis' passing.
Upon Elvis' passing in 1977, Mr. Moon was encouraged to open the first Elvis Presley Museum beyond the gates of Graceland. Members of Elvis Presley's entourage provided items to Mr. Moon and in 1979 the Elvis Museum in Pigeon Forge Tennessee was finally opened. Mr. Moon devoted two decades since expanding his collection to the prestigious title of "World's Largest Private Collection of Elvis Memorabilia" before passing this spectacular private museum collection to his daughter. The Moon Family proudly displays this priceless collection for you - the loyal and devoted fans Elvis lived and sang for!
The Elvis Museum in Pigeon Forge's Collection
Upon arriving at The Elvis Museum in Pigeon Forge, you'll be handed an audio guide that allows you to listen to an explanation of each item in the museum (or you can choose to explore the museum yourself). Allow at least 30 minutes to complete the audio tour, so that you can get the complete Elvis Museum experience. While going through the over 100 items in this museum in Pigeon Forge, you'll find:
A Red 64 Cadillac
An 11 carat TBC Ring
Elvis's Karate Gear
Elvis's custom-made Fender guitar
One of Elvis's favorite Martin guitars
Elvis's first dollar (which he placed in the offering dish at church)
A powder blue jumpsuit worn by Elvis
An 8mm film of Elvis and his family on vacation
And more!
In addition to the other Elvis memorabilia, the Elvis Museum in Pigeon Forge features several items from other celebrities, including:
One of Johnny Cash's guitars
The canoes from

Deliverance

Stallone's boxing gloves from

Rocky

Robin Williams Rainbow suspenders from Mork and Mindy
Judy Garland's sheet music with hand-written notes
And more!
A trip to the Elvis Museum Pigeon Forge offers vacationers to the Smokies a chance to see some Elvis's personal items and learn about this legendary man's life. Fans of the King of Rock-n-Roll will want to add this museum in Pigeon Forge to their list of things to see on their Tennessee Smoky Mountains vacation. Each item in the Elvis Museum boasts its on unique story and significance in for all the stars featured in this museum.
Enjoy an Elvis Show in Pigeon Forge at the Elvis Museum
In addition to interesting memorabilia, the Elvis Museum in Pigeon Forge features a free Elvis Show on Tuesdays, Thursdays, Fridays, and Saturdays at 8:30 PM. Their Elvis impersonator has been singing the King's music since show and tell in Kindergarten so you're guaranteed a stellar performance of Elvis favorites, such as "Jailhouse Rock," "A Little Less Conversation," and "Hound Dog."
Stay near the Elvis Museum in Pigeon Forge
Haven't found the right cabins in Pigeon Forge for your family vacation to the Tennessee Smoky Mountains? Don't get "All Shook Up", Cabins USA offers honeymoon cabins to very large group cabins in Pigeon Forge, Gatlinburg, Wears Valley and Sevierville Tennessee. Come play in the South's biggest playground, visit the Elvis Museum in Pigeon Forge and stay with us for your very own everlasting family memories!
Contact:
Elvis Museum in Pigeon Forge
2530 Parkway
Suite # 4 at Walden's Landing
Pigeon Forge, TN 37863
865-428-2001
Written by Brittany Tipton