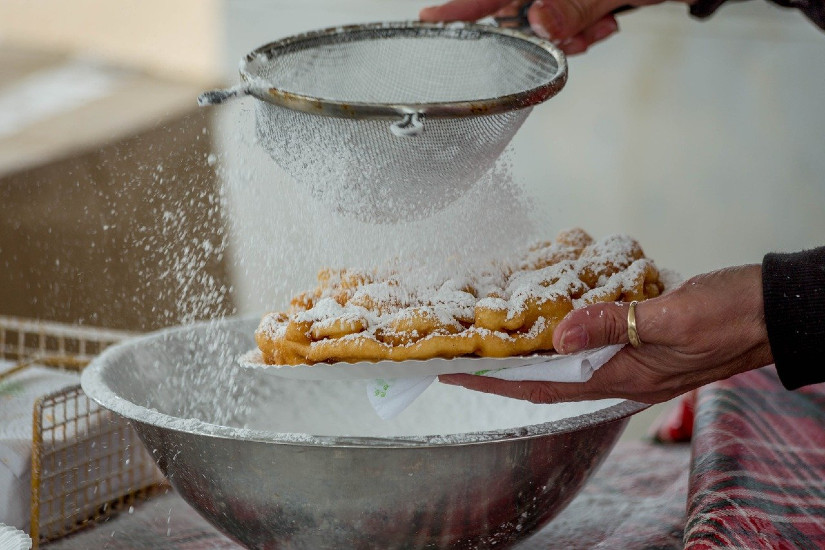 Throughout a fun-filled day in Pigeon Forge, you and everyone else in your group are sure to get hungry for something sweet. Fortunately, there's no shortage of options in the area, but one that's guaranteed to be a hit for the group is Funnel Cake Factory in Pigeon Forge.
About Funnel Cake Factory
The team behind this excellent dessert shop believes in attention to detail, superior customer service, and above all else, providing the tastiest treats around bar none. That's why their motto is "The Funnel Cake Factory, where smiles come to life, and folks leave happy!"
Considering it's in the name, it's not surprising their funnel cake creations are the star of the show, and you'll be in awe of the different ways you can enjoy this nummy treat throughout your stay in the Smoky Mountains.
For example, you can add strawberries, peaches, and other fruits to this dessert, along with other options like whipped cream, chocolate sauce, caramel, and much more!
Checking Out Your Options
To keep you from feeling overwhelmed at all the options available at this place to eat in Pigeon Forge, we've done some legwork for you ahead of time to identify some desserts you should try, such as:
Ice Cream Cones/Cups: Simple and delicious, the ice cream cones and cups are perfect for grabbing and going when you need to make it to the next destination on your list. Ask for a single, double, or triple scoop, depending on your appetite.
Brownie Sundae: This decadent sundae is enormous and is worth every single bite. At the bottom, you get a delicious fresh-baked brownie. On top, add whatever ice cream you desire, and then finish with another brownie on top. With whipped cream and chocolate sauce added, you're in for something you'll never forget.
Strawberry Funnel Cake: Take funnel cake covered in powdered sugar and add a large pile of sugary strawberries in the center, and you have a guaranteed crowd favorite. Top with whipped cream and the flavors come together almost magically.
Deep-Fried Oreos and Twinkies: You didn't read this wrong. The factory really does deep fry Oreos and twinkies for their guests. If you like the classic treat, you'll love the deep-fried version. Don't take our word for it, instead order a round for yourself and indulge like never before.
Below you'll find the hours this dessert shop is open, so you can perfectly plan your next outing in Pigeon Forge:
Sunday: 12:00 PM - 9:00 PM
Monday: 12:00 PM - 9:00 PM
Tuesday: 12:00 PM - 9:00 PM
Wednesday: 12:00 PM - 9:00 PM
Thursday: 12:00 PM - 9:00 PM
Friday: 12:00 PM - 10:00 PM
Saturday: 12:00 PM - 10:00 PM
Maximize Your Visit
While every visit is delicious and mouthwatering, there are some ways to maximize your stay. For starters, make sure to grab one of the outdoor tables if you want more room to stretch your legs.
Also, this place is always coming up with new items and combinations, so make sure to ask if there's anything new before placing your order.
Final Thoughts on Funnel Cake Factory in Pigeon Forge
With a variety of delicious desserts and an enjoyable atmosphere, you can't go wrong with a visit to the Funnel Cake Factory in Pigeon Forge. Make the most of your next trip by staying in one of our excellent Pigeon Forge cabins. No matter what you need, we have a vacation rental that's a perfect fit!
Contact:
Funnel Cake Factory
3357 N. Parkway
Pigeon Forge, TN 37863
865-453-3623