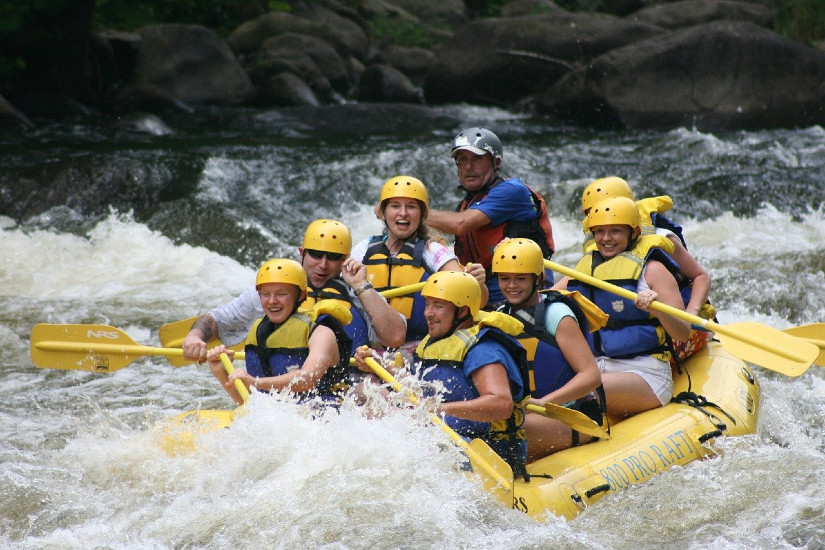 Smoky Mountain vacations offer plenty of opportunities for fun, relaxation, and enjoying things you don't get to do back home. The area is also known for its adventures, which you can enjoy safely by either tubing or whitewater rafting with Smoky Mountain River Rat near Pigeon Forge. Get outdoors, get wet, and make some enjoyable memories to take home with you.
About Smoky Mountain River Rat
Since the early 1990s, River Rat Tubing has offered a unique way to enjoy the gorgeous scenery of the Smoky Mountains. Through the Little River, guests can go tubing or dial up the adventure with whitewater rafting.
Even better, there are different paths along the river available, so there's a course suitable for your skill level. Fun for the whole family; you'll need to make reservations to enjoy this fun attraction.
What to Try
We mentioned different courses because not everyone has the skills or desire to take on the most challenging routes. That's why we've provided a breakdown of where you need to go depending on your plans.
Outpost A (Main)
This is the main outpost and is both family and dog-friendly, meaning the entire group can enjoy floating down the river safely. The rapids are relaxing, and you'll enjoy prime access to swimming holes, which you can dive into. Keep in mind the minimum age for this course is two years old.
Outpost B
Are you ready for something more adventurous? Then outpost B is the route you want. You'll get to tub down adrenaline-fueled rapids and enjoy refreshing swimming holes along the way. With this route, any children riding need to be six years old or older. Also, dogs aren't allowed on this route.
Upper Pigeon Whitewater Rafting
Tubing is undoubtedly fun and adventurous, but if you want a real thrill, then whitewater rafting through the Upper Pigeon expedition is the adventure for you and your group. With this option, you'll enjoy some of the most exciting rapids while surrounded by the natural beauty of the Smokies. All riders must be eight years old or older.
Xtreme Upper Pigeon Adventure
Was the last option still not enough adventure for your group? Take things to the Xtreme with this option that guides you through five miles of river with class three and class four rapids. More importantly, you hit these rapids in the smaller X-boats, which means you enjoy a bigger splash throughout the adventure. The minimum age for this option is eight years old.
Lower Pigeon River Rafting
Sometimes you just want to enjoy the river in a relaxing way, or you've got little ones in your group. For those moments, the Lower Pigeon River rafting adventure is the perfect fit. This course still offers plenty of rapids to maintain the fun factor but remains safe for everyone three years old and older. Plus, there are refreshing swimming holes available when you need to cool off a little.
The Necessary Details
Now that you're all excited to take on this entertaining thing to do near Pigeon Forge, let's cover what it'll take to enjoy this adventure.
Day Passes
If you just want to enjoy a day on the river or have a small group joining you, then a day pass is the perfect option. Prices for these passes are as follows:
Adult All Day Pass (13+): $19.99 per person
Youth All Day Pass (6-12): $12.99 per person
Child All Day Passes (2-5): Free
The best deals available (besides purchasing a season pass) are the group rates, which is broken down as follows:
Group Tubing Rates
20-29 people: $13.99 per person
30-39 people: $12.99 per person
40+ people: $11.99 per person
Group Whitewater Rafting Rates
10-19 people: $33.99 per person
20-29 people: $32.99 per person
30-39 people: $31.99 per person
40+ people: $30.99 per person
Make a Day of it with a Cabana
The best part of spending the day at River Rat Tubing is when you can reserve a private cabana on the river. With this rental, you can go for a float and then come back to relax before going back for another trip down the river. These cabanas are located at outpost B and accommodate a maximum of six people per cabana.
You can rent all three together or just one, depending on availability and your plans. Prices for cabana rentals are:
One cabana: $150
Two cabanas: $225
All three: $337.50
The cabanas are available from 10am-6pm and come with a $25 voucher for Burger Master along with a stocked cooler with sodas and water.
Final Thoughts on Smoky Mountain River Rat Near Pigeon Forge
Adventure is one of the hallmarks of a vacation to the Smoky Mountains, and Smoky Mountain River Rat near Pigeon Forge is sure to satisfy that need for you and your group. With a stay in one of our Pigeon Forge cabin rentals, you can coordinate your plans perfectly for the ultimate vacation experience.
Contact:
River Rat Tubing
205 Wears Valley Rd.
Townsend, TN 37882
865-448-8888