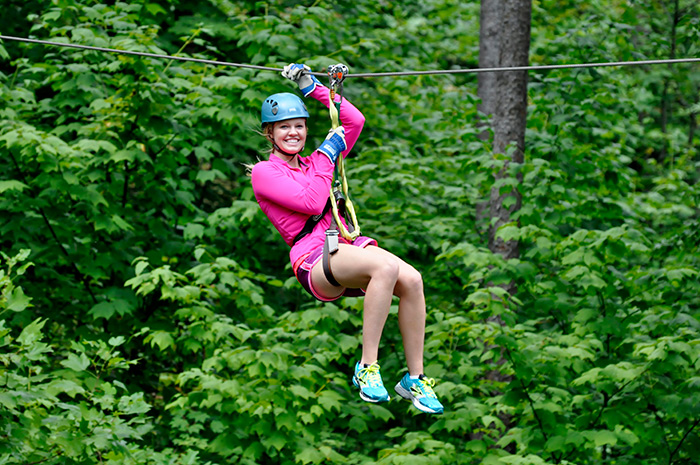 Spend your afternoon zipping through the trees at Smoky Mountain Ziplines! With three separate tours, this company allows you to zipline in the Smoky Mountains for a family adventure to remember. Whether you're an adrenaline junkie or just looking for a little adventure, Smoky Mountain Ziplines offers something for everyone in your group. Come experience the rush of speeding down a zipline in the Smoky Mountains today and form thrilling memories with friends and family! Vacationers staying in cabins in Pigeon Forge won't want to pass up this opportunity to enjoy a unique adventure in the Smoky Mountains.
Smoky Mountain Ziplines' Promise of Safety and Expertise
This zipline company in the Smoky Mountains seeks to provide the most pleasant experience possible for all its guests. Therefore, your safety and enjoyment are entrusted to not just one, but two fully certified zipline guides on your journey.
Your guides will help you gear up in the gear room prior to heading up the mountain where you'll undergo "zip school," which is mandatory for all visitors before heading down any Smoky Mountain zipline. Here, you'll learn the essentials including posture, steering, and landing. Additionally, throughout your adventure your two guides will be there to help with any problems you might encounter as well as to help motivate and make each zipline in the Smoky Mountains the most enjoyable experience possible.
All of Smoky Mountain Zipline Company's guides undergo a rigorous in house training program consisting of weeks of on the job training and boast first aid and CPR certification as well. Additionally, a dedicated core of this Smoky Mountain zipline crew boasts training in high angle and low angle rescue as well as operational rope rescue, earning this company the praise of the local fire chief.
There are certain restrictions for ziplining at Smoky Mountain zipline company. First, guests mus be at least 8 years old and 60lbs to ride solo, but kids as young as 5 years old can ride tandem with one of our guides for families with younger children. To ride the thrilling Super Ziplines, you must be at least 12 years old and 100lbs to ride solo. The cut off weight for men is 250 lbs, while women must be under 200 lbs ride these ziplines in the Smokies.
Smoky Mountain Ziplines' Exhilarating Experience
The your Smoky Mountain zipline adventure begins when you arrive at base camp where you can enjoy clean, comfortable facilities and complimentary coffee and a soda fountain. After socializing with guests on your tour, you'll meet your guides who will gear you up and help you into one of Smoky Mountain zipline's "deuce and a half" military trucks for an exciting ride up the mountain. After going through zip school guests will begin your adrenaline-pumping adventure through the trees of the Smokies!
Smoky Mountain Zipline Company built its course knowing that Pigeon Forge is a family town. It's courses and lines allow families of every budget and family members from 5 to 93 to enjoy this thrilling Smoky Mountain outdoor adventure. Starting out slow enough that evening grandma will give it a try, the Smoky Mountain Zipline course here progress in speed and height, allowing you to ease into the thrill. Smoky Mountain Ziplines Company offers 23 lines and over 8,000 ft. of cable, giving guests a chance to experience tons of excitement and adventure. Smoky Mountain Ziplines' tours include:
The 9-line Tour

- The most popular tour at Smoky Mountain Ziplines, this tour was created for the family on-the-go who needs to maximize their time in the Smokies. This tour lasts a total of 1.5 hours and offers a great chance to enjoy some thrills with beloved friends and families.



The 14 line Tour -

This tour includes an additional 5 lines and an extra hour of zipline fun in the Smokies. This tour provides slightly little faster lines as well as different views of the mountains.



The Full Package-

The full-package includes all 14 lines plus the Super Ziplines, which are this Smoky Mountain zipline company's longest, highest, line that reaches speeds of up to 40 mph.
No matter what zipline package you choose you and your friends and family are sure to enjoy an exciting Smoky Mountain adventure to remember!
Contact:
Smoky Mountain Ziplines
509 Mill Creek Rd
Pigeon Forge, TN 37863
865-429-9004
B
- Smoky Mountain Ziplines
Written by Brittany Tipton