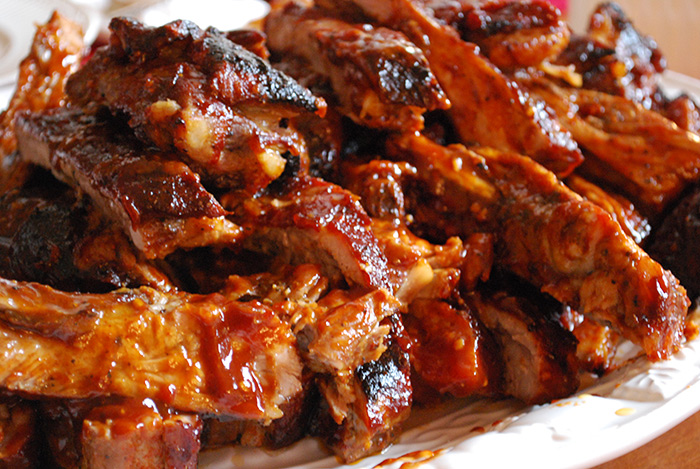 For that smoky taste of BBQ in Gatlinburg,TN, look no further than Bennetts Barbeque Gatlinburg to satisfy your craving for pulled pork, brisket, or hog legs slow-cooked to perfection for hours to produce mouth-watering meals that can be rivaled by other barbeque restaurants in Gatlinburg.
Taste why Tennessee barbeque stands out at Gatlinburg Bennett's Pit Barbeque and discover why Bennett's BBQ sauce may be the best you'll have at any Gatlinburg BBQ restaurant. Located at the edge of downtown Gatlinburg, vacationers staying in nearby secluded Gatlinburg cabin rentals can enjoy grabbing an all-you-can-eat breakfast before heading out into the Great Smoky Mountains National Park or a generous dinner before heading home after a day full of adventure in downtown Gatlinburg.
A Brief History of Benbetts Barbeque Gatlinburg
Opened in 1991, Bennett Barbeque Gatlinburg's Pigeon Forge location is the oldest of the Johnson family's restaurants in the Smokies. Locally owned an operated for 20 years, Bruce Johnson fulfilled his dream of owning restaurant by opening the first of his restaurants. Since then the Johnson family has expanded to include 8 restaurant locations including this Gatlinburg BBQ restaurant. Taking pride in both quality of food and quality of service the Johnson family restaurants promote local business in the Smokies.
Come taste this family's delicious hickory smoked barbeque that's cooked for up to 14 hours, allowing the Smoky flavor to seep into every bit of each piece of tender meat. You'll quickly discover why this Gatlinburg BBQ restaurant boasts the best BBQ in Gatlinburg,TN!
Bennetts Barbeque Gatlinburg's Famous Breakfast
Consistently voted the best breakfast by locals, Bennetts Barbeque Gatlinburg boasts 50 items on its all-you-can-eat breakfast bar that features:
scrambled eggs
smoked pulled pork BBQ
bacon
sausage patties, grits
sausage gravy
pancakes
french toast
freshly baked cinnamon doughnuts
blueberry muffins
fresh fruit
and more!
Come discover why this Gatlinburg BBQ restaurant is not only known for the best BBQ in Gatlinburg, TN, but also one of the heartiest breakfasts in town that will start your day in the Smokies right.
Bennetts Barbeque Gatlinburg's Famous Gatlinburg BBQ
There's probably nothing more tantalizing than the scent of barbeque as it slow cooks, and nothing more satisfying than sinking your teeth into a messy BBQ sandwich with cole slaw piled on top or a rack of baby back ribs with tender, smoky meat that just falls off the bone.
Bennetts Barbeque Gatlinburg prides itself on time it takes to make some of the best BBQ in Gatlinburg. It might be the Johnson Family's special variety of Bennett's BBQ sauce (4 choices with a wide variety of flavor) or how long they let their quality meats cook until perfectly tender, but one things for certain Bennetts BBQ Gatlinburg stands out from other barbeque restaurants in Gatlinburg.
Come discover what Bennetts Barbeque has to offer for lunch and dinner:
Gatlinburg BBQ Starters- There's nothing more scrumptious than starting your meal out with delicious BBQ starters such as brisket stuffed mushrooms or deep fried pickles.


Gatlinburg BBQ Sandwiches- Everyone loves a good BBQ sandwich. Try Benetts Barbeque Gatlinburg's Ultimate Sandwich gives you your choice of pork, brisket, or smoked sausage topped with onions and Bennetts Honey BBQ sauce or the unique brisket and burger sandwich.


Gatlinburg BBQ Platers- Bennetts Barbeque Gatlinburg offers some of the best BBQ platters around that will fill you up. Try the BBQ combo where you can choose from brisket, pork, chicken,baby back ribs or the "Big Daddy" which comes with 2 hog legs and a 1/4 of pulled pork!


Bennetts Barbeque Gatlinburg Deserts- If you still have room after eating a heaping portion of the best bbq in Gatlinburg, TN, indulge in Bennetts Barbeque Gatlinburg's delicious desserts including the decadent chocolate cake, classically Southern pecan pie, or scrumptious peach or blackberry cobbler.
No matter what you choose to eat at Bennetts Barbeque Gatlinburg, you'll be delighted by the delicious flavors of some of the best bbq in Gatlinburg, TN. Come discover the the delicious flavors of the Gatlinburg BBQ restaurant today!
Contact:
Bennetts Barbeque Gatlinburg
714 River Rd
Gatlinburg, TN 37738
865-429-0082
B
- Bennetts Barbeque Gatlinburg
Written by Brittany Tipton