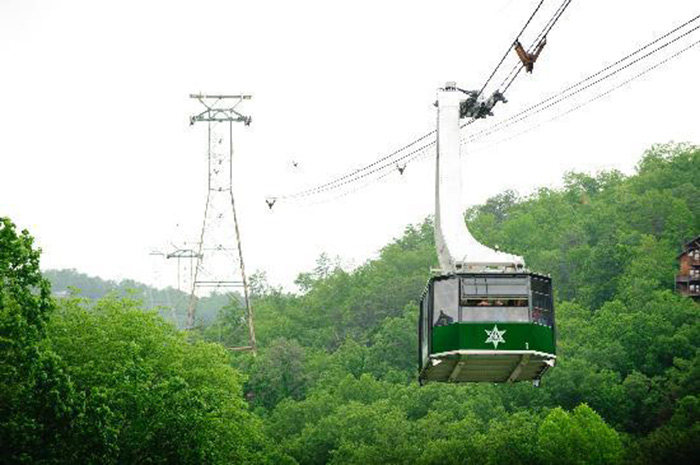 Ober Gatlinburg Ski Resort & Amusement Park allows your family to enjoy speeding down the slopes of this Gatlinburg skiing destination. For over 50 years, Ober Gatlinburg has provided vacationers to the Smokies with a chance to enjoy winter sports and a cozy lodge atmosphere during the winter. Visitors will enjoy the only Gatlinburg ice skating rink as well as the Gatlinburg tubing opportunities that Ober Gatlinburg offers. In the summer, Ober Gatlinburg offers plenty of shops and activities to keep the family entertained as well. Hop aboard the Ober Gatlinburg tram that leaves from Downtown Gatlinburg and discover the year-round fun waiting in Ober Gatlinburg
Ober Gatlinburg Ski Resort's Winter Offerings
Once the winter winds hit the Smoky Mountain hills, Ober Gatlinburg begins making its own snow to coat the slopes (when it hits 28 degrees Fahrenheit, to be exact). Enjoy playing in Ober Gatlinburg's winter wonderland when the temperature is just right. Far from being just a Gatlinburg skiing destination - this is the one-stop place for winter activities in all of Gatlinburg. Tubing, snowboarding, and a fun, safe kids area make Ober Gatlinburg Ski Resort & Amusement Park the one place to be as a family in the Smokies in the winter. Ober Gatlinburg's frosty fun activities include:
Gatlinburg Skiing- Perhaps what Ober Gatlinburg Ski Resort is best known for, speed down the 9 different trails offered at this mountain resort. From the beginner's slope of Cub Way to the challenging Grizzly trail, Ober Gatlinburg offers a trail for every skill level and even boasts a Ski School for visitors who need to learn a thing or two about the sport. Don't worry about falling on the slopes - Ober Gatlinburg's Ski Patrol will be there to help you in case of an accident or emergency.
Gatlinburg Snowboarding- Ober Gatlinburg offers features that every snowboarder is bound to love. From Terrain Park, where boarders can enjoy executing trick maneuvers on their boards or sliding down the 9 slopes with ease.
Gatlinburg Tubing- Enjoy Ober Gatlinburg's exhilarating tubing experience where you can race down a special section of the resort for some winter family fun.


Gatlinburg Ice Skating- Though open all year, families might find a session at the only Gatlinburg ice skating rink is the perfect winter activity at Ober Gatlinburg Ski Resort for them.
Summer offerings at Ober Gatlinburg Ski Resort & Amusement Park
Winter isn't the only time to enjoy Ober Gatlinburg Ski Resort. During the warmer months, Ober Gatlinburg features several rides and attractions to keep your family entertained on their Smoky Mountain getaway. Summer features include:
Alpine Slide- Enjoy speeding down the mountainside on your sled down the 1,800-foot concrete slide at Ober Gatlinburg.
Wildlife Encounter- See the natural wildlife of the Smokies, including bears, river otters, and birds of prey, at Ober Gatlinburg Resort's wildlife exhibits.
Amaze'n Maze- Get lost in this maze attraction.
Carousel- Feel like you're at the fair at Ober Gatlinburg
Chair Swing- A carnival favorite. Spin through the air on this fun Ober Gatlinburg ride.
Blue Cyclone Rapids- Enjoy 600 feet of water-filled excitement on this Ober Gatlinburg water ride.
Kiddie Land and Rides- A great place for young visitors to Ober Gatlinburg to explore
Mini-Golf- Play a round of mini-golf at Ober Gatlinburg Ski Resort for a fraction of the cost you would pay elsewhere.
Arcade- Earn tickets to redeem for prizes at Ober Gatlinburg's very own arcade.
Ober Gatlinburg's Lightnin' Raft Ride- Enjoy this water ride addition at Ober Gatlinburg Ski Resort
Ober Gatlinburg Resort & Amusement Park's Year-Round Offerings
Aside from Gatlinburg skiing and Ober Gatlinburg's fun summertime activities, the resort features onsite gift shops and restaurants to feed hungry bellies after a day in the park. The Gatlinburg ice skating rink is open year-round for family fun on the ice, while the Aerial Tram provides scenic views no matter what the season.
Find Lodgings Next to Ober Gatlinburg Ski Resort & Amusement Park!
A stay in one of Cabins USA's Smoky Mountain Village cabin rentals places you right next to all the fun and excitement of Ober Gatlinburg Ski Resort. After a day filled with Gatlinburg skiing, return to your cabin where amenities such as king-size beds, hot tubs, jetted tubs, game rooms, theater rooms, and more wait for your enjoyment and relaxation.
Contact:
Ober Gatlinburg Ski Resort
1339 Ski Mountain Rd
Gatlinburg, TN 37738
865-436-5423
B
- Ober Gatlinburg Ski Resort
Written by Brittany Tipton