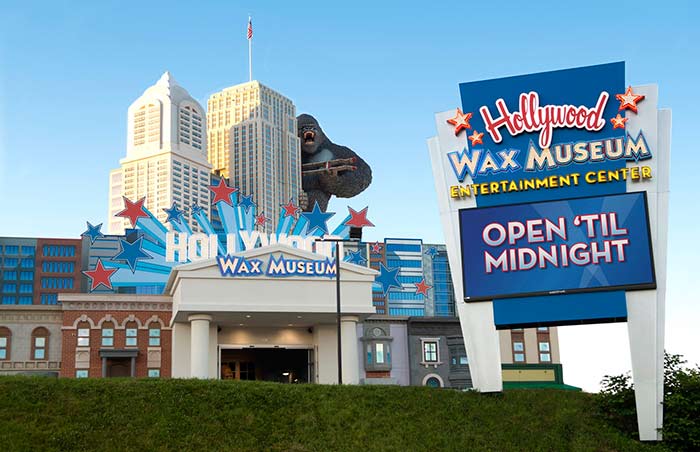 The Pigeon Forge Hollywood Wax Museum serves as a tribute to the U.S. film industry and its major centers of New York and Hollywood. The two-story museum is the largest Hollywood Wax Museum in the country and boasts dozens of replicas of Hollywood's favorite stars and celebrities. Come visit the Hollywood Wax Museum in Pigeon Forge and walk the red carpet with your favorite celebrity!
The Hollywood Wax Museum in Pigeon Forge Experience
Approaching Pigeon Forge Hollywood Wax Museum, visitors are greeted by the faces the biggest stars in film, pop culture, and other celebrities! Above your heads, the "Great Ape of Pigeon Forge" climbs the Empire state building.
Inside, Pigeon Forge visitors discover the world of Hollywood Stars. Guests of Pigeon Forge Hollywood Wax Museum can enjoy taking photos of themselves up close to some of the most faithful recreations of Hollywood's biggest stars. Movie lovers of all ages can find stars they cherish.
Better yet, you can take your picture with your favorite celebrity. Each display also contains interesting facts about the stars.
How The Figures are Made at Pigeon Forge Hollywood Wax Museum
Though it may seem like a Hollywood heartthrob is standing right next to you, each of the creations at this wax museum is the product of 3 months of hard work by professional wax figure artist.
First, a sculptor creates a bust of the celebrity working from photographs and precise measurements. Then, a mold is created using this bust and a wax mixture is carefully poured into the mold to ensure that no air bubbles form. After the mold hardens, tiny details are added to the wax head to create unique expressions. This process is repeated to create the entire figure. Once the figure is complete, carefully mixed paint is used to create skin tone, glass eyes and porcelain teeth are added, and each hair is carefully inserted using a special needle. A tailor and prop master create costumes and find props to complete a replica of classic movie scene.
So, while you're snapping your pictures next to Captain Jack Sparrow, remember that it's not just a wax statue - it's a piece of art created by a group of talented designers at Pigeon Forge Hollywood Wax Museum.
The History of the Pigeon Forge Hollywood Wax Museum
With humble roots as a family business and one man's vision, what started with one museum in Hollywood spread across the country to several different locations, including Hollywood Wax Museum in Pigeon Forge. Spoony Singh, inspired by a visit to Hollywood, opened the first Hollywood Wax Museum in Hollywood in 1965 as a way for visitors to Tinseltown to "see" their favorite celebrities up close. The museum became a huge success and won Singh several awards from the city.
Fast-forward nearly 50 years and the franchise has traveled all the way to the East Coast with Pigeon Forge Hollywood Wax Museum, for its biggest museum yet. In keeping with the company's tradition of giving back to the community, Hollywood Wax Museum in Pigeon Forge benefits Boys and Girls Club of the Smoky Mountains.
Currently, Hollywood Wax Museum is offering special rates for groups of 15 or more and non-profit organizations. They also offer the Hollywood Wax Museum Entertainment Center All Access Pass, for admission to the Hollywood Wax Museum, the Castle of Chaos 5D Ride, Outbreak - Dread the Undead, and Hannah's Maze of Mirrors.
Stay near Pigeon Forge Hollywood Wax Museum in a Pigeon Forge cabin!
Pigeon Forge is the perfect family destination for family fun in the Tennessee Smoky Mountains. The Hollywood Wax Museum in Pigeon Forge provides great family entertainment for all ages.
Be close to all the attractions of the Tennessee Smoky Mountains area when your family chooses to stay in a Pigeon Forge cabin with home theaters, internet access, swimming pools and much more! We also offer cabin rentals in Gatlinburg and scenic Wears Valley. Come play in the South's biggest playground and to make some unforgettable family memories!
Contact:

106 Showplace Boulevard
Pigeon Forge, TN 37863
https://www.hollywoodwaxentertainment.com/pigeon-forge-tn-attractions/hollywood-wax-museum
Written by Brittany Tipton