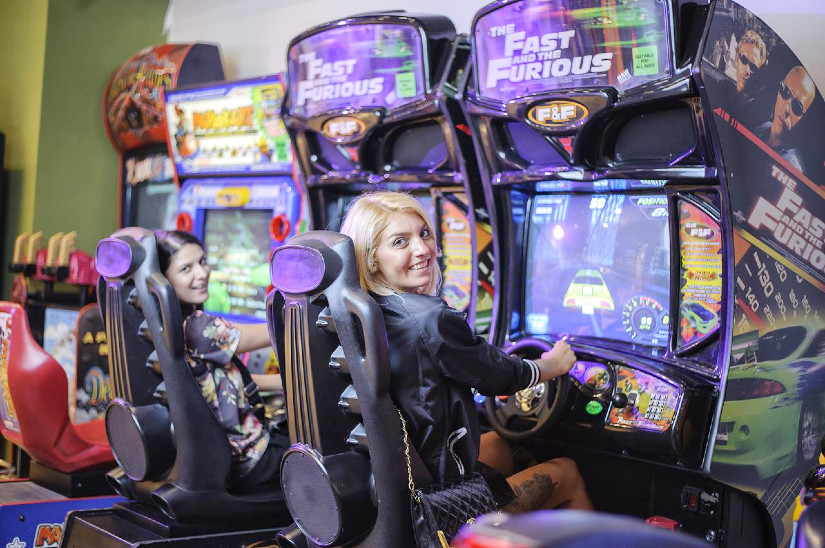 If you're looking for a way to spend hours of fun with family and friends, you can't go wrong with visiting Downtown FlavorTown in Pigeon Forge! With a menu hand-picked by Guy Fieri and entertainment like a massive arcade and a bowling alley, this is one can't miss destination for your next Pigeon Forge vacation.
About Downtown FlavorTown
Guy Fieri appeared to open his newest restaurant/entertainment complex on March 8th, 2022, and it's a whole vibe. With 43,000 SQFT of space, you've never seen anything like this. You'll dig into excellent meals, delicious desserts, and tasty beverages when not playing.
According to Guy, "No matter where you go in this great country, I can put ya' on the road to Flavortown, real-deal food and good times, that's what I'm all about. "But there's one experience that I've been saving for a special time and place. I'm talking next level, go big or go home, the ultimate party. And I'm bringing the great people of Pigeon Forge with me to Downtown Flavortown."
All we can say is that we are here for every single mouthwatering moment, so let's talk about the details.
What to Eat
No matter your mood, there's food and drink to satisfy everyone. From appetizers to desserts, everything is at your fingertips:
Appetizers
Vegas Fries
Trash Can Nachos
Dragon's Breath Chili Cheese Fries
Entrees and Sandwiches
Motley Que Pulled Pork
Primetime American Kobe Burger
Carne Asada Flatbread
Dessert and Drinks
Triple-Double Mint Pie
Cheesecake Challenge
Funkin' Donut Freak Shake
Alcohol
Mai Tai
Jet Pilot
Santo Strawberry Margarita
Tattooed Mojito
and More!
Fun Time
You'll have access to the massive arcade and the bowling alley during your visit. Spend hours playing and trying to set a high score or prove you're the best at 10-pin bowling. Everyone in your group will have so much fun they lose track of time.
Final Thoughts on Downtown FlavorTown in Pigeon Forge
The only thing wrong with visiting this exciting new attraction is how to squeeze all the fun into one outing. Fortunately, when you stay in one of our Pigeon Forge cabin rentals, you can keep going back repeatedly.
When not playing at Downtown FlavorTown in Pigeon Forge, our rentals offer the perfect chance to relax thanks to amenities like hot tubs, indoor pools, jetted tubs, and more! Don't wait a moment to experience the Pigeon Forge vacation of your dreams.
Contact:
Downtown FlavorTown
2655 Teaster Ln.
Pigeon Forge, TN 37863
423-518-0742