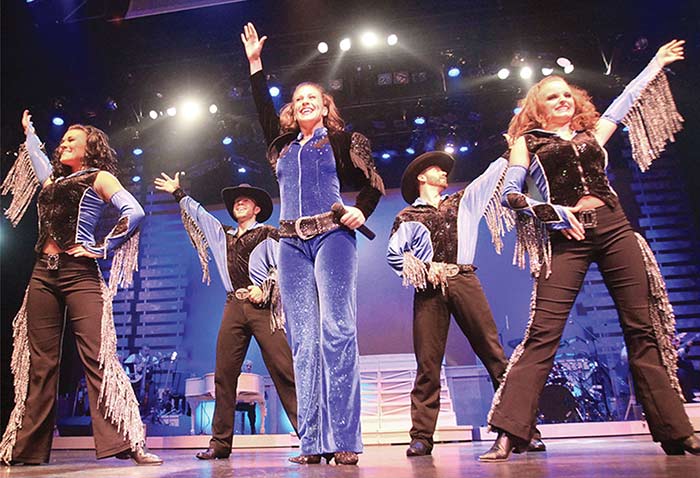 Award-Winning Entertainment at Country Tonite Theater
Come see why Country Tonite Theater Pigeon Forge, TN has been repeatedly voted the Best Show in the Smokies! With a talented cast and songs ranging from country classics to contemporary favorites, the entire family will enjoy this Pigeon Forge Music show. Make sure to include this show on your itinerary as it is a true must see!
Going into its 17th year in Pigeon Forge, Country Tonite Theater still brings some of the most engaging entertainment in the Smokies. This two-hour show set in a multi-million dollar, 1,500 seat theater is filled with everything that makes our Southern culture, particularly Appalachian culture, wonderful – banjos, fiddles, singing, dancing, gospel, laughter, patriotism, and family!
Country Tonite Pigeon Forge, TN's Talented Performers
Visitors rave about the cast of this fine show. Guests will be hard pressed to find better musicians in the Smokies (and maybe the whole country). Listen to Mike Caldwell play rich,bluesy notes on the harmonica with passion and precision. Jack Mollette picks out lead guitar riffs, while Larry Stewart plays rambling banjo melodies and Terry Weeks plays the keys. The rhythm section, featuring Brad Martin and Brad Hudson, will have everyone in the audience stomping their feet and clamping their hands. Sing along to the talented featured male and female performers as they sing top country hits straight from the radio as well as gospel favorites such as "Amazing Grace."
The two extremely talented youth performers are clearly the highlight of the show. Listen to Willow Osborne, a banjo player since age 4, pick out rolling riffs and sing old favorites. 13-year-old Colin Chandler, who has astoundingly only played the fiddle for a year and half, raises up his bow to saw on his fiddle and sing catchy songs that will have the audience slapping their knees!
Other Highlights of the County Tonite Theater's Pigeon Forge Music Show
Aside from the talented musicianship, Country Tonite's show hosts energetic, talanted dancers in several of its numbers. You'll be asking how on earth they move from set to set with so many costume changes and spirited dance pieces! Bubba the Redneck Ranger presents comedy reminiscent of Barney Fife and will have you doubled-over in your seats. Country Tonite Pigeon Forge, TN contains several sections of the show dedicated to values many Southerners hold dear. Feel your soul uplifted by gospel classics. Additionally, the family portion the show pays tribute to everyone in the audience visiting with their beloved family members. Finally, the section of the show honoring former and current members of the military will touch everyone's heart as cast members walk through the audience to personally thank each of the veterans standing in the audience. After the show, these down-to-earth cast members would be delight to talk and take pictures with you!
Offering an unique country show every year from March to October as well as a special Christmas show from November to January, guests will return year after year for a completely unique experience each time! With superb entertainment and a established reputation for a quality show, Country Tonite Pigeon Forge, TN is a must for anyone's Smoky Mountain vacation itinerary!
Want to see another Pigeon Forge Music Show?
Make sure to visit Cabin USA's Theater Shows page to find a Pigeon Forge music show to add to your list of things to do after visiting Country Tonite Theater! Listing magic shows, music shows, comedy shows and more, Cabins USA aims to make planning your vacation to the Smoky Mountains as easy as possible. Rent one our cabin rentals in Pigeon Forge to see great country music during your Smoky Mountain vacation!
Contact:
Country Tonite Theater
129 Showplace Blvd
Pigeon Forge, TN 37863
865-453-2003
http://www.countrytonitepf.com
B
- Country Tonite Theater
Written by Brittany Tipton