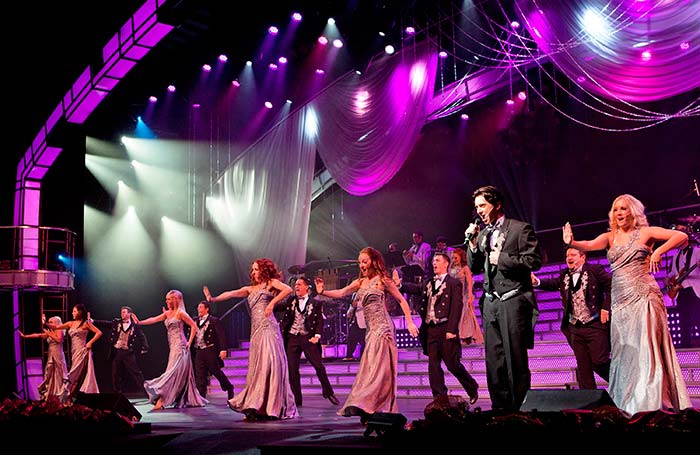 Come experience the most action-packed, variety-filled performance of all the Pigeon Forge Shows at the Smoky Mountain Opry! With a large cast of performers ranging from comedians, aerial performers, singers, dancers, magicians, animals, and more, everyone in your group can find an act that entertains them throughout this 2-hour show. Come see why everyone who visits this show in Pigeon Forge attests that it is, hands-down, the most entertaining show in the Smokies!
A True Variety of Music at Smoky Mountain Opry Pigeon Forge
Smoky Mountain Opry offers something for everyone in your group to enjoy. After taking your seat, prepare yourself for non-stop entertainment from the time the curtain opens. For country music fans, hear your favorites on stage as Smoky Mountain Opry's singers belt out songs from county favorites such as Carrie Underwood and Garth Brooks.
However, unlike other Pigeon Forge shows, this variety show spans all genres of music. Travel back in time to the era of crooners with hits from 'ole Blue Eyes, Frank Sinatra. Relive Beatle-mania with songs from the Fab Four. Belt-it out with Janis Joplin. No matter what genre or era of music you prefer Smoky Mountain Opry offers something for you!
Beyond popular music, Smoky Mountain Opry Pigeon Forge presents tributes to some of everyone's favorite tunes from musicals and movies. Enjoy nostalgic entertainment on your lovely holiday with a tribute to the children's classic "Mary Poppins." Guests will wonder if they're on Broadway or the Parkway with the well-produced renditions of songs from "Lion King" the musical. Everyone will be singing along to the classic song "Singing in the Rain."
More Entertainment at Smoky Mountain Opry
Beyond great music, Smoky Mountain Opry offers several other acts that will have you entertained throughout the show. Slim Chance provides comedy that will have you doubled-over with laughter. Lions, tigers, and horses grace the stage alongside their trainers for amazing animal acts. Motorcycles zoom across the stage for death-defying tricks. Watch high-flying musicians perform songs in the air! Then energetic dance cast will entrance audience members with the skill and precision with which they execute their choreographies.
Perhaps one of the most mesmerizing aspects of the show descends down from the rafters in the form of aerial silk performers. Watch as these dancers seemingly defy gravity, tumbling and cascading down their silks to the music. These dancers put on a ethereal performance that will captivate all.
During the holiday season, enjoy a stunning showcase of everything that will get you in the mood for Christmas. Featuring Santa, flying Sugar Plum Fairies, champion ice skaters, and more, this so will everything needed to make the season bright. Additionally, Smoky Mountain Opry hosts the largest on stage live nativity in the Smokies!
With such a variety of performers and acts, it's no surprise that Smoky Mountain Opry is hailed by visitors as the best of all the Pigeon Forge shows. Enjoy non-stop entertainment throughout this enthralling show.
Discounted Ticket Prices for Smoky Mountain Opry
Take advantage of discounted ticket prices with a special offer from Smoky Mountain Opry's sister show The Hatfield and McCoy Dinner Show. With a purchase of a ticket to this dinner show gained discounted ticket prices to several other Pigeon Forge shows, including Smoky Mountain Opry. What a bargain hunters dream!
At Cabins USA, we strive to provide guests staying at our Pigeon Forge cabin rentals with detailed information on What to Do in the area to help you create the Smoky Mountain vacation of your dreams!
Contact:
Smoky Mountain Opry
2046 Parkway
Pigeon Forge, TN 37863
800-768-1170
http://www.smokymtnopry.com
B
- The Smoky Mountain Opry Show
Written by Brittany Tipton