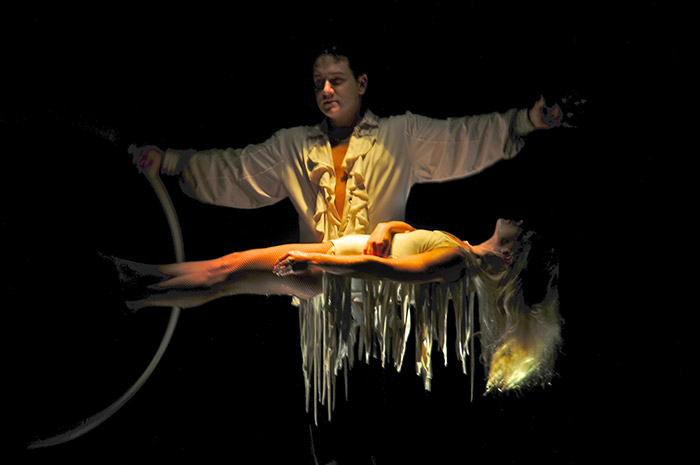 Come see the best magic show in Pigeon Forge at Terry Evanswood's Wonder of Magic Show! With death-defying illusions and clever slights of hand, Terry Evanswood will amaze the whole family with his mastery of magic. Visit this magic show in Pigeon Forge for an unforgettable experience that is sure to be a highlight of your vacation.
The Magical Talents of Terry Evanswood
Performing professionally since the age 10, Terry Evanswood's resume includes a prestigious Merlin Award and attendance at the Chavez College of Magic. Terry Evanswood became the youngest magician ever to perform in Hollywood's famous Magic Castle. A lifetime member of the International Magician Society and endorsed by David Copperfield, Terry Evanswood's career has been one of prestige as well as adventure. Having performed in shows in Mexico, Canada, Alaska, and Aruba, Terry Evanswood has traveled the world and now his magic show in Pigeon Forge brings his fantastic style of illusion to vacationers in East Tennessee.
The Best Magic Show in Pigeon Forge
Stepping into Wonderworks' theaters guests are transported to a realm of magical feats. Once you take your seat, prepare to be amazed by Terry Evanswood's slights of hand, amazing stunts as well as to laugh at his sense of humor incorporated into the show itself.
Terry Evanswood will perform card tricks that will have you baffled in your seats. Additionally, he'll perform escape tricks that Houdini himself performed. Kids will enjoy the audience participation sections that allow them to be part of the show and perform tricks they didn't even know they were capable of! Throughout this magic show in Pigeon Forge, Terry Evanswood offers comedy between and during his tricks, adding song and humor to an already spectacular show!
After the show is over, meet Terry and his assistants in person. Terry Evanswood appreciates every audience member who attends his magic show in Pigeon Forge and will gladly speak to you after the show or sign an autograph. Don't ask how he pulled of his mesmerizing tricks - a good magicians never tells his secrets!
Terry Evanswood Magic Show in Pigeon Forge, TN's FREE History of Magic Museum
Admission to this Magic Show in Pigeon Forge grants access to the adjacent history of magic museum. See costumes, props, and artifacts from magicians from throughout the history of the craft. See pieces from the great Harry Blackstone, Sr., Howard Thurston, and even Harry Houdini himself! This fascinating, educational museum provides the opportunity to learn about the roots of magic after watching the superb Terrry Evanswood Magic Show in Pigeon Forge, TN!
Stay close the Terry Evanswood Magic Show in Pigeon Forge, TN!
Cabins USA's Pigeon Forge cabin rentals place you close to all the magic of the Smoky Mountains! With proximity to all of the attractions in Pigeon Forge, including the Wonders of Magic Show, as well as plenty of space for families to relax after a day in the mountains, a cabin stay is the best way to enjoy a Smoky Mountain vacation with your loved ones!
Contact:
Terry Evanswood's "The Wonders of Magic" Show
100 Music Rd
Pigeon Forge, TN 37863
865-868-1800
http://www.terryevanswood.com
B
- Terry Evanswood The Wonders Of Magic Show Pigeon Forge
Written by Brittany Tipton