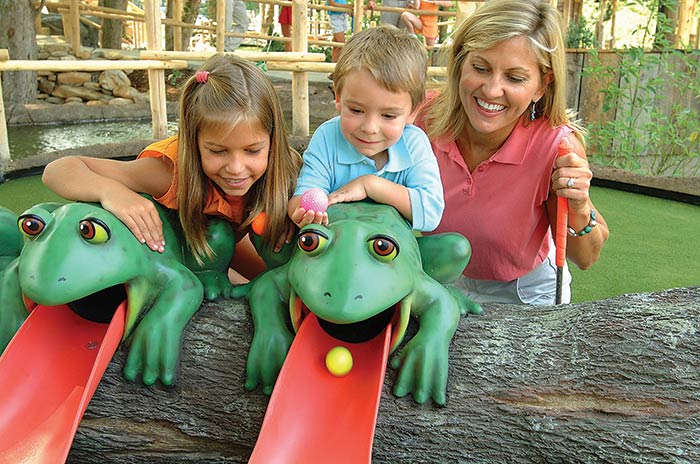 When driving along the Pigeon Forge Parkway you may notice a red barn and even flying pigs? That's right - at Old MacDonald Golf in Pigeon Forge you'll encounter a menagerie of animals along your 18 holes of fun at this Ripley's Mini-Golf Course.
With three courses to choose from and a family friendly atmosphere, this Pigeon Forge mini-golf course provides the perfect chance for you and your family to enjoy some quality bonding time (and some friendly competition) on your Pigeon Forge cabin rental vacation. So, head down to see what Old MacDonald has in store on his farm.
Old MacDonald Putt-Putt Pigeon Forge's Convenient Location
Perhaps, the biggest perk in choosing Old MacDonald Golf Course rests conveniently close to the Tanger Outlet Mall. Offering name brands at bargain prices, the Tanger Outlets provides vacationers to the Smokies with a prime shopping location.
Old MacDonald Golf in Pigeon Forge allows visitors to Pigeon Forge the perfect option to enjoy all the Smokies has to offer. If part of the family wants to go shopping for the finest deals in East Tennessee, the other part can enjoy a couple rounds of putt-putt to pass the time. Or, if you need an incentive to get the kids through a day of shopping, the promise of Old MacDonald Golf waits conveniently nearby. Better yet, you can promise any reluctant young shoppers a trip to The Disney Store as well, which lies next to the course.
Additionally, this convenient location places you next to several restaurants, allowing you to grab a bite to eat before or after your game of putt putt in Pigeon Forge.
Old MacDonald Golf Course
There are several Pigeon Forge mini-golf courses, so what makes Old MacDonald Golf course the choice for families on vacation in the Smokies?
First, Old MacDonald Golf offers several packages that allow you get the most of your mini golf experience in the Smokies. Visitors can choose packages that allow them to enjoy either 18, 36, or 54-hole games. This option is perfect for families with small children who possess equally small attention spans or groups of adults who want to enjoy more than one game. Additionally, since this is a Ripley's attraction, guests can purchase Combo packages with Ripley's Aquarium tickets that allow them to enjoy a bigger value.
Second, this course offers 3 different skill levels for the whole family to enjoy. As a whole, these Pigeon Forge mini-golf course are a far cry from the Master's Open, allowing kids from 3 to 93 to enjoy themselves. The 3 different courses are:
Cow - The beginners course. Very flat and level, making it perfect for families with small children in strollers, those in wheelchairs, or those with mobility difficulties.
Pig - The middle level course. Primarily a par 2 course that's great for kids 5 and up.
Chicken - The hardest course at Old MacDonald Golf Pigeon Forge, kids 7 and up will find this course challenging.
At the end of each course, visitors have a chance to win a free game if they score a hole-in-one on the final hole.
Finally, everyone likes a bit of kitsch with their mini golf, and this course definitely has it. From rabbits and pigs that talk when the ball goes under them to, yes, flying pigs, the farmyard theme complete with animal animatronics will have your kids (and maybe even yourself) giggling the whole time you're playing golf.
Old MacDonald Golf Pigeon Forge's Arcade
This Pigeon Forge mini golf course also boasts its own arcade. Offering a wide variety of of games to choose from that kids young and old will enjoy, you can enjoy earning tickets to redeem at the prize booth. This arcade provides a much needed break from the heat in the summer.
Final Thoughts on Old MacDonald Golf Pigeon Forge
If you're looking for a family friendly Pigeon Forge mini-golf course with plenty of kooky charm, Old MacDonald Golf Pigeon Forge might be your destination for putt putt in the Smokies. After few rounds, head back to your cabin retreat to relax and unwind with friends and family.
Contact:
Old MacDonald Golf Pigeon Forge
1639 Parkway
Sevierville, TN 37862
865-428-1699
B
- Old MacDonald Golf Pigeon Forge
Written by Brittany Tipton