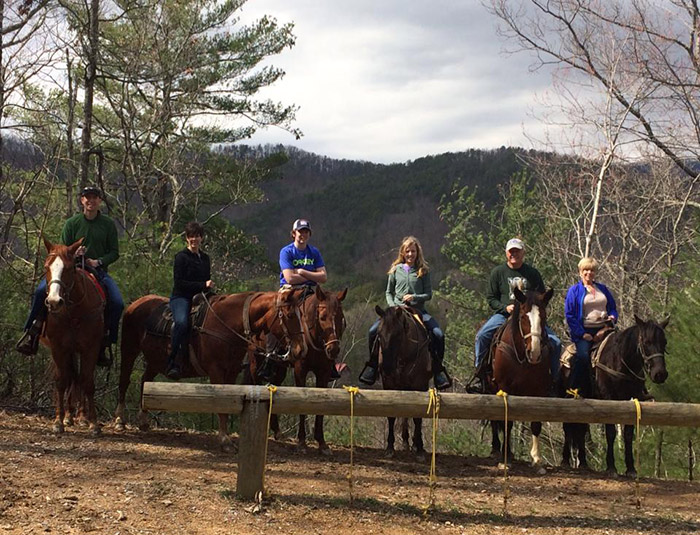 Nestled in hills of the Smoky Mountains, Walden Creak Stables rests on 500 acres of land, boasts 100 horses, and staffs plenty of cowboys to help maintain the ranch. Guests looking for Smoky Mountain horseback riding adventures will love the various trails offered by Walden Creek Stables. Whether you are an expert horseback rider or have never ridden a horse in your life, this stable offers something for every skill level. In addition to horseback riding in Pigeon Forge, Walden Creek Stables offers everything from family bonfires to romantic Western style weddings, overnight "Pioneer" trips to Western wear. Bring the entire family on a Smoky Mountain horseback riding trip that they'll never forget! If you are looking for your own rustic Smoky Mountain vacation, explore our Smoky Mountain cabins for lodging for your Smokies experience!
Walden Creek Stable's Smoky Mountain Horseback Riding Offerings
No matter what your skill level, Walden Creek Stables offers something for you to enjoy. Running a tight schedule on your busy Smoky Mountain vacation? There's a trail for you not matter if you have an entire afternoon or only an hour to spare. With so many offerings, you may need to take more than one trip out to the ranch. Walden Creek Stables trails include:
Valley Hill- The Valley Hill trail offers horseback riding in Pigeon Forge for the novice or those short on time. Lasting approximately 1 hour, this trail passes through the ranch's 2 lower valleys and into the foothills of the mountains, crossing wooden bridges and creeks and even passing by an old homestead cabin along the way.
Valley Mountain- On this Smoky Mountain horseback riding trail, ride through valleys, cross Walden's Creek, and pass by an old moonshine still as you climb up Sink Hole Mountain. This ride last approximately an hour and half and opens if the weather permits.
Mountain View- This 2 hour ride traverses the Walden Creek Stables' two valleys, winds past the old homestead, and, after splashing through the creek, continues to clime up the mountain. Make sure to bring your camera as this trail offers views of the surrounding majestic mountains.
Mountain Adventure- This 2 and half hour Pigeon Forge horseback riding trail takes you up the mountain to enjoy spectacular views of the mountains while enjoying a provided lunch in the mountains!
Sunset Supper Ride- Walden Creek Stable's sunset rides are available with or without a meal included. Without the meal, the ride lasts about 2 hours. For the meal, enjoy an hour break for super in the valley before riding up Sink Hole Mountain for awe-striking views of a Smoky Mountain sunset.
Overnight Rides- For those looking to experience the Smokies as the pioneers of yore once did, Walden Creek Stables offers an overnight experience that provides supper, a camp site, breakfast, as well as a chance to experience a night in the Smokies you'll never forget.
Walden Creek Stable's Other Offerings
In addition to Smoky Mountain horseback riding, Walden Creek Stables provides several other services that will help make your stay in the Smokies a memorable one. Walden Creek Stable offers:
Wedding Packages- Offering several wedding packages, Walden Creek Stables aims to make your wedding a memorable one. Enjoy a chance for your Prince Charming to ride in on horseback as you and your guests take in breathtaking views of the mountains that surround you on your special day.
Family Bonfires- Particularly popular in the fall, Walden Creek Stables' bonfires include a hayride, dinner, pony rides for the kids, and a roaring bonfire for those chilly nights.
Western Shop- Looking for a cowboy hat or a shiny pair of new boots? Walden Creek Stable's offers a gift shop that provides quality western wear as well as other souvenirs to bring back from your Smoky Mountain horseback riding adventure.
Stay Close to Walden Creek Stable and other Horseback Riding in Pigeon Forge!
A stay in one of Cabins USA's Wears Valley cabin rentals offers both comfortable amenities that will make you feel right at home as well as close proximity to area attractions, such as Smoky Mountain horseback riding. There's no doubting that a cabin stay is the best way to see the Smokies!
Contact:
Walden Creek Stables
2709 Walden Creek Rd
Sevierville, TN 37862
865-429-0411
http://www.waldencreekstables.com
Written by Brittany Tipton