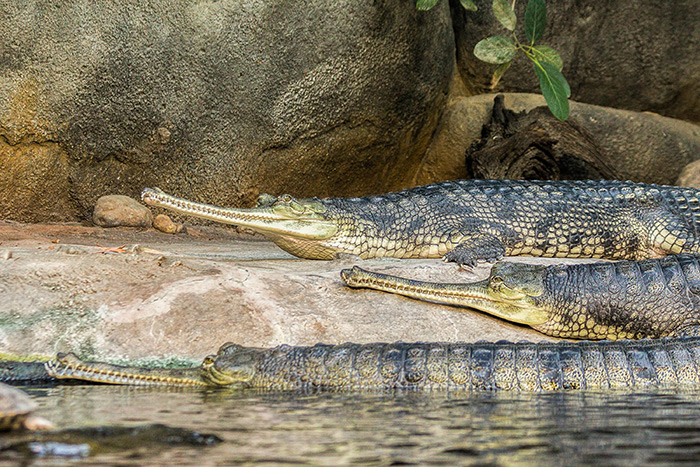 The call of tropical birds fills the air. The room is dark like the floor of a tropical rainforest. Creatures of all shapes and sizes wait around every corner to thrill, excite, and maybe even frighten. Vacationers visiting Rainforest Adventure, Sevierville, TN are in for rainforest adventures in the middle of the Smokies. Featuring over 600 live animals and over 130 species, this zoo in Tennessee provides a sampling of the vast flora and fauna that our wonderfully diverse planet holds.
Take your Family on Rainforest Adventures Across the Globe - in TN!
Rainforest Adventure, Sevierville, TN offers a chance to discover so many different birds, mammals, reptiles, amphibians, and insects. This zoo in Tennessee offers a surprising array of animals for the area and will take you on a trip around the globe. Visitors can:
See slinking servals, a wildcat from sub-Saharan Africa.


Find several species of Madagascar's famed primates, lemurs, including ring-tail lemurs (whom kids will recognize from the move Madagascar).


Look into the eyes of varies species of venomous snakes including the might King Cobra himself.


Gaze at the most frighting of arachnids - the tarantula!


Feed baby goats and fluffy goats.


Observe tropical birds such as blue and gold macaws and African Grey parrots in an open aviary. Staff may even take one out of the rope off area to let you pet him or her!


See tropical insects such as hissing cockroaches from the island of Madagascar.


Look at brightly colored poison dart frogs.


A fascinating geological display for rock enthusiats


And much more!
Roughly 95% of the building is indoors allowing vacationers to enjoy an air-condition, wheelchair accessible facility that's accessible for the whole family, making it great for kids of all ages. The facility is well-maintained and decorated in tropical cave decor, making you feel like you're in the heart of the Amazon or Congo.
Animal lovers - rest assured that the staff of Rainforest Adventure, Sevierville, TN place the animals care and comfort just as high as the visitors. This zoo in Tennessee is part of the Zoological Association of America as well as the Zoo and Aquarium Buyers group. Many of the animals in the facility are on loan from larger zoos or from the individual owners themselves, who stop in from time to time to check on their pretty birds. The owner's passion for animals is shown in the care and attention put into each exhibit.
Perhaps what makes this zoo stand out from others is it's delightful staff. Always ready to help and answer questions about the animals, they want to ensure that you and your family have the best time at their zoo. They even pass out bread for you to feed to the sheep and goats.
With so much to see and do, many zoo-goers spend at least an hour going through each exhibit. After you've had your many rainforest adventures here, you and you'll family wil have learned more about the treasures of the natural world.
Interactive Rainforest Adventures
What makes this zoo in Tennessee so special is that its size and layout allow families to interact with animals in a way that they wouldn't in other zoo settings. Aside from feeding the goats and sheep, guest can experience other interactive elements at Rainforest Adventure, Sevierville, TN, such as:
The Bird Exhibit - This open air exhibit allows you to hear all the voices of the birds on display. One bird in particular likes music, and even knows how to sing "Row, Row, Row Your Boat." Be warned though, if you decide to sing along, he's also a bit of a music critic.
The Zoo Show with Jungle Jim - Blending humor, animal facts, and even a few magic tricks, Jungle Jim puts on an entertaining show that allows you to learn more about the animals and even touch some of the most interesting specimens, including tarantulas, snakes, and hedgehogs. Kids and kids at heart will love this educational, fun show.
This attractions lets you experience your own rainforest adventures with your own hands!
Rainforest Adventure, Sevierville, TN's Gift Shop
Every kids loves a great gift shop (although Mom and Dad's wallets may not agree). This zoo in Tennessee is no exception. With tons of colorful stuff animals, fun games, books, and educational toys, this gift shop allows you to bring home a souvenir from your daring, exciting rainforest adventures!


Guests staying in nearby Sevierville vacation rentals will enjoy this attractions proximity to their cabin homeaway from home. Come visit this educational, fun, and family-friendly attraction in Sevierville today!
Contact:
Rainforest Adventure Discovery Zoo
109 Nascar Dr
Sevierville, TN 37862
865-428-4091
B
- Rainforest Adventure Sevierville, TN
Written by Brittany Tipton