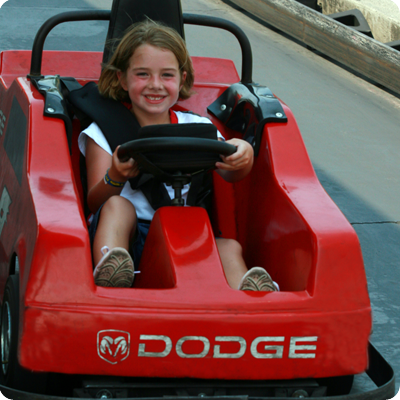 One of the largest family attractions in the Sevierville Tennessee Smoky Mountains. An affordable activity for large groups and families, NASCAR Speedpark offers an unlimited All Day Pass to these attractions;
8 go-kart race tracks from enclosed high speed race cars to kiddie kart tracks for the young rookies
Speed Bumper Boats - double-seat bumper boats (Memorial Day through Labor Day)
Rock Climbing Wall - Indoors rock climbing wall featuring 4 different rock climbing experiences
Starship 3000 - fair ride attraction where you whirl around at a high speed
The Prow-Tow - vertically rise into the air and back to earth with the feeling of falling at a fast speed
Dragon's Lair Fantasy Golf - a medieval 18-hole miniature golf course to challenge family and friends
The Viking - 18-hole ADA course
Tubs of Fun - similar to the fair favorite tea-cups ride, as you spin round you can spin your tub even faster
The Scrambler - this longtime fair and amusement ride needs to introduction
Tilt-A-Whirl - another fair favorite steeped in fun for your NASCAR Speedpark pleasure
Indoor Playground - a children's race car themed soft-play area with climbing tubes and slides.
Rockingham Railroad - Miniature train ride for children
Speedway Draft - small roller coaster for children and parents
Victory Burnout - go back and forth as this amusement ride spins you around
Stock CarO'Sel - a unique double decker carousel with cars that hold two persons and motorcycles holding one person
Tot Rods - children mini cars and trucks
Below is a list of the several racetracks NASCAR Speedpark offers:
Smoky Mountains Speedway - The premier track at NASCAR SpeedPark is the quarter-mile D-oval shaped course. Smoky Mountain Speedway is an opportunity for guest to drive a 3/8 scale version of an actual Sprint Cup race car similar to racing like the NASCAR pros! Drivers must have a valid driver's license.
The Competitor - A short oval track with high banking and side by side racing in Eagle cars. Drivers must be 18 years of age.
The Intimidator - This is a challenging racetrack named after the Intimidator, Dale Earnhardt. They say if you haven't raced this one you haven't experienced NASCAR SpeedPark.
SlideWayz - This 750-foot slick track features tough, tight turns with a highly polished surface for an exciting race every time!
Family 500 - Hourglass shaped road course for rookies and pros alike with single and double seat go-karts.
Young Champions - A 1,100-foot fan favorite track with single and double seat go-karts.
The Qualifier - A beginners track designed for the younger rookie drivers.
Baby Bristol - A 200-foot starter track giving small children the opportunity to drive their very own racecar.
Call ahead for height and other restrictions particular to each track. Despite having some safety restrictions, this park has a track or two for everyone to get in on the go-kart fun.
Folks, with all the fun you're going to be having, hunger is going to hit you, when it does enjoy a snack at the Pit Stop Grill. There's plenty of food items to choose from so you can get back out on those race tracks and ride. Not ready to get back out on the tracks just yet, how about a visit to the indoor SpeedDome arcade with over 50 arcade games of variety and skill. Win tickets to trade out for prizes.
Contact:

1545 Parkway
Sevierville, TN 37862
https://www.nascarspeedpark.com
B
- NASCAR Speedpark Smoky Mountains
Written by Brittany Tipton