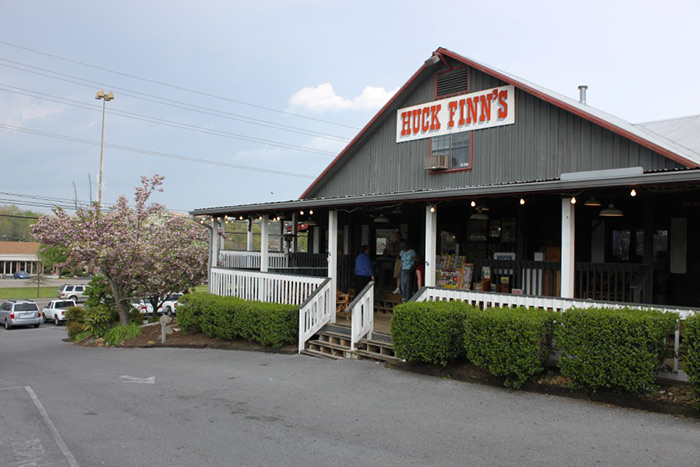 When looking for restaurants in Pigeon Forge, TN that aren't chain restaurants, Huck Finn Restaurant is an obvious choice. Owned by a family with over 50 years of restaurant experience, Huck Finn's catfish has been a hit in the Smokies for nearly 20 years. With a ton of Southern hospitality that's served up in a mason jars of sweet tea and heaping portions of fried fixins', Huck Finn Restaurant stands above other country restaurants in Pigeon Forge because of the welcoming atmosphere provided by the courteous staff at this local treasure that's a must for vacationers staying in nearby Pigeon Forge cabin rentals.
While you wait for your table, step out on to the porch where you can rest on the ample seating, enjoying the mountain breezes as they roll through the hills of the Smokies. Once the hostess seats you at your table, the vintage, old-timey feel of Huck Finn Restaurant's interior will have you feeling like your in a fishin' shack by the bayou.
In addition to courteous staff, Southern style, and famous Huck Finn catfish, this restaurant features live music most every night of the week during peak season. Enjoy everything from folk tunes to classic rock as you eat your heaping portions of delicious Southern favorites at one of the best country restaurants in Pigeon Forge, TN.
Huck Finn Catfish Restaurant's Food is Quite a Catch
Although we tend to be partial, Southern food is simply the best food to fill hungry bellies and transport you back home with delicious nostalgia. From savory fried chicken to the sweetness of a peach cobbler, the mouthwatering offerings at Huck Finn Restaurant provide guests with a chance to chow down on gigantic portions of your favorite down home entrees. Whether you swing by for quick lunch between attractions or a family dinner feast, make sure to try some Huck Finn catfish on your trip to the Smokies.
Huck Finn Restaurant's Lunch Offerings
If you choose to swing by Huck Finn Restaurant for a rejuvenating lunch, come prepared for something bigger than the small sandwich and chips you might find at other restaurants in Pigeon Forge. All-U-Can-Eat Vittles (that's a slang term for food for those of you not from the mountains) come with lunch entrees and include:
Baked white beans with turkey breasts
Dill pickles and sweet onion slices
Creamy cole slaw
Hushpuppies made from scratch
Your choice of fries or mashed potatoes
To accompany these tasty vittles, diners choose from 10 difference meat options that include grilled spicy shrimp, catfish sandwhich, chicken strips, and fried clams. Huck Finn's catfish is a particularly tasty choice and all the fish fried at Huck Finn Restaurant is pond-raised, grain fed, Mississippi Catfish.
Huck Finn Restaurant's Dinner Starters
Every great Southern meal deserves a great start. Choose from unique Southern favorites that you won't find at other country restaurants in Pigeon Forge such as gator tail, corn nuggets, fried pickles, and scrumptious chicken livers.
Huck Finn Catfish Dinner Entrees and More
One thing is certain - if you come to Huck Finn Restaurant for dinner, come prepared to eat tons of Southern, fried food. From frog legs to chicken fried chicken, all generous portions of delicious entrees come All-U-Can-Eat Vittles. Additionally, diners can enjoy All U Can Dinners, which come with the choice of endless plates of Huck Finn Fried Catfish and Fried Chicken (There is no sharing or to go boxes on All-U-Can-Eat entrees). This is a must for anyone looking for restaurants in Pigeon Forge, TN that serve large dinners at to feed hungry families.
Dessert at Huck Finn's Restaurant
If you still have room after eating your dinner of Huck Finn's Catfish, finish off your meal at Huck Finn restaurant with delicious banana pudding, the cobbler or dessert of the day, or a cup of ice cream.
Whether you choose to enjoy lunch or dinner at Huck Finn Restaurant, it will be one meal you remember from the several country restaurants in Pigeon Forge, TN you'll visit on your Smoky Mountain vacation
Contact:
Huck Finn Restaurant
3330 Parkway
Pigeon Forge, TN 37863
865-429-3353
http://www.huckfinnsrestaurant.com/
Written by Brittany Tipton