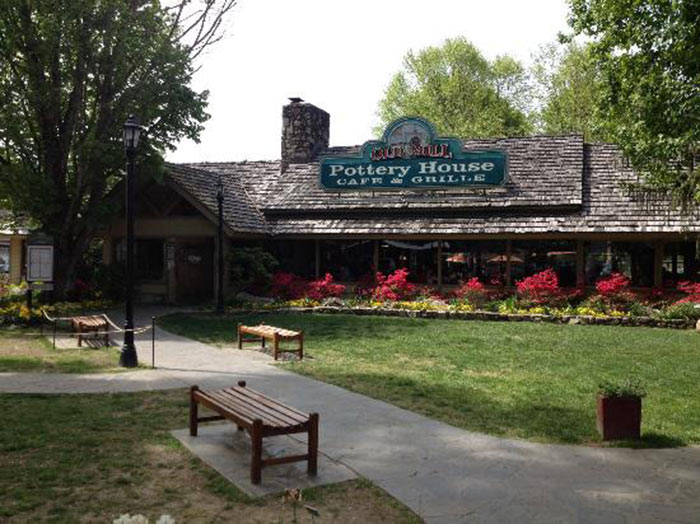 One of the most recognizable landmarks in Pigeon Forge is the Old Mill. The 19th century mill stands out among the recently constructed theaters, shopping malls, and other attractions along the Pigeon Forge Parkway. Resting in the Old Mill Shopping Center, the Old Mill Pottery House Cafe and Grille gives guests a chance to enjoy some quality Southern cuisine and classic American favorites.
One aspect that makes this Old Mill Pigeon Forge restaurant stand out from the rest is that all the plates, bowls, and even the bathroom sinks are handmade next door at Old Mill Pigeon River Pottery. With homemade food served on homemade plates, many other restaurants in Pigeon Forge can't compare to the down home hospitality offered at this idyllic cafe. With reasonable prices and friendly services, this is an ideal spot to enjoy a great meal with friend and family.
Open from 11 am to 8 pm Sunday to Thursday and 11am to 9pm on Friday and Saturday, vacationers staying at nearby Pigeon Forge cabins will enjoy heading out for a filling lunch or dinner at this Old Mill Pigeon Forge brand restaurant.
Delicious Lunch at Old Mill Pottery House Cafe and Grille
There's no shortage of options to choose from at this exceptional choice for lunch in the Smokies. Whether you're refueling from a day shopping at the the Tanger Outlets or a day spent enjoying the thrill rides of Dollywood, you can enjoy a delicious lunch that will help you keep going for the rest of the day.
You'll be sure to find everything from Southern fried favorites to crispy, fresh salads at the Old Mill Pottery Cafe and Grille. For lunch you can enjoy:
Hearty Soups -

Nothing is warms the soul, body, and belly more than a bowl of hot soup on a chilly winter day in the Mountains. Old Mill Pottery Cafe offers up delicious Tomato Basil, French Onion, Loaded Baked Potato, and Soup of the Day for you to enjoy for lunch.



Pottery Cafe Signature Sandwich -

No cafe is complete without its own selection of delicious sandwiches. From the delicious Chicken Reuben to the Smoky Mountain Cheese Steak, Grilled Garden Panini to the Rib Eye Steak Sandwich, there's something everyone will love to eat on the menu.



Signature Quiche and Fruit Plates -

Looking for something lighter for lunch? Treat yourself to Spinach Muenster, Chicken Almond, or the Chef's Daily Special quiche with fresh fruit, chicken salad, bowl of soup, or salad. All quiche comes served with Cinnamon Raisin Pecan Bread.



Lunch Combos -

Choose a delicious combo of soups, salads, and sandwiches, allowing you to sample all the Old Mill Pottery Cafe and Grille has to offer.
No matter what you choose for lunch you can be sure to have a meal that will keep your stomach full for the next half of your day of adventure and fun in the Smokies.
Lunch and Dinner Entrees at Old Mill Pottery Cafe
The Old Mill Pottery Cafe and Grille offers up delicious selections for dinner as well. Whether you're in the mood for steak, salad, or seafood, you can enjoy a great selection of delicious entrees for a lunch or dinner to remember in the Smokies. Enjoy some of these fine selections for dinner:
Angus Burgers
Catfish
Grilled Salmon
Chopped Steak
Shrimp and Grits
Pork Chops
Chicken Tenders
Carolina Barbeque
Whatever you choose to eat for dinner or lunch at this Old Mill Pigeon Forge Restaurant, it will surely delight your taste buds. Treat yourself to a delicious dessert after your meal and choose from lemon pie, chocolate cake, carrot cake, coconut cream pie, and chocolate pecan pie.
Before or after your meal, make sure to take time to browse through the beautiful pottery at the Old Mill Pigeon River Pottery next door.
Delicious Meals with a Homey Feel at Old Mill Pottery Cafe and Grill
If you are looking for a restaurant that offers up plenty of homemade favorites with a lot of Southern hospitality, you've found the right spot at Old Mill Pottery Cafe and Grille. From the handmade bowls to the homemade soup, you'll enjoy a bit of authentic Appalachian hospitality at this Old Mill Pigeon Forge restaurant.
Contact:
Old Mill Pottery House Cafe
3341 Old Mill Street
Pigeon Forge, TN 37863
865-453-6002
B
- Old Mill Pottery House Cafe
Written by Brittany Tipton