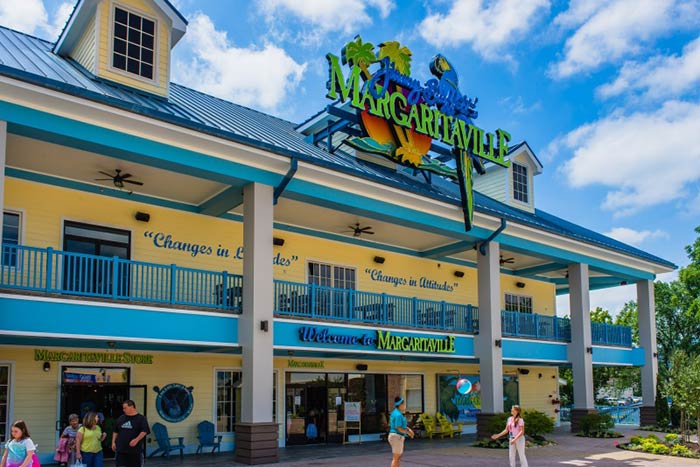 A gentle breeze blows through the trees. The warm sun hits your back as you sip margaritas and eat delicious seafood on a brightly colored patio. While this scene seems almost tropical, you don't have to travel to the Caribbean to experience a laid-back island vibe. Head to Jimmy Buffet's Margaritaville at The Island Pigeon Forge!
Jimmy Buffet is world famous for his songs that invoke the lazy, carefree beach side philosophy. But, Jimmy's Buffet's "Margaritaville" is more than a song - its a lifestyle of enjoying good food, good friends, and, of course, a nice tall drink.
Whether you decide to enjoy fish and chips or a cheeseburger in this piece of paradise surrounded by mountains, The Island Pigeon Forge location of Magaritaville offers up plenty of ways for vacationers to experience the island state of mind. With fun island-themed decor and two bars, plenty of TVs to enjoy sports and Jimmy's videos/music, and a patio that overlooks the Little Pigeon River, visitors staying in cabins in Downtown Pigeon Forge will want to include this on their list of Pigeon Forge restaurants to try on their mountain retreat.
Jimmy Buffet's Margaritaville Pigeon Forge: Delicious Island Themed Food
Margaritaville Pigeon Forge offers wide selection of delicious food for a lunch or dinner with a taste of the island life. Whether you want seafood or a juicy burger like one you'd get fresh off the boardwalk, you'll find something to get you in that carefree, beach mood on the menu here. Some highlights include:
Fish Tacos-

Fried to crispy perfection in Jimmy Buffet's Margaritaville Landshark batter, topped with avocado, cilantro lime coleslaw, and key lime creama, and served with black beans, rice, and pico de gallo.



Landshark Lager Fish and Chips-

Dipped in Jimmy's Landshark batter and then fried, this beachside classic comes with jalapeno tartar sauce, french fries, and cilantro lime coleslaw.



Crispy Coconut Shrimp-

Jumbo shrimp dipped in coconut and fried. Comes with a horseradish-orance marmalade, french fries, and cilantro lime coleslaw.



Cheeseburger in Paradise-

Jimmy Buffet's Margaritaville's signature burger served with American cheese, lettuce, sliced tomato, and paradise island sauce.



Volcano Burger-

A burger topped with Volcano chilli, lava cheese sauce, jalapenos, and Frito chips.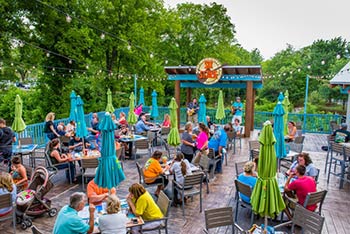 These are just some of the highlights from the Jimmy Buffet Margaritaville menu, but there's much more to enjoy. From fresh salads topped with shrimp to jambalaya, there's something for everyone.
Jimmy Buffet's Margaritaville also offers a vegetarian and gluten free menu that includes veggie burgers, pasta, and quesadillas. Margaritaville also offers a kids menu for little island goers.
Deserts such as the Chocolate Hurricane, a feast of chocolate as the name implies, offer up delicious island themed sweet treats to enjoy after your meal.
Jimmy Buffet's Margaritaville: Island Drinks
Of course, part of island life is the tasty fruity drinks complete with colorful umbrellas. Jimmy Buffet's Maragaritaville Pigeon Forge features its fair share of delicious beverages to enjoy responsibly with your meal. Try these tropical-themed cocktails:
Who's To Blame -

Signature Margarita made with Margaritaville Gold tequila, triple sec, and the house margarita blend.

Blueberry Pomegranate Margarita -

Margaritaville Silver tequila, Cointreau orange liqueur, and blueberry pomegranate puree.

5 O'Clock Somewhere -

Made with Rum, passion fruit tequila, orange juice, pineapple juice, sweet & sour, and a splash of grenadine
Since the Island Pigeon Forge is a family friendly destination Jimmy Buffet's Margaritaville offers kids there own delicious non-alcoholic beverages, including blueberry-raspeberry lemonade and "Parakeet Punch"
Final Thoughts on Jimmy Buffet's Margaritaville Pigeon Forge
If you're looking for a fun restaurant with a unique island atmosphere, Jimmy Buffet's Margaritaville is the place for you. Expect the standard beach kitsch that comes with this chain of restaurants, but with stunning views of the surrounding Smoky Mountains in the background.
Contact:
Jimmy Buffet's Margaritaville
130 The Island Drive Suite
Suite 6101
Pigeon Forge, TN 37863
865-210-8530
B
- Jimmy Buffet's Margaritaville
Written by Brittany Tipton