Step back in time to a restaurant that authentically tells the story of a chapter East Tennessee's history!
As a relatively new addition to the Pigeon Forge restaurant scene, J. T. Hannah's has rapidly become a local favorite and a popular stop for visitors. This unique, local restaurant boasts an incredible atmosphere and has earned a reputation for great service.
This Pigeon Forge restaurant is styled after an old warehouse from yesteryear. Boasting rustic décor and antiques from the 1930s, this local restaurant allows you to experience a piece of the Smoky Mountain's past.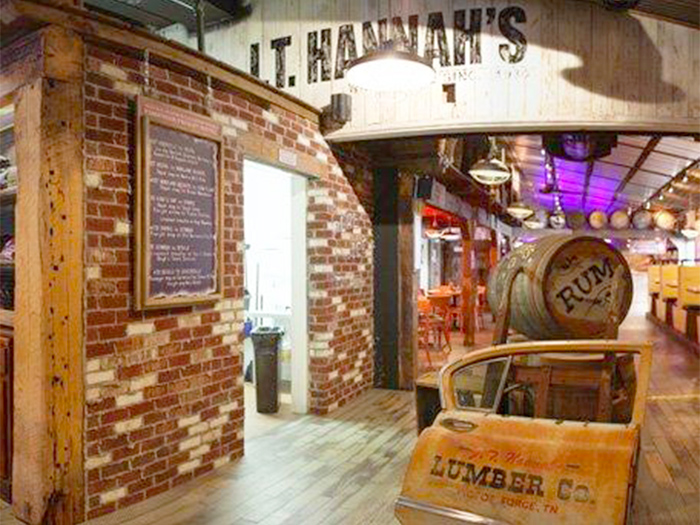 History
J.T. Hannah was a prosperous businessman serving delicious food and cold beverages to hardworking locals. Originally, JT ran the largest warehouse in East Tennessee and distributed valuable supplies throughout the region. He started a small kitchen to serve workers at the warehouse, but this soon became a popular stop for locals as well. Even once the original warehouse closed down, the restaurant lived on serving delicious food for many years.
J.T. Hannah's Kitchen opened in 2011 in honor of this enterprising Smoky Mountain businessman. There's plenty of local character here and a great bar area for watching the game. Chat with the bartender for inside tips on making the most of your Pigeon Forge vacation.
Above all, you can expect a stylish dining experience and down-home cooking at J.T. Hannah's in Pigeon Forge, TN! See why this restaurant has become a favorite destination for locals hungry for quality food and reasonable prices.
Menu
For a locally owned restaurant, the J.T. Hannah's Kitchen menu offers a great variety and is well priced. Most plates range about $10 - $20 and are quite affordable for being in the heart of Pigeon Forge. Additionally, there is a gluten free menu.
The fare at J.T. Hannah's is American style with burgers, sandwiches, seafood, and delicious desserts. Be sure to try these favorites at your next stop to J.T. Hannah's:
Classic Patty Melt - Grilled onions, swiss cheese, 1000 island, on rye bread.


The Signature French Dip – Fresh shaved roast beef with grilled onions, cheddar jack cheese, au jus, and horseradish sauce on a French roll.


Slow Cooked St. Louis Ribs – Award winning ribs with a special sauce served with beans and slaw.


Hand Cut Rib-Eye – Choice cut of Angus beef grilled just the way you like.


Beer Battered Chicken Tenders – Fried to golden perfect and served with a side of fries.


Open-Faced Roast Beef Sandwich – Served the old-fashioned way with white bread, mashed potatoes and mushroom gravy.


Smoky Mountain Trout – Fresh local trout served broiled or fried with a rice pilaf, and steamed broccoli.


Deep Fired Mississippi Catfish – Crispy catfish breaded in seasoned flour and served with steak fries, coleslaw and tarter sauce.
Hours and Location
This local Pigeon Forge restaurant serves lunch and dinner daily. Operating hours are from 11:00 AM to 10:00 PM.
You'll find J.T. Hannah's kitchen located right on the main parkway near Pigeon Forge Traffic Light #6 and Pine Mountain Rd. You'll find this restaurant across the street from the Red Rooster Pancake House, just down the road from Xtreme Racing Center of Pigeon Forge.
Cabins USA offers cabin rentals near J.T. Hannah's Kitchen in the Pine Mountain resort area only minutes from downtown.
Contact:
J.T. Hannah's Kitchen
3214 Parkway
Pigeon Forge, TN 37863
865-428-4200
B
- J.T. Hannah's Pigeon Forge, TN
Written by Mark Frazier