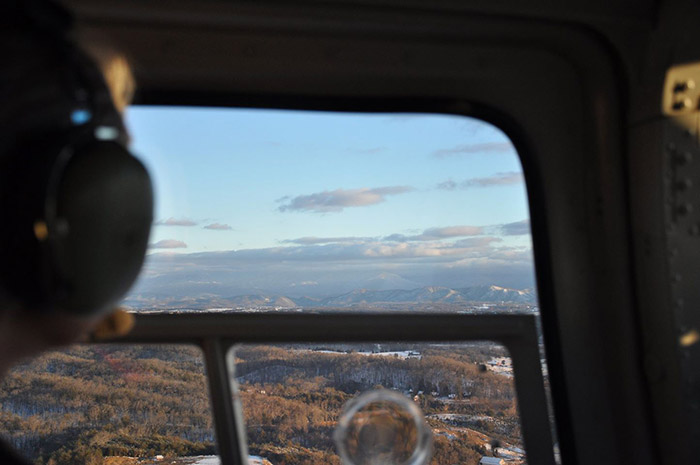 Scenic Helicopter Tours Sevierville, TN offers some of the most extensive aerial tours of the Smokies. Hop into one of their 3 helicopters and let one of Scenic Helicopter Tours Sevierville, TN pilots take you one of the most memorable rides your life! Pigeon Forge helicopter rides offer a new way to view the Smokies - from a vantage point of a hawk soaring over the treetops. See the peaks of the mountains, lows of the valleys, the wind of the river in a way you've never seen before. The thrill seek in your group will enjoy soaring high in a helicopter above the Smoky Mountains!
Scenic Helicopter Tours Sevierville, TN's Pigeon Forge Helicopter Rides
Scenic Helicopter Tours Sevierville, TN offers a wide variety of tours that vary from season to season. With 12 different tours offered throughout the year and the option to customize your tour, this Smoky Mountain helicopter tours company offers something for every vacationer and every budget. Scenic Helicopter strives to provide the perfect helicopter ride for your family's vacation needs.
Perhaps you'd like to just get a taste of what a helicopter flight feels like? The cheapest rides offer you a taste of what it feels like to soar through the air in a helicopter. If a mere taste of the thrill provided by Pigeon Forge helicopter rides won't satisfy your craving for adventure, climb aboard one of Scenic Helicopter Tours Sevierville, TN's helicopters for a longer narrated tour. Scenic Helicopter Tours has offered its services in the area for 42 years and have permission to fly over the Great Smoky Mountains National Park. Let one of their knowledgeable tour guides take you over natural landmarks such as:
Douglas Lake
Cades Cove
Mt. LeConte
Clingmans Dome
The Chimneys
The Sawteeth
And many more sites!
As you fly over stunning landscapes your tour guide will provide facts about the area and its history. All the seats on these Smoky Mountain helicopter tours face forward, allowing you get the best views on your helicopter trip.
This Pigeon Forge helicopter rides company offers tours on every day except Christmas Day, and a helicopter ride is beautiful no matter what season you plan on visiting the Smokies. Imagine seeing the first buds of spring, the lush vegetation of summer, the beautiful shades of fall, and the snow-capped mountaintops of winter from a perspective you've never experience before. Scenic Helicopter Tours Sevierville, TN rides offer adventure for all ages, from 10 days old to 102 years! Your entire family will enjoy the thrill and excitement of these Pigeon Forge helicopter rides.
Say "I Do" in the Clouds at Scenic Helicopter Tours Sevierville, TN
Want a unique way to say your nuptials? This Pigeon Forge helicopter rides company offers a unique service of in-flight wedding ceremonies. Picture you and your sweetheart reciting your vows over the beautiful aerial views of the Smokies. For the couple not satisfied with the standard wedding chapel or in cabin ceremony, this unique wedding experience offers a adventurous way to pledge your life to each other. This will be a wedding ceremony to remember, and definitely one to tell the kids about!
Stay near Pigeon Forge Helicopter rides!
A stay in one Cabins USA's Sevierville rental cabins places guests close to all the exciting adventures, such as Scenic Helicopter Tours Sevierville, TN, and maintain all the comforts of home with spacious accommodations at your vacation rental in the Smokies. With private hot tubs, game rooms, fireplaces, and more, it's not hard to see why a Smoky Mountain cabin stay provides the perfect lodging for families looking to see all the sights while still feeling at home.
Contact:
Scenic Helicopter Tours
1949 Winfield Dunn Pkwy
Sevierville, TN 37876
865-428-6929
http://www.scenichelicoptertours.com/
B
- Scenic Helicopter Tours
Written by Brittany Tipton