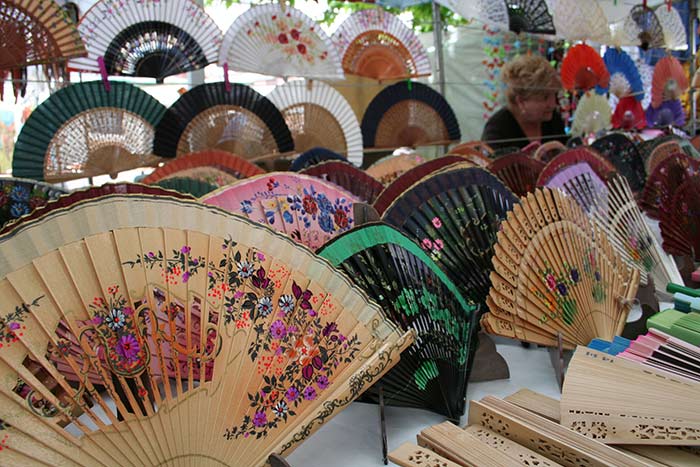 In a spacious warehouse off of highway 66, flea market vendors set up their booths with their various wares. Rows of antiques, collectibles, jewelry, and food wares line the warehouse floor in an endless assortment of interesting items to browse through. The finds and bargains at a Smoky Mountain Flea Market offer visitors to East Tennessee an opportunity to find interesting pieces of furniture to refurbish, your favorite brands at low prices, fresh produce, and more!
Flea Traders Paradise
With over 40,000 square feet of indoor, air-conditioned shopping as well as even more vendors outside, this Smoky Mountain Flea Market provides visitors to the Smokies with an opportunity to scout out unique finds and genuine bargains. From shabby chic home décor to musical instruments, collectible coins to artisan candies, this flea market has something for everyone.
Spend the afternoon carefully browsing through each booth's offerings, looking closely at each knick-knack and trinket for hidden treasure. The vendors in this flea market offer truly unique fares and will gladly tell you anything you'd like to know about their products. Take advantage of the free parking and hospitable nature of the vendors in this fantastic Great Smoky Mountain Flea market. Flea Traders Paradise operates under standard Smoky Mountain Flea Market hours on Friday, Saturday, and Sunday from 9am to 5pm.
Contact Info:
Flea Traders Paradise
1907 Winfield Dunn Pkwy, Sevierville, TN 37876
(865) 429-2716
Great Smokies Flea Market (407 Flea Market)-
This Smoky Mountain Flea Market is the largest, most visited flea market in the Smokies. With a whopping 200,000 square feet and 1,000 indoor and outdoor vendors, everyone is bound to find something at this mammoth flea market. There's no wonder why nearly 1.5 million people visit this Great Smoky Mountain Flea Market every year. Also known as the 407 flea market, the Great Smokies Flea Market boasts several offerings to visitors:
The Liquidation Center-Find your favorite brands for household items, toys, and clothing at prices of up to 70% off! With an ever-changing assortment of goods, the Liquidation Center provides some of the best bargains of this Great Smoky Mountain Flea Market
Farmer's Market- Purchase some of the freshest produce of the season at this Smoky Mountain Flea Market's Farmer Market. From fruit to

jars of famous Amish jellies and jams
Other offerings at this Smoky Mountain Flea Market include:
A Sunday Morning service
Free Entertainment
Free WiFi
Several eateries with delicious food
Numerous, Clean Restrooms
With so much to offer it is no wonder why this Smoky Mountain Flea Market draws in such a large crowd every weekend. Whether you're a collector, someone looking for furniture to refurbish, a bargain hunter, or someone just looking for a way to spend an afternoon in the Smokies, this Great Smoky Mountain Flea Market has something for you. Additionally, this flea market is family-friendly and pet-friendly, so that everyone can enjoy the fun.
Great Smokies Flea Market hours are 8am to 5pm on Fridays, Saturdays, and Sundays, making it one of the best (and affordable) weekend shopping experiences in the Smokies!
Contact Info
Great Smokies Flea Market
220 W. Dumplin Valley Rd, Kodak, TN 37764
865-932-3532
Looking for other Smoky Mountain shopping opportunities?
After spending the day at a Smoky Mountain Flea Market, schedule more time for Smoky Mountain shopping during your stay at one of Pigeon Forge cabins or Gatlinburg vacation rentals, which place you minutes from the flea markets, outlet malls, and shopping centers of the Smokies. At Cabins USA, we strive to help guests staying in our cabins find activities that will make their stay memorable.
Contact:

220 W. Dumplin Valley Road
Kodak, TN 37764
866-785-3532
greatsmokiesfleamarket@hotmail.com
http://www.greatsmokiesfleamarket.com
Written by Brittany Tipton