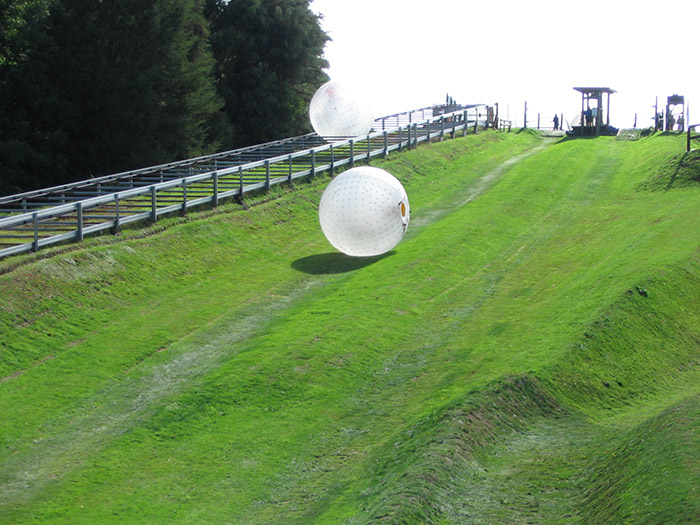 Zorbing in the Smoky Mountains offers one of the most unique experiences in the area. Step into a human hamster ball and roll down the hills of East Tennessee! Zorbing provides a true rush for the adrenaline junkies in the group. See why visitors to the Smokies hail this attraction as one of the most thrilling experiences in the Smokies!
A Brief History of the Zorb
In 1994, Dwane van der Sluis and Andrew Akers developed the Zorb, a double-sectioned ball with a layer of air in-between the two balls for cushion, in Auckland, New Zealand. Since it's invention, the Zorb franchise has spread around the globe - even to the hills of East Tennessee! See why this "human hamster ball" grew in international popularity and made its way to the United States.
Experience Zorbing in the Smoky Mountains!
Riding in a zorb is an experience like no other. Zorbing in the Smoky Mountains offers several different experiences for everyone in the group. Whether you chose to experience the one-of-a-kind trip down in the OGO or or WEGO ride, this unique opportunity is one that you won't want to miss on your trip to the Smokies. Experience zorbing in two unique ways:
OGO - You'll be head over heels for this adrenaline-pumping ride. Watch as a whirl of sky and grass flies pass you as your zorb speeds down the hill. Riding in a zorb is truly a unique experience to be had.
H20GO- This zorb water ball provides an interesting twist on the ride. Filled with warm water in the winter and cool water in the spring, this ride is a mix of water slide and thrill ride.
Come see why visitors from all over the country come to experience the one of the only orb rides in America!
Please Note: Cabins USA LLC's, hereinafter referred to as Cabins USA, area information, area events, and blog pages are provided as a public service. Cabins USA does not endorse any of the products, vendors, consultants, or businesses referenced in these web pages. Any mention of vendors, products, businesses, or services on the Cabins USA web site is for informational purposes only. Users of this web site are responsible for checking the accuracy, completeness, currency and/or suitability of all information. The inclusion of this information does not imply endorsement by Cabins USA. Furthermore, specific questions regarding any content should be directed to the appropriate organization and not necessarily to Cabins USA.