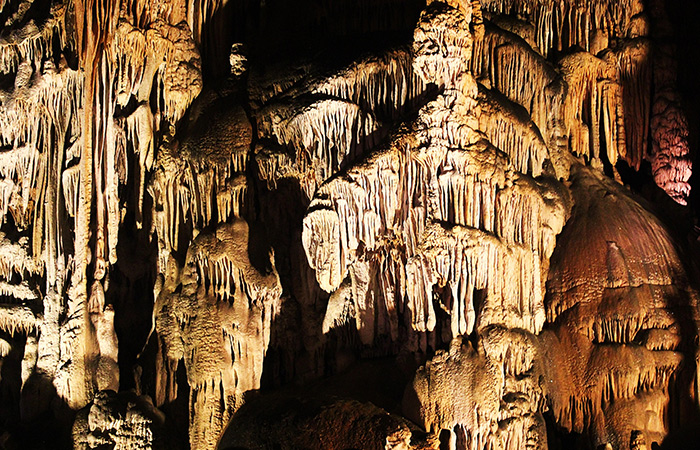 While most people visit the Smokies in hopes of catching breathtaking views from high up on mountain peaks, deep below the mountains the winding passages of Tennessee caverns offer up a glimpses of the unique geology of East Tennessee. Many visitors looking for caving in Tennessee are aware that this state boasts the most registered caves in the entire US - over 8,600 known caves! Unfortunately, most of these caverns in TN aren't open to the public. However, the two caves offer cave tours in Tennessee provide simply stunning examples of the rich world that lies beneath the mountains.
Forbidden Caverns and Tuckaleechee Caverns give vacationers wanting to experience caving in Tennessee the chance to walk past towering stalagmites and dangling stalactites and uncover the majestic beauty of the world underneath the rolling hills of East Tennessee.
Caving in Tennessee Locations and Cave Tours in Tennessee
Located outside the city of Sevierville, Forbidden Caverns offer is convenient to visitors staying in Gatlinburg and Pigeon Forge cabins. Guided tours last around hour and include information on the formations that are found in caves in East, TN as well as interesting local history tied to Forbidden Caverns' history. Even in the summer the cave stays cool (around 58 degrees Fahrenheit) so make sure you bring a jacket.
In nearby Townsend, visitors will enjoy the caving in Tennessee experience provided by Tuckaleechee Caverns. Opened to the public since 1953, the first cave tours in Tennesee were conducted by the light of kerosene lanterns. While visitors enjoying caving in the Smoky Mountains today can enjoy well-lit passageways on their tour. Tuckaleechee's fame comes from an area of the cave aptly named the Big Room - a room 400 feet long, 300 feet wide and over 150 feet deep. Visitors also enjoy the 200 foot high double waterfall in the cave.
Caving in Tennessee's Great Smoky Mountains National Park
While there are several caves in The Great Smoky Mountain National Park, none are currently open to the public for caving in the Smoky Mountains partially due to safety concerns, but partially due to an attempt to slow the spread of white-nose syndrome among the bats that inhabit caves in East, TN. There's a chance in the future that commercial caves offering cave tours in Tennessee may have to shut their doors due to the disease.
However, this doesn't mean you can't enjoy the beauty of the external features of Tennessee caverns, such as the Alum Cove Bluffs trail that leads up to the summit of Mount LeConte.
Wherever you choose to enjoy caving in Tennessee, it's bound to be an experience into a new world underground.