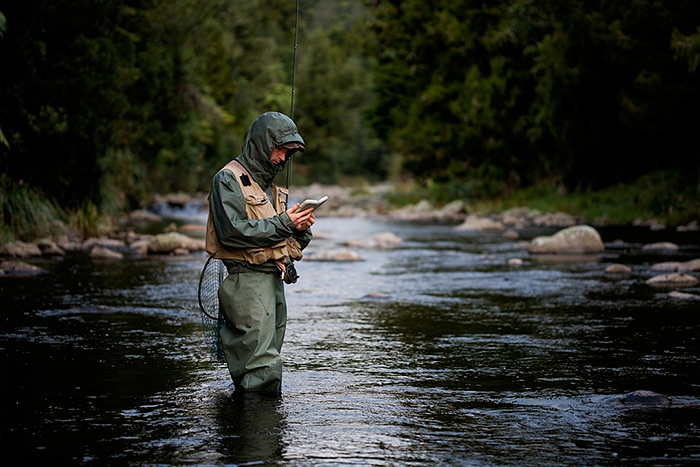 There's nothing more peaceful than packing your rods and tackle box into your car and heading out for a quiet day spent fishing in the Smokies. Imagine yourself wading in the waters of a rushing stream in the mountains, patiently waiting for your next catch. Whether going alone, with friends, or with junior, a trip to one of the many streams in the Smokies allows you to get in touch with the tranquility of nature.
From quiet mountain fishing to boating on Douglas Lake, there's something for everyone to enjoy on their Smoky Mountain vacation. Fishing in the Great Smoky Mountains National Park offers the one of the only chances to enjoy wild trout habitats in the eastern US. Offering a wide variety of angling experiences, fishers in the park can enjoy remote, headwater trout streams as well as large, coolwater smallmouth bass streams.
Rules and Regulations for Fishing in the Smokies
Before fishing in the Smokies area, visitors must obtain a Tennessee fishing license. Within the park, a North Carolina license is also valid, but, if you're planning on making a trip to Douglas lake as well, a Tennessee fishing license is your best bet. While fishing licenses and permits are not available for purchase in the park, they may be purchased in nearby towns or online. It should be noted that special permits are required for fishing in Gatlinburg and Cherokee.
For residents and nonresidents age 13 and older their license affords them a daily fishing haul of 5 brook, rainbow or brown trout, smallmouth bass each day regardless of whether they are fresh, stored in an ice chest, or otherwise preserved. The combined total must not exceed five fish. Additionally up to 20 rock bass may be kept in addition to the above limit on trout.
Visitors may fish the year-round in the park from 30 minutes before official sunrise to 30 minutes after official sunset. The park allows fishing in all streams, with the exception of the Lynn Camp Prong. Guest may fish using one hand-held rod and only artificial flies and lure on a single hook. It is against the law to move any rocks in the streams.
Popular East TN Fishing Destinations
While it's best to discover some of your own favorite fishing spots. Here are a few suggestions:
Additionally, few visitors know that there are several areas of the park reserved for kids. These include:
Herbert Holt Park
Dudley Creek
LeConte Creek
Take An East Tennessee Fishing Tour
Whether you're unfamiliar with the area or just want an expert to guide you to some of the best spots to fish in the Smoky Mountains, a guided fishing tour offers a quality guide whose knowledge and experience will allow you to have the best fishing experience on your Smoky Mountain vacation. A tour with Smokies Angling Adventures affords you the chance to enjoy a day of fishing with an expert to help you along the way.


No matter where you decide to fish in the Smoky Mountains, remember to reserve a day on your Pigeon Forge cabin vacation or Gatlinburg cabin retreat to take some time to sit back and let the hours roll by as you enjoy the peace of nature.