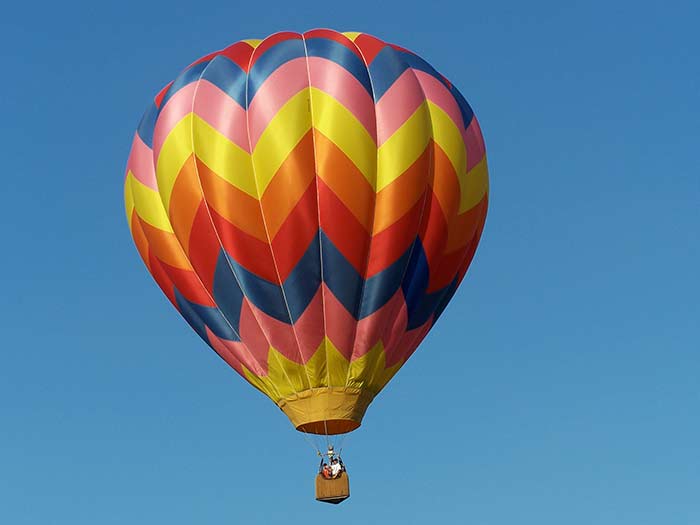 Those looking for Pigeon Forge outdoor adventures will find a whole new perspective with the several Pigeon Forge helicopter rides, Pigeon Forge airplane rides, and Pigeon Forge balloon rides to choose from for a mountain adventure to remember. Whether you chose to gently float over the Pigeon Forge area in a hot-air balloon or to jet over the hills in a helicopter, getting a bird's eye view of the Smoky Mountains is sure to leave you speechless! These aerial Pigeon Forge tours are sure to be the highlight of your vacation in the Smoky Mountains during your stay at one of our superior cabin rentals!
Airplane Rides
Ever wanted to feel like a flying ace? With Pigeon Forge airplane rides, step into historical aircrafts and take a step back in time as you fly over the rolling hills of the Smokies! A true sensory experience, imagine smelling the oil as you fly while feeling the fabric that holds you in the air! Enjoy scenic views of the Smoky Mountains and Douglas Lake like a barnstormer of yore!
Sevierville Airplane Rides
Sky High Air Tours
134 Air Museum Way, Sevierville, TN 37862
(865) 742-2359
Balloon Rides
Glide over the hills of the Smokies with Pigeon Forge balloon rides! Gently float in your colorful balloon over the gorgeous green mountains, taking in one of the most memorable views of your lifetime! Pigeon Forge balloon rides allow you to slowly soar over the treetops of the Pigeon Forge area for a memorable outdoor adventure!
Sevierville Balloon Rides
Tennessee Balloon Rides
Sevierville, TN
(865) 654-3087
Helicopter Rides
Imagine that you have just boarded for a Pigeon Forge helicopter ride. The pilot starts the rotor blades and you're engulfed in the steady whir of their rotation. You begin to rise in the air. The mountains that once looked vast in the distance grow increasingly smaller as you ascend, taking in the mountains as a soaring bird might. Pigeon Forge helicopter rides are bound to impress with their spectacular views and sense of adventure! Chose from one of the several Pigeon Forge helicopter rides below for one of your most memorable Pigeon Forge outdoor adventures!
Sevierville Helicopter Rides
Great Smoky Mountain Helicopters
1101 Winfield Dunn Parkway, Sevierville, TN 37876
(865) 429-2426


Scenic Helicopter Tours
1949 Winfield Dunn Parkway, Sevierville, TN 37876
(865) 453-6342


Sevier County Choppers
1255 Airport Road, Sevierville, TN 37862
(865) 453-5867
Please Note: Cabins USA LLC's, hereinafter referred to as Cabins USA, area information, area events, and blog pages are provided as a public service. Cabins USA does not endorse any of the products, vendors, consultants, or businesses referenced in these web pages. Any mention of vendors, products, businesses, or services on the Cabins USA web site is for informational purposes only. Users of this web site are responsible for checking the accuracy, completeness, currency and/or suitability of all information. The inclusion of this information does not imply endorsement by Cabins USA. Furthermore, specific questions regarding any content should be directed to the appropriate organization and not necessarily to Cabins USA.